Spartak Moscow Frown at UEFA's Decision to Kick them out of Europa League | See Details
Spartak Moscow has expressed their disgust over UEFA's decision to kick them out of the Europa League following the recent invasion of Russia in Ukraine.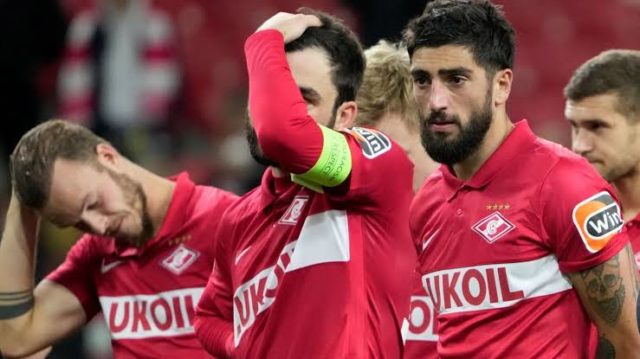 READ ALSO: ROBERT LEWANDOWSKI GIVES HINT ABOUT HIS FUTURE AT BAYERN MUNICH
The body governing football in Europe released a statement alongside FIFA on Monday, February 28th, 2022 stating that the Russian national teams and clubs were eliminated from all clubs and national team competitions.
Spartak expressed their disappointment on UEFA's decision but also added they hope peace is restored back soon to Ukraine and all affected areas.
The recent decision taken by UEFA and FIFA although expected, is extremely upsetting. Unfortunately, the efforts that our club made in the Europa League have been nullified for reasons that are far outside the remit of sports. Spartak has millions of fans not only in Russia, but all over the world. Our successes and failures bring people from dozens of different countries together. We believe that sport, even in the most difficult times, should aim to build bridges, and not burn them. We are forced to obey a decision that we do not agree with. For now, we shall focus on domestic competitions, and are looking forward to a speedy achievement of peace that everybody needs.
Spartan was due to play RB Leipzig in the Round of 16 on March 10, 2022, and the return leg was to be played on March 17, 2022. This decision means the Bundesliga side are through to the Quater Finals of the Europa League.