Rasha Kelej teams up with Cwesi Oteng, Nikki Laoye, Salatiel & Other African Artists in "My White Army" to support Covid Medical Workers in Africa.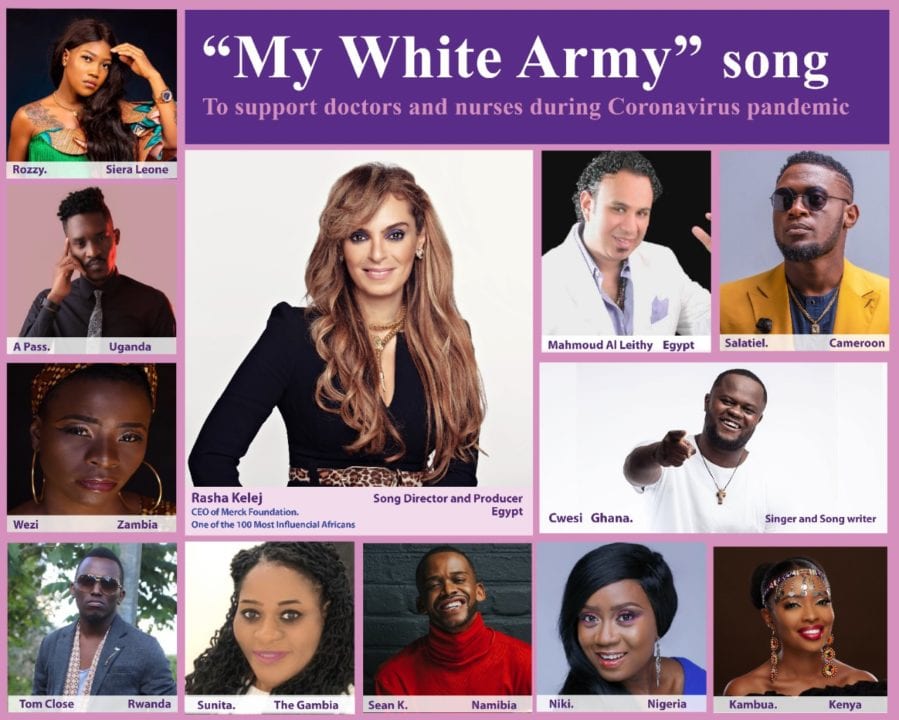 Rasha Kelej and 11 African Artists Unite in "My White Army" to support Medical Workers
Philanthropist & Egyptian Senator, Rasha Kelej has directed and produced for the first time, a song by singers from 11 African countries for the first time together in three languages; English, French and Arabic to show support for medical workers around the world during the Covid outbreak.
In what has now become a global way of showing support and appreciation for medical workers around the world, during the Coronavirus battle, Dr. Rasha Kelej, CEO of Merck Foundation and One of 100 Most Influential Africans started her own idea of creating an inspiring pan-African song called 'My White Army' which aims to thank the doctors and nurses fighting on the front lines of the coronavirus battle.
Rasha Kelej explained, "I am very proud that I have been able to coordinate, direct and produce this gesture of support across 11 African countries through the 11 talented singers in three languages - Arabic, English and French. They have amazing voices & great diversity; and they are from countries from North, South, East and West Africa. It was very difficult especially during the lockdown, but they were all super cooperative and we finally did it together."
List of Contributing Singers and Country of Origin in alphabetical order
A Pass from Uganda,
Cwesi Oteng from Ghana,
Kambua from Kenya,
Mahmoud Al Leithy from Egypt,
Nikki Laoye from Nigeria,
Rozzy from Sierra Leone,
Salatiel from Cameroon,
Sean K from Namibia,
Sunita from The Gambia,
Tom Close from Rwanda and Wezi from Zambia.
"Salatiel, the famous Cameroonian singer who sang with Beyoncé and Pharrell in the latest 'Lion King' movie was also part of our song, of course, he sang in French, so as Tom Close from Rwanda, both of them represent African French-speaking countries.
Mahmoud AL Leithy, a famous singer and actor from Egypt sang his part in Arabic to represent African Arabic speaking countries.
The rest of the group who are famous singers in their own countries sang in English.
The lyrics and Song was written and produced by Cwesi Oteng from Ghana"
Watch the video for " My White Army" below

The concept behind the song - "My White Army"
Speaking on the new song, Rasha Kelej emphasized, "I strongly believe, it is important for the people on the front line; doctors, nurses and health workers know how grateful we are. I don't want this to be a one-off thank you, but one that becomes a regular act of gratitude across our communities. I have heard stories of horrible behaviour against our health workers, such as, landlords are forcefully evicting them due to paranoia that they might spread COVID -19. It is shocking, illegal and inhuman behaviour".
Through this song, singers representing Africa are expressing our love, respect and gratitude for doctors, nurses and health workers, the front lines of coronavirus battle. It is their messages of support for those braving the outbreak to help others.
This is the first time in Africa and maybe in the world that 11 singers from 11 African countries in three languages have participated in one song, to support the medical staff during this difficult time.