notjustOk hype will feature (or may be not) the future heavy hitters in naija music. Any material featured in this category will be from unsigned or up & coming Nigerian/African, artists/rappers/producer/record label that contain nothing but promising content. There will only be a post a month in this category.
If you have or know of anyone's music that you feel is a hit or any good, please send an email to the official notjustOk email with a link to their page or where I can download the song.
Tiwa Savage needs no formal introduction on notjustOk.com. Her music was first featured on the site in 2007 and since then she has dropped music sparingly due to her songwriting deal she got with  Sony records. However, she is getting ready to release a full length album in 2011 and we are convinced that she is one to look out for.
One Way Ticket
[audio:https://www.notjustok.com/wp-content/uploads/2010/08/Tiwa-Savage…One-Way-Ticket.mp3|titles=Tiwa Savage…One Way Ticket]
As far as you can remember, how long have you been in the music business?
Since I was about 15/16.
So how did you realize that you could sing and how did you go from singing for fun to singing as a career?
I think I realized when I would hear that I could actually mimic what some singers were doing, like I could learn and copy their ad libs and runs. I got my first paid gig as a background singer for George Michael. But only after I got signed to SONY as a songwriter was when I started earning money from music alone and not needing a day job.
Wow! George Michael? How did you get that gig?
Someone heard me singing at this local talent show and recommended me to the music director for George Michael. He was looking for background singers and so I went to audition and I got it. The show was in wembley arena in front of about 80,000 people. That show changed my life and I knew in my heart that one day I would be singing on a stage like that.
That's big; Wembley Arena and you went on to sing backup for Sting, Mary J Bige and a few others. I saw your X-Factor final performance what was you experience on the show like?
Wow that was such an amazing experience, it was also a painful experience 'cause obviously I wanted to get through to the final stage but it gave me a taste of what having great exposure is and how to work to handle it. In hindsight I am blessed to not have made it cause I would not have been blessed to sign with SONY.
Very True. Speaking of Sony how did you land that deal?

It was by the grace of God. I wrote a song that Fantasia (winner of American idol) heard, loved and recorded. I was living in NY then and my visa was about to expire, the vice president of Sony heard the song and asked me to come to his office the next day. He heard my other songs and offered me a deal. It was such a blessing from God because in one second my situation changed for the better.
Middle Passage
[audio:https://www.notjustok.com/wp-content/uploads/2010/08/Tiwa-Savage…-Middle-Passage.mp3|titles=Tiwa Savage… Middle Passage]
What inspired 'Middle Passage'… You pretty much praised and encouraged the African Man… And how did you come up with the sound and direction of how you composed the song? Its different
Yes o, I have to balance it out because "kele kele" was kind of not on the boy's side. lol.. No but really I admire African men so much. I see men around me like cousins, friends even my brothers and I see how hard they work just to keep up with the demands of the western world. I wanted a song to encourage them cause a lot of them hustle so hard to provide for themselves and family back home and they come against so many struggles and stigmas just being African. I wanted something just for African men 'cause as far as I have seen they are one of the most intelligent, most hardworking men in the world. Thanks for the compliment 🙂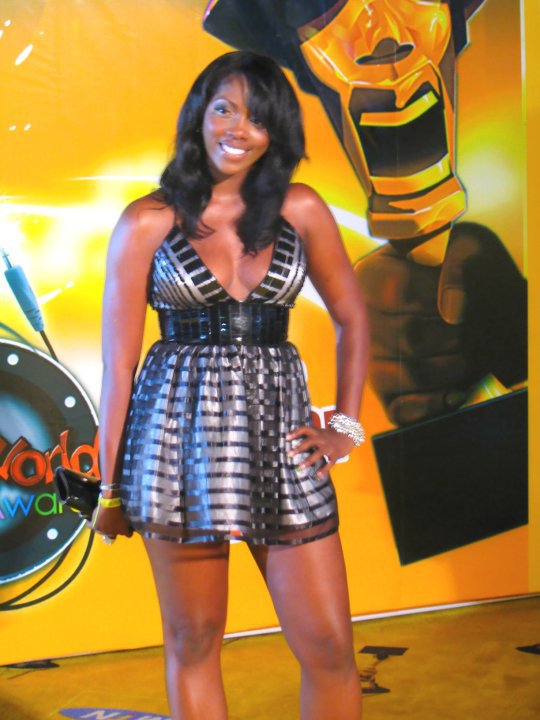 You are now in full Artiste Mode even though you still have your writer mode on. What are your plans now as an artiste? Are you getting ready to drop an album and if so when can we expect a Tiwa Savage album?
It is so much work, I still have to write for other artists like I have a song on Fantasia's new album called "collard greens & cornbread" I have a song with Kat Deluna featuring Akon and many others and I am writing my album too which is about 70% done. I am hoping to drop my album early 2011. I have so much music that I cant wait to share. So many styles; I am so excited and overwhelmed by the love and support that I have received thus far
We hear you also have a song recorded with the producer SoSick (DaGrin). How was it working with him in the studio and can we expect any other Nigerian producers or artistes on the album?
Sossick is soooo amazing. We had instant chemistry and the record he did for me is so unexpected. I love the song and it is featuring Leo Wonder. He is one to watch out for; his voice is so sweet. I am hoping to work with more artists and producers in Nigeria. People didn't expect that I could do a song like Kele Kele, they thought I was just a soulful singer but now people see a different side to me. So me collaborating with someone like 9ice would not be so far fetched. I admire Nigerian artistes so much and am looking forward to working with who will work with me 🙂
Ife Wa Gbona ft. Leo-1der (Produced by Sossick)

[audio:https://www.notjustok.com/wp-content/uploads/2010/08/Tiwa-Savage-Ft-Leo-1der…Ife-Wa-Gbona.mp3|titles=Tiwa Savage Ft Leo 1der…Ife Wa Gbona]
Yes when I heard Kele Kele, it pleasantly surprised me. I guess it is safe to say that it is the official single off the upcoming album. When is the video coming out?
Yeah kele kele is my 1st single, it wasn't going to be but it got out and I started getting great reviews about it. Girls loved it and so we decided to go ahead with it. The video is still in post production because it is all green screen and there are a lot of graphics to be added. It should be out early September, God willing.
Perfect! Are you currently signed to a record label in Nigeria?
Yes I am signed to 323 Entertainment. Owned by Tee billz and myself.
O yeah? How did you meet Tee Billz (Sauce Kid's former manager)?
I met Tee Billz through a mutual friend in LA, at first he wasnt really excited because he comes across artists all the time. He eventually took a meeting, heard some songs and from then on he was fully onboard, working endless hours on this project from video, to photoshoots to studios, etc.
Nigerian National Anthem by Tiwa Savage
[audio:https://www.notjustok.com/wp-content/uploads/2010/08/Tiwa-Savage…Nigerian-National-Anthem.mp3|titles=Tiwa Savage…Nigerian National Anthem]
So you are going the solo route. I like that. Would you like to add anything else that I may have skipped?
I just wanna say a huge thank you to all who have supported me. I really appreciate the love. I wanna thank Notjustok because you guys have been amazing. I also have to say a big thank you to my close friends and family beacuse it is not easy but their love has kept me going also Tee Billz because he is more that my business partner, he is a dear friend and my mentor and none of this would have happened without him. I wanna thank God; HE is my everything.
[youtube]http://www.youtube.com/watch?v=5ZrjJzRCyXY[/youtube]