'...Your Comedy Career Is To Mention Wizkid'- Blaqbonez Slams Carter Efe Over Machala Debacle
SHARE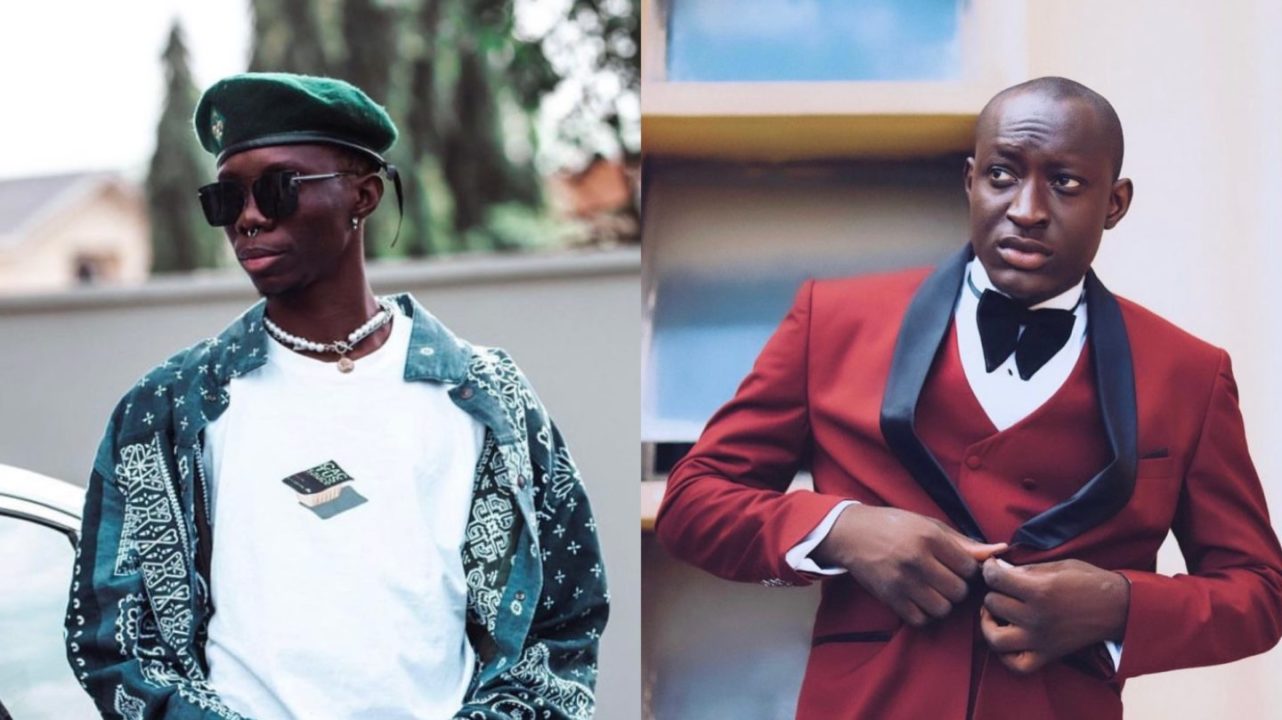 Blaqbonez is holding nothing back or mincing any words as he gives Carter Efe a heated response to his claims of hate and ignorance. See what the two acts had to say and what transpired below.
New-age Nigerian rapper and top Chocolate City talent, Blaqbonez has gone full throttle against comedian and Machala artiste and influencer, Carter Efe has he slams him following an accusation from the latter act that he hates him and was reacting to the Machala song debacle ignorantly.
ALSO READ: Blaqbonez Slams Carter Efe Over Deal He Offered Berri-Tiga For 'Machala' Song
This new development to the story transpired following Carter Efe's response to Blaqbonez's reaction to the disagreement that ensued in the removal of the song. Carter Efe had similarly responded via Twitter, saying; "Blaqbonez I know you've hated me from day one ,if you're jealous just say it ok And also before open your mouth to talk rubbish check for facts Egbon Don't act like a baby, because nobody offered anybody 5% Don't hate just take note"
Blaqbonez promptly hit back at the comedian by quoting his tweet and brazenly sharing how he felt about him in one go. According to Blaqbonez, he'd indeed always not liked the comedian and had a lot to say in that light. The rapper stated; "no lie, I've always hated you. u not funny, you made a brand off riding dick, your whole comedy career is either dance naked or mention wizkid. Look around everyone's building they OWN legacy, u out here being stupid for someone who don't give a fuck about u !" Not letting up, the rapper expended more Twitter characters on his sentiments towards Carter and made an extra tweet sharing that he spent money not to look like the latter who he referred to as a naked comedian.
READ AS WELL: Nasty Blaq Slams Fave's Reaction To 'Machala' Song Removal, SEE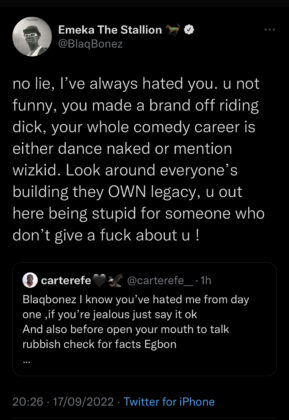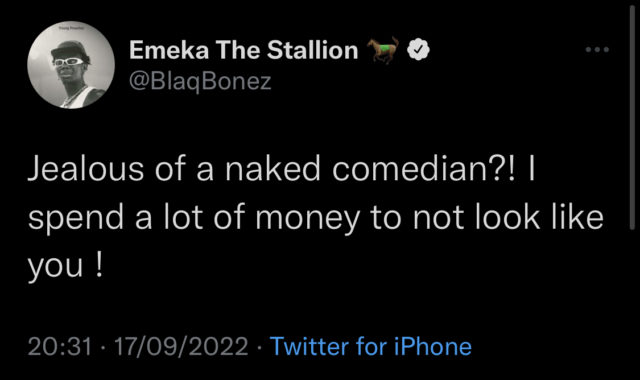 Recall that Blaqbonez had previously reacted to the Machala song removal saga following circulation of a story that the song had been taken off streaming platforms due to the fact that Carter Efe had offered singer, Berri Tiga N100, 000 for his input on the song. Fellow comedian and friend to Carter, Nasty Blaq had also gone at singer Fave for reaction to the fallout behind the song's removal.
Machala by Carter Efe and Berri Tiga was however reuploaded on streaming platforms on the 16th of September, indicating that both parties were able to reach a consensus.
Get updates from your favourite Afrobeats stars as they drop via Notjustok on Twitter and Facebook