Yemi Alade Represents Africa With "Shekere" Live Performance For Global Citizen's "Global Goal: Unite for Our Future"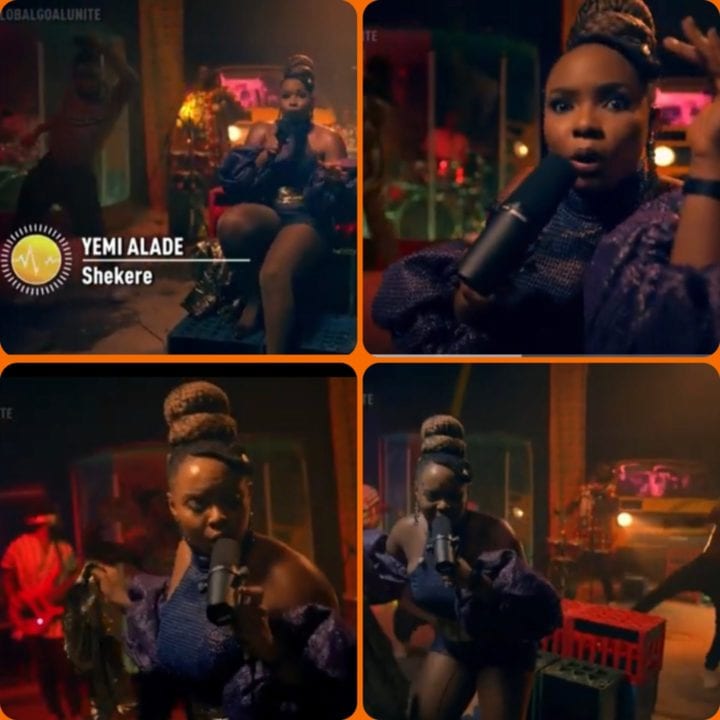 Yemi Alade Played "Shekere" Live
Nigerian pop star, Yemi Alade joined talented A-list artistes across the world to perform 'Shekere' Live on the 26th of June for the Global Citizen's "Global Goal: Unite For The Future", an event intends to shed a light on communities disproportionately affected by the coronavirus pandemic.
Wearing halter neck and puffy sleeve, the Afrocentric artiste, Yemi Alade, performed her hit single, 'Shekere', where she featured Grammy award-winning legend, Angelique Kidjo but this time, along with a full band.
From the wide shot of the video, it's evident the performance was broadcasted Live from Lagos where the Yemi Alade is based.
During the performance, a visual artist painted Yemi Alade as part of the performance for the "Global Citizen's Unite For The Future" event.
Yemi Alade is the only African artiste that has performed so far, joining other international stars like Miley Cyrus, Shakira, J Balvin, Jennifer Hudson, Coldplay, Usher, Justin Bieber and Quavo, Christine and the Queens and Chloe X Halle on the virtual stage.
Watch Yemi Alade's Performance of 'Shekere' at the Global Goal Event
SEE ALSO: BET AWARD 2020 Full List of Winners
Get more updates on Twitter @NOTJUSTOK