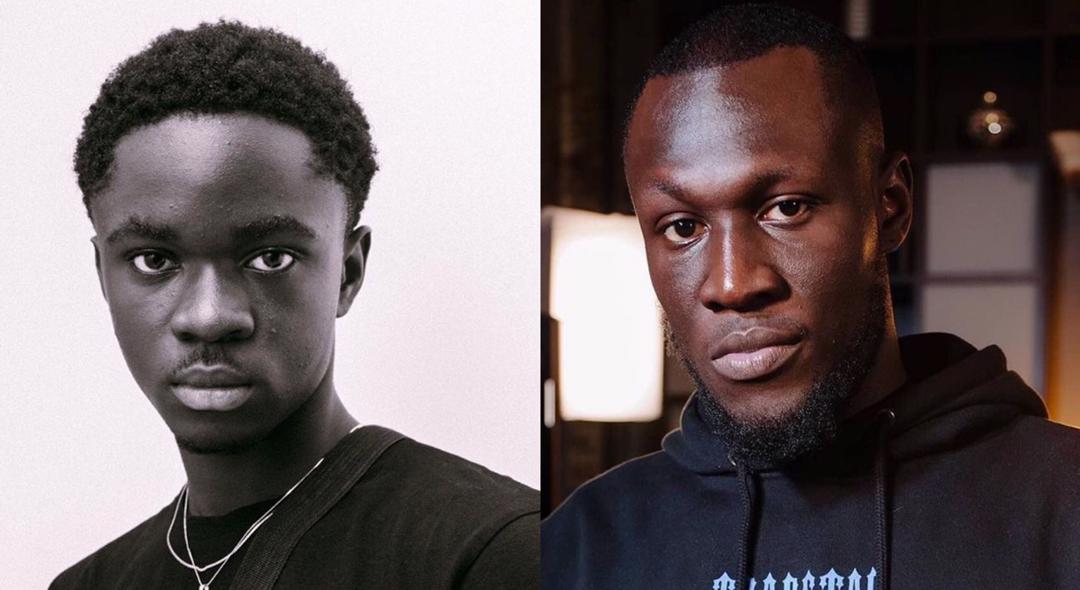 Fast-rising Ghanaian rapper, Yaw Tog has come under public scrutiny following comments made during a recent interview that he made British rapper, Stormzy more popular in Ghana.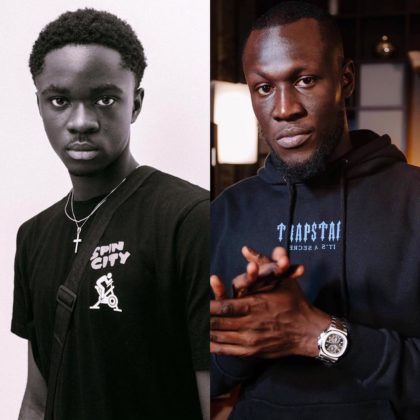 The rapper made this statement in an interview that surfaced on Thursday, the 8th of July 2021. Yaw Tog was asked if he thought featuring Stormzy made him more popular in the Ghanaian market. He replied that he also made the British rapper more popular in the market because people didn't really know Stormzy. This caused quite the stir on social media and lots of people including Ghanaian celebrities had their say on the issue,
Twitter user @stingg__ recalled that she was at Kumasi when they shot the video for their collaboration and hardly anyone knew Stormzy. In her words;
I was with Yaw TOG and Stormzy in Kumasi when they shot the remix and trust me noooooo one knew who stormzy was... All the people were clamoring to see yaw and Kwesi. The boy was not wrong with his statement. Y'all tripping
Ghanaian radio host, Lexis Bill was of the opinion that Yaw Tog did not mean to disrespect Stowmzy by saying he made him more popular in Ghana;
Even Stormzy will see there's no malice in what Yaw Tog said. He answered the question based on the preamble set by the interviewer and if there's anything I'll take from it, that's a young man who knows his worth. He equally made a few more people know who Stormzy is. Fact!
Another radio host, Sammy Forson said that comments like Yaw Tog's should be discouraged in the industry;
Yaw Tog's comments about making Stomzy popular in GH are the kind that unfortunately encourage selfish behavior in the industry.. If u know what it takes to be a mainstream artist in the UK and play listed into other parts of europe, u won't loose talk.. Smh.. Focus on ur music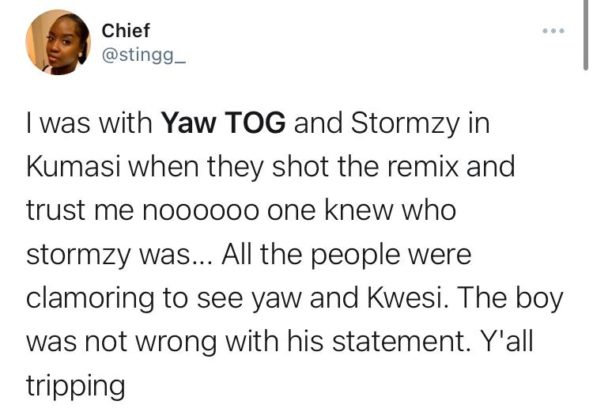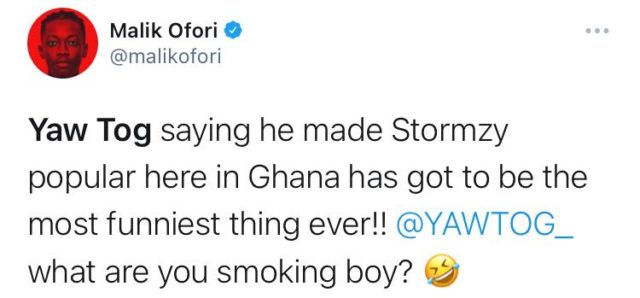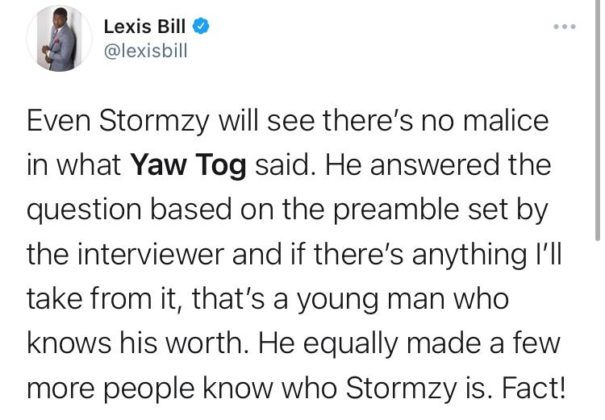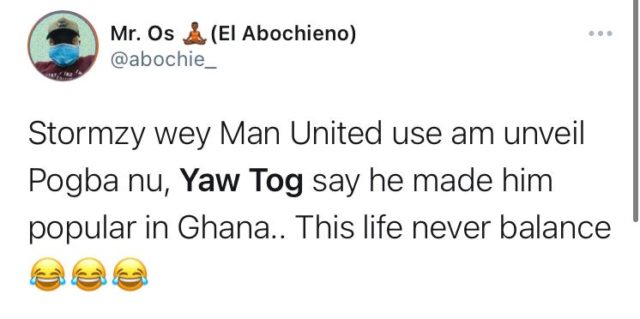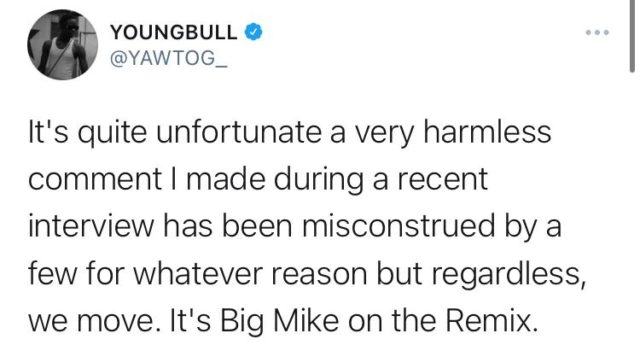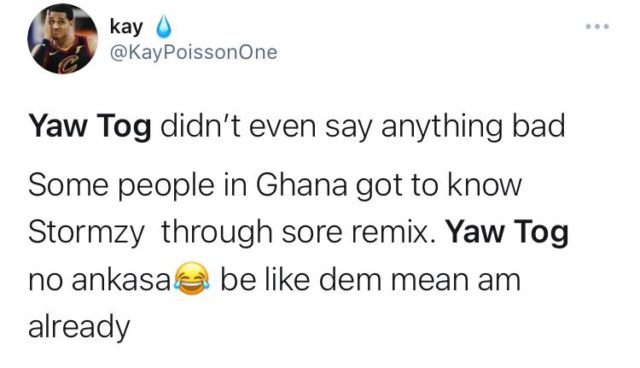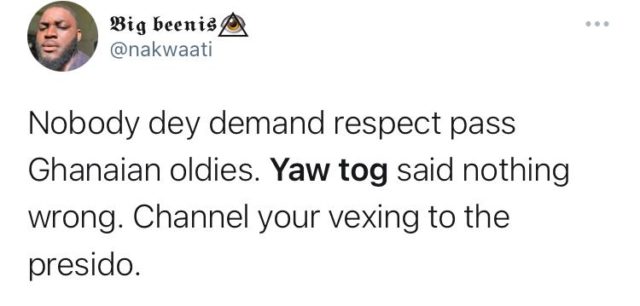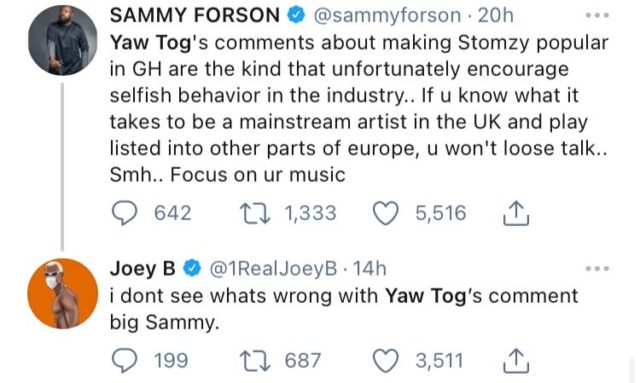 View this post on Instagram
READ ALSO: VGMA Awards 2021: KiDi, Diana Hamilton, Adina Thembi Win Big | See Full list of Winners
Yaw Tog saying he contributed to making Stormzy more popular in Ghana may not be far off. The singer's song "Sore" won the Hip Hop Song of the Year award at the annual VGMAs in Ghana. So huge was the song's impact that Stormzy decided to have a go and feature on the remix. Can we therefore say that Yaw Tog was wrong with his comments or not?