Nigerian singer, Timi Dakolo has responded to Nigerians seeking to cancel him for performing at the declaration ceremony of Atiku Abubakar and this response might stir up more backlash.
The singer is currently facing the wrath of Nigerians on Twitter as they attack him for performing at the official declaration ceremony for Abubakar where he announces his candidacy for the upcoming presidential election in Nigeria.
This "call to cancel" started later in the day on the 23rd of March 2022 and placed Timi Dakolo on Twitter trend tables when a Twitter user @olaolu_thaniel made a public announcement that Timi Dakolo was performing in Abuja International Conference Centre "endorsing Atiku". Timi Dakolo then responded to the tweet telling the Twitter user "I will sing and collect bread my guy, if it pains you well well, go sing your own..." ending the tweet with a laughing emoji.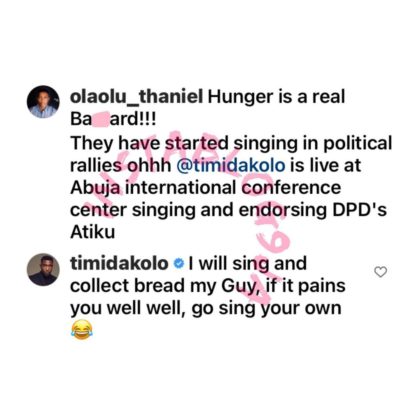 The response has further stirred reactions as Nigerians on Twitter demand he is "cancelled" for "using his skills to campaign for Atiku".
In January 2022, Timi Dakolo had earlier stated that he will not hesitate to perform for any politician this coming election if the need arises and it meant him "collecting money". This statement was made on the 13th of January via Twitter after a Tweep by the name @kingadetunji responded to Timi Dakolo's tweet where he said Timi Dakolo will sing for the politicians as Nigerians enter another political campaign era. In response, Timi Dakolo had confidently told the Twitter user that he will do just that and "collect" his "money".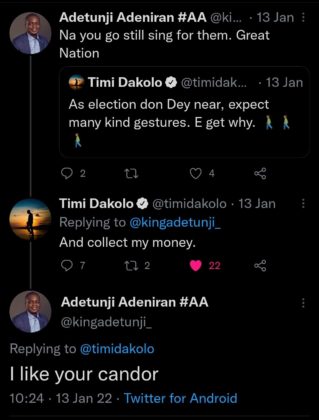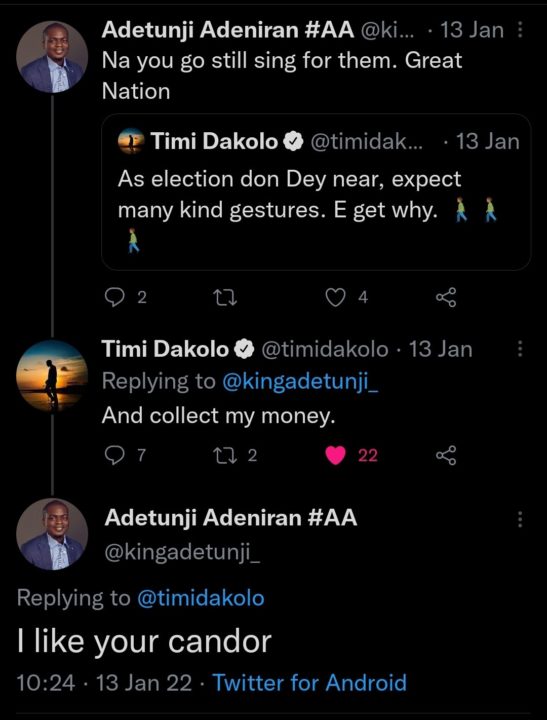 This was earlier in January and in March, Timi Dakolo was doing just that, as he was spotted performing for a political rally.
According to some Nigerians that are reacting, Timi Dakolo's act is one ladened with "hypocrisy as his act is not different from Taribo West praying for Tinubu on his birthday" but other Nigerians believe that the 'Great Nation' singer was only using his skills to get his bread and should not be cancelled for that because doing one's job does not equate support for the politician. To many, Timi Dakolo singing for Atiku is not the problem, their problem is the complaints from influencers in Nigeria when other artistes perform for the other political parties.
See reactions;