Teni 'clapsback' at internet bully who mocked her for being single
Nigerian singer and entertainer, Teni savagely replies a troll who mocked her for being single and growing old.
The entertainer, Teni who is known for her good sense of humor, took to social media on the 6th of October 2020 to share her birthday thoughts via a tweet before she was bashed by a troll. Her birthday tweet reads:
Let me start planning my surprise birthday party for myself! I will be surprised, who go bake cake? Na December o.
A troll responded with:
Na when you go stop all this? And have your own family, abi you no dey reason shey you don dey old and big?
The self-acclaimed 'sugar mummy', responded with a 'clapback', as she offered to become the troll's stepmom, after inquiring of the working conditions of his Dad's engine. In her words:
Your popsi engine still dey work? Make I become your stepmom.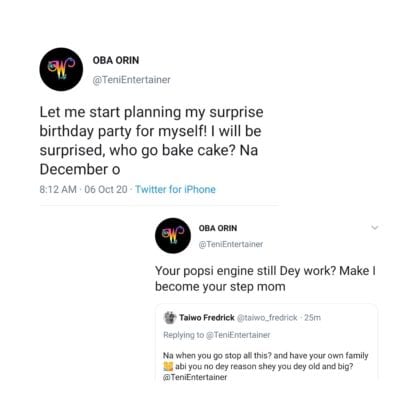 The entertainer's savagery must have been so painful for the troll because he deleted his tweet afterward.