Nigerian indigenous rappers, Reminisce and Olamide are rolling back the years with a new single which will drop very soon. This one is titled "Omo x100".
Reminisce posted this information on his Twitter page on Monday, the 24th of May 2021. He posted the artwork for the new song, an illustration of himself and Olamide as golden Greek statues, along with a simple caption, "Incoming! #Omox100"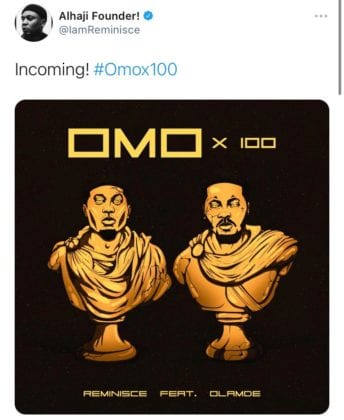 READ ALSO: Reminisce - Instagram ft. Olamide, Naira Marley & Sarz
The two rappers are known in music circles to be very close friends and their previous collaborations like "Local Rappers" with Phyno, "Government" with Endia & "Hustle Loyalty Respect" were big hits. We cannot wait to hear what they have in store for us on "Omo x100". The most recent collaborations between the duo were on 9ice's "Oja Majemi" and a joint effort with Sarz & Naira Marley on "Instagram".