Rema Reflects On Twitter, Apologizes To "Eric" For Stealing His Laptop
SHARE
For reasons we presently do not know, Rema is on a reflective mode and he is doing that via Twitter, talking about issues from his past.
The Beamer singer went off on Twitter on the 28th of September after his performance at the Big Brother Naija finale.
At first, we thought the words were lines from an upcoming project when he was talking about "fame" but then he started talking about personal issues that sound more like facts, one of which was about his late brother and mother.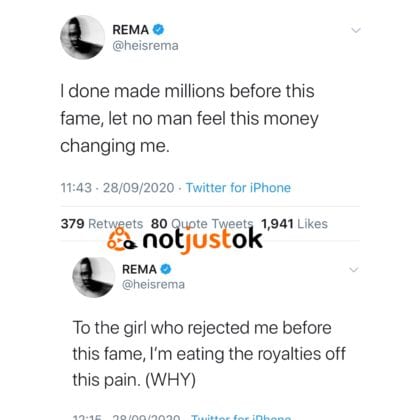 According to Rema, he doesn't trust people so much because of how they were never available when his brother died and he was left to take care of his mother, but now, they come around him, and for that, he's sceptical because their intentions might not be genuine.
He said;
"Eric, Sorry I stole your Laptop in 2017, I know you were trying to help me. My Mom had a child on the way, I was the only man in my family. They made fun of her because she got pregnant, I wanted to prove them wrong bro, I had to do it.

When my late brother did house parties y'all came, when he died only 2 friends stood beside his death bed. That's why I'm not comfortable around people, they love me because I have something to offer, You know yourselves don't let me catch you!!!..."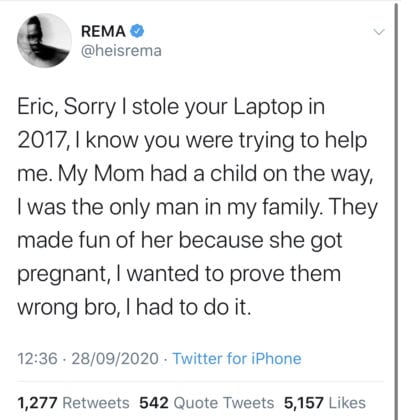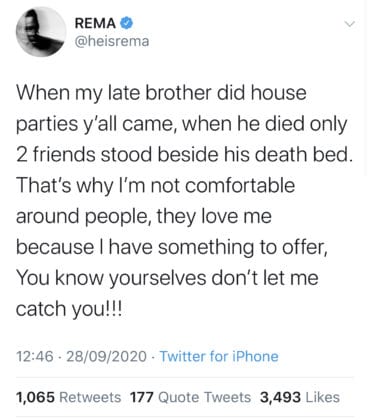 We will update you as usual once the reason for this mood is revealed but before then, if you have any clues, drop it in the comment section let's see if it can hold water.