"Wake Up!" - Mr. P Replies Fan Who Wants Him To Reconcile With Family
Renowned Nigerian singer, Peter Okoye, popularly known as Mr. P, has made it known that the chances of him getting back together with his extended family are not in sight.
Peter, a member of the now-defunct duo P-Square, responded to the fan who had initially threatened the singer with losing his endorsements if he did not meet with his family within 14 days. According to the fan, whose Facebook name is 'The voice of Nigeria', he stated that the singer and dancer might lose his endorsements and stop getting booked for shows if he doesn't comply with his demands.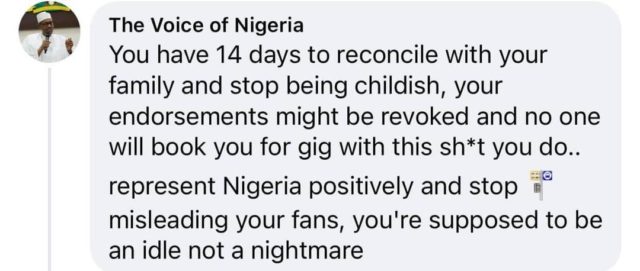 READ ALSO - Mr P Talks About Upcoming Reality Show and 8 Other Things About Him
Mr. P responded to the fan on his Facebook page, listing all the endorsements he currently has as well as his business. He went further to inform the fan that he had been getting gigs and touring the world but had only called a halt to it because of the COVID-19 Pandemic. Against those backdrops, he urged the fan to 'wake up from that sleep'.
Even with the pandemic I have done more than enough shows and gig this year. Check my timeline post. I am serving a living God for real!

. Still touring around the world!

Just cancelled southern African tour due to the 3rd face of Covid 19. US tour starts in august! Just be ready for the more disappointment!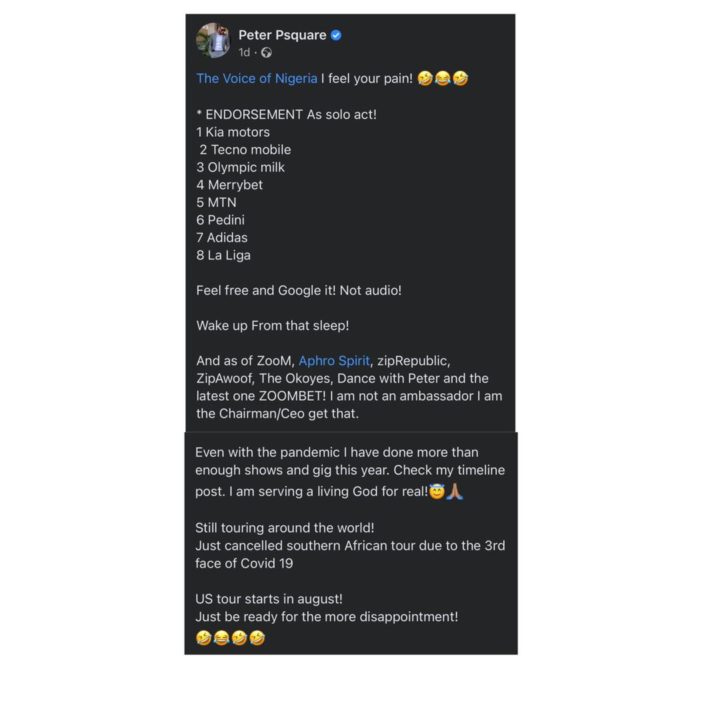 Remember that Peter Okoye had a fight with his twin, Paul, who is the other half of their group, P-Square, and their older brother, Jude, who manages them, sometime in 2017. Their irreconcilable differences led to the demise of P-Square. Although fans constantly beg both parties to come together, all of it falls on deaf ears.
Get updates as they drop via Twitter and Facebook