Kevin Hart reveals why he is in a wheelchair
SHARE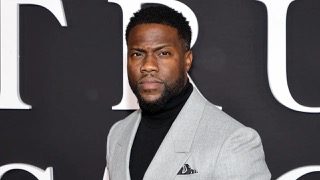 Kevin Hart won't be running for a while due to some injuries.
The famous comedian took to his Instagram account and posted a video of the unfortunate incident that led to him being confined to a wheelchair.
Kevin Hart, 44, said in the video that he is "sitting [his] ass down". He says he wants to get the news of his recent injury out so his fans are not alarmed when he is seen in public with his rehabilitation gear.
The actor and comedian explains that he became injured after participating in a race with a friend. He eventually didn't win the race, however, the Jumaji star tore his lower abdomen and abductors. He said, "The age  40 is real. It's not a game, respect that age".
Apparently, Hart challenged his friend to a forty-yard race to see who could run faster. His friend, however, is a retired NFL player, Stevan Ridley, who won a Super Bowl Football competition with the New England Patriots, so it is obvious why Hart lost.
For better context, muscles around your hip area are responsible for moving the legs towards and away from the centre of the body. A fancy to put this is adduction and abduction. 
Read Also: Watch Kevin Hart Sing Fireboy DML's 'Peru' For His Wife
How long will he be in the wheelchair?
Kevin Hart did not share how long his recovery process would take. He did, however, flash the wheelchair in the video he posted to Instagram.
Friends and fellow celebs shared their well wishes and concerns with him after he posted the video.
Kevin Hart's close friend and costar Dwayne Johnson shared that he has also experienced a similar injury. "I tore my adductor off my pelvis during a wrestling match," He commented. "You'll be fine. You'll grow a 3rd ball but you'll be fine."
Will Smith sounded off in agreement: "Getting older is REAL!!"