Check Out The Full List of Nominees For The 2023 Tingo Mobile-Soundcity MVP Award 
SHARE
Soundcity Radio and Television, the brand behind the prestigious Tingo Mobile-Soundcity music awards festival has announced the nominees for this year's edition of the continent wide pop music showcase.
The Soundcity MVP Awards, which transitioned from the famous Soundcity Video Music Awards (SMVA) in 2016, recognizes outstanding achievements of African artistes in 15 various music categories which include; Best Male MVP, Best Female MVP, Song of the Year, Music Video of the Year, African Artiste of the Year, African DJ of the Year, Best Hip Hop. Also, the non-music/ Special Recognition Awards are in Philanthropy, Sports, Community, and Social Development, Social Entrepreneurship, and Contribution to the growth of Music .
Following the earlier announcement of the return of the Tingo Mobile-Soundcity MVP Awards festival, the release of nominees now sets the stage for the voting leg of the road to the event date on February 11 at the Eko Convention centre, Lagos. Full details of the nominees can be found on awards website via soundcitymvp.com
According to Chief Executive Officer of Group8 Ltd and founder of the awards festival, Mr Tajuddeen Adepetu while explaining about what motivates the company to keep going with the awards, he says "…Indeed, it is that time of the year for those who dig into the depth of their artistry to entertain our music-loving continental audience to be celebrated." He added that the organisers will bend back double to put up a breathtaking show that would remain indelible in the minds of guests and viewers for a long time.
Speaking earlier as to why they decided to get involved, Dozy Mmobuosi, Managing director and founder of Tingo Mobile, the title sponsor of the event, said "We are honoured to be a part of the Soundcity MVP Awards and to support the incredible talents in the African music industry. We look forward to celebrating the achievements of these talented artistes and helping to shine a spotlight on the diverse and vibrant music scene in Africa.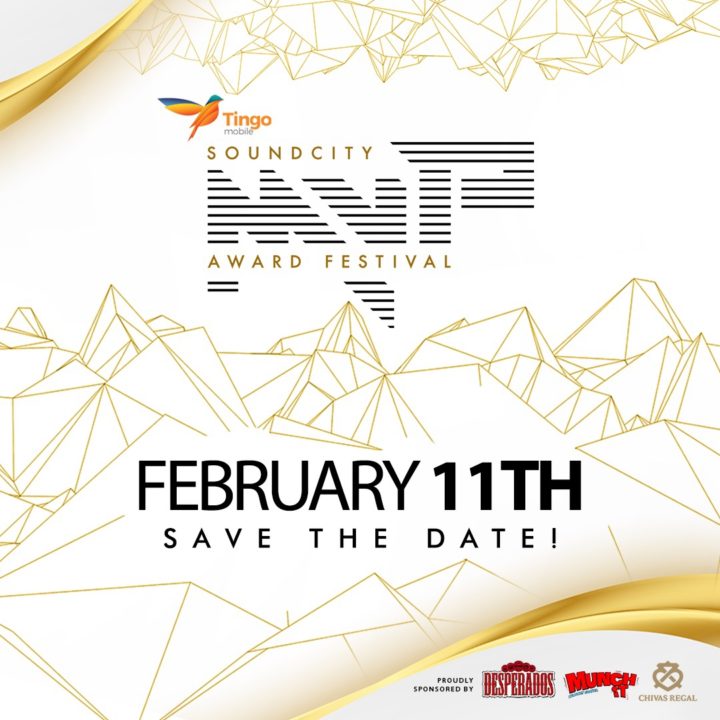 The Tingo Mobile-Soundcity MVP Awards festival is Africa's leading pop music award show which brings together artists across the continent for an amazing night of great performances and recognition. It is scheduled to hold on February 11 at the Eko Convention Centre, Victoria Island, Lagos. It is also been supported by MunchIT , Desperado , Chivas Regal
The event will also be televised live on the soundcity TV network on DSTV and GOTV as well as on terrestrial TV Onto in Lagos.
For further updates, visit soundcitymvp.com and follow @soundcitymvp on social media platforms.
See full list of Nominees Below
BEST NEW MVP
1. VICTONY (NG)
2. AYRA STARR (NG)
3. YOUNG JONN (NG)
4. SEYI VYBEZ (NG)
5. FAVE (NG)
6. RUGER (NG)
7. BLACK SHERIF (GH)
8. COSTA TITCH (SA)
9. PHINA (TZ)
10. WAKADINALI (KE)
AFRICAN ARTIST OF THE YEAR
1. BURNA BOY (NG)
2. WIZKID (NG)
3. DIAMOND PLATNUMZ (TZ)
4. KIDI (GH)
5. MSAKI (SA)
6. ASAKE (NG)
7. REMA (NG)
8. KIZZ DANIEL (NG)
9. TEMZ (NG)
10. ZUCHU (TZ)
BEST COLLABORATION
1. PHEELZ & BNXN FKA BUJU – FINESSE (NG)    - SEE LYRICS                        
2. FIREBOY & ED SHEERAN – PERU (REMIX) (NG)
3. BLACK SHERIF & BURNABOY – SECOND SERMON (GH)
4. CAMIDOH – SUGARCANE (REMIX) FT. MAYORKUN, KING PROMISE & DARKOO (GH)
5. COSTA TITCH – BIG FLEXA FT. C'BUDA M, ALFA KAT, BANABA DES, SDIDA & MAN T (SA)
6. ASAKE – SUNGBA (REMIX) FT. BURNA BOY (NG)
7. KIZZ DANIEL & TEKNO – BUGA (NG)
8. DALIWONGA – ABO MVELO FT. MELLOW & SLEAZY (SA)
9. MAYORKUN & VICTONY – HOLY FATHER (NG)
10. MAVIN ALL STARS – OVERDOSE (NG)
BEST HIP-HOP
1. BLACK SHERIF – KWAKU THE TRAVELLER (GH)
2. BLAQBONEZ – BACK IN UNI (NG)
3. M.I – THE GUY (NG)
4. KALIGRAPH (OG) JONES X DAX – HIROSHIMA
5. NASTY C & AKA – LEMONS TO LEMONADES (SA)
6. PSYCHO YP – BANDO DIARIES FT. ODUMODU BLVCK (NG)
7. LADIPOE – RUNNING FT. FIREBOY (NG)
8. WAKADINALI – GERI INENGI FT. SIR BWOY (KE)
9. CHYN – HOSANNA FT. FXTUNE (NG)
10. VECTOR – CLOWNS FT. LADI POE (NG)
LISTENER'S CHOICE
1. OXLADE – KU LO SA (NG)
2. KIZZ DANIEL & TEKNO – BUGA (NG)
3. BURNA BOY – LAST LAST (NG)
4. CH'CCO & MELLOW & SLEAZY – NKAO TEMPELA (SA)
5. DALIWONGA – ABO MVELO FT. MELLOW & SLEAZY (SA)
6. REMA – CALM DOWN (NG)
7. MAVIN ALL STARS – OVERDOSE (NG)
8. CAMIDOH – SUGARCANE (REMIX) FT. MAYORKUN, DARKOO & KING PROMISE (GH)
9. BLACK SHERIF – KWAKU THE TRAVELER (GH)
10. PATORANKING – KOLO KOLO FT. DIAMOND PLATNUMZ
VIEWERS CHOICE
1. ASAKE – PBUY (NG)
2. TIMAYA – COLD OUTSIDE FT. BNXN FKA BUJU (NG)
3. KIZZ DANIEL & TEKNO – BUGA (NG)
4. COSTA TITCH – BIG FLEXA FT. C'BUDA M, ALFA KAT, BANABA DES, SDIDA & MAN T (SA)
5. KIDI – TOUCH IT (GH)
6. BURNA BOY – LAST LAST (NG)
7. REMA – CALM DOWN (NG)
8. CAMIDOH – SUGARCANE (REMIX) FT. MAYORKUN, DARKOO & KING PROMISE (GH)
9. BLACK SHERIF – KWAKU THE TRAVELER (GH)
10. AYRA STARR – RUSH (NG)
DIGITAL ARTIST OF THE YEAR
1. CKAY (NG)
2. WIZKID (NG)
3. REMA (NG)
4. BURNA BOY (NG)
5. DAVIDO (NG)
6. DIAMOND PLATNUMZ (TZ)
7. OMAH LAY (NG)
8. 1DA BANTON (NG)
9. ZUCHU (TZ)
10. TEMS (NG)
AFRICAN DJ OF THE YEAR
1. DJ OBI (NG)
2. DJ TUNEZ (NG)
3. DJ BIG N (NG)
4. UNCLE WAFFLES (SA)
5. DJ MAPHORISA (SA)
6. DJ DIPS (NG)
7. BLACK COFFEE (SA)
8. DJ VYRUSKY (GH)
9. DJ 4KERTY (NG)
10. DJ TARIQO (MZ)
BEST MALE MVP
1. BURNA BOY (NG)
2. WIZKID (NG)
3. ASAKE (NG)
4. DAVIDO (NG)
5. DIAMOND PLATNUMZ (TN)
6. FOCALISTIC (SA)
7. KIDI (GH)
8. OMAH LAY (NG)
9. REMA (NG)
10. KING PROMISE (GH)
BEST FEMALE MVP
1. TEMS (NG)
2. AYRA STARR (NG)
3. GYAKIE (GH)
4. TIWA SAVAGE (NG)
5. BOOHLE (SA)
6. NINIOLA (NG)
7. NKOSAZANA DAUGHTER (SA)
8. TYLA (SA)
9. ZUCHU (TZ)
10. MSAKI (SA)
AFRICAN PRODUCER OF THE YEAR
1. BLAISEBEATZ (BIG FLEXA)
2. ANDRE VIBEZ (CALM DOWN)
3. MAGICSTICKS (ORGANISE)
4. PHEELZ (FINESSE)
5. NIPHKEYZ (I'M A MESS)
6. TEMPOE (SOWETO)
7. REWARDBEATZ (XTRACOOL)
8. CHOPSTIX (LAST LAST)
9. P.PRIME (WOMAN)
10. S2KIZZY (KWIKWI)
BEST GROUP OR DUO
1. BLAQ DIAMOND (SA)
2. SHOW DEM CAMP (NG)
3. AJEBO HUSTLERS (NG)
4. MAJOR LEAGUE DJZ (SA)
5. CAVEMEN (NG)
6. MELLOW & SLEEZY (SA)
7. DOPENATION (GH)
8. BURUKLYN BOYZ (KE)
9. YABABULUKU BOYZ (MZ)
10. NSG (UK, GHANA & NIGERIA)
BEST POP
1. FIREBOY – PERU (REMIX) FT. ED SHEERAN (NG)
2. REMA – CALM DOWN (NG)
3. YOUNG JONN – XTRA COOL (NG)
4. KIDI – TOUCH IT (GH)
5. DIAMOND PLATNUMZ – MTASUBIRI FT. ZUCHU (TZ)
6. RUGER - DIOR (NG)
7. OMAH LAY – WOMAN (NG)
8. AYRA STARR - RUSH (NG)
9. CRAYON – IJO LABA LABA (NG)
10. LASMID – FRIDAY NIGHT (GH)
SONG OF THE YEAR
1. OMAH LAY – I'M A MESS (NG)
2. OXLADE – KU LO SA (NG)
3. WANITWA MOS, MASTER KG & LOWSHEEN – SOFA SILAHLANE FT. NKOSAZANA DAUGHTER (SA)
4. BIEN X AARON RIMBUI – MBWE MBWE (KE)
5. BURNA BOY – LAST LAST (NG)
6. CAMIDOH – SUGARCANE REMIX FT. MAYORKUN, KING PROMISE & DARKOO (GH)
7. KIZZ DANIEL & TEKNO – BUGA (NG)
8. ASAKE – ORGANISE (NG)
9. ZAKES BANTWINI X KASANGO – OSAMA (SA)
10. MAYORKUN & VICTONY – HOLY FATHER (NG)
VIDEO OF THE YEAR
1. REMA – CALM DOWN (NG)
2. FIREBOY X ASAKE – BANDANA (NG)
3. COSTA TITCH – BIG FLEXA FT. C'BUDA M, ALFA KAT, BANABA DES, SDIDA & MAN T (SA)
4. ASAKE – PBUY (NG)
5. CAMIDOH – SUGARCANE REMIX FT. MAYORKUN, KING PROMISE & DARKOO (GH)
6. KIZZ DANIEL & TEKNO – BUGA (NG)
7. ZAKES BANTWINI X KASANGO – OSAMA (SA)
8. DIAMOND PLATNUMZ – MTASUBIRI FT. ZUCHU (TZ)
9. BLAQBONEZ – BACK IN UNI (NG)
10. OMAH LAY – SOSO (NG)
Get updates as they drop via Twitter and Facebook