Don Jazzy Reveals Plans for Mavin Records Concert at the O2
Don Jazzy has revealed that the Mavin Records artists may hold their first joint concert at the O2 in two years time, in response to a fan on Twitter.
Don Jazzy was asked when Mavin Records will put together a concert at the famous O2 arena and he replied asking for two years to put it together. He said this via his Twitter page on Saturday, the 28th of August 2021.
Mavin Records' artists, Rema and Ruger joined Nigerian superstar, Burna Boy last night at his own first headline concert at the O2. Don Jazzy himself seemed particularly proud by this and remarked about Rema's performance;
Odogwu brought out @heisrema at the o2. MADNESS 🔥🔥🔥. You can already see say o2 fit my boy. Hehe 😁
Ruger was also ecstatic about his first performance at the historic O2 arena and he wrote;
🇬🇧🏴‍☠️♎️. My first performance in London was at the O2 😭😭 my God you are so good I will praise you for the rest of my life. God bless @burnaboy 🦍 #BurnaboyO2
READ ALSO: Rema, Omah Lay, Ruger... Watch Highlights from Burna Boy's O2 Concert
When a fan asked Don Jazzy, "Don Jay abeg reason Mavin O2 Concert e for loud", he replied;
Ehnnn we dey come. Give us 2 more years make my young stars catalog swell up small. So they can give you a remarkable show of a lifetime. 💪🏾💪🏾💪🏾 #Mavin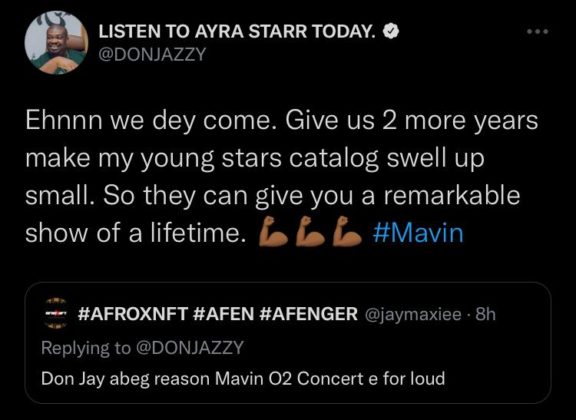 Get updates as they drop via Twitter and Facebook