Did Ruger Shade All New Music Released Last Week? See Why Fans Think So
SHARE
The king of shade is back--Ruger, and he's letting the shots fly with no mercy as he supposedly takes a swipe at all the new music released in the past week. Find out what Ruger had to say about some of the latest jams here.
New-age dancehall sensation, Ruger, who's become infamous for his online subliminals has once again purportedly thrown shade at the music that was released in the past week.
ALSO READ: Read Ruger's Reasons For Postponing Release Of Forthcoming Single, "Red Flags"
The singer had appeared to take a swipe at the music released over the weekend when he put out a message to his fans, promising the release of his teased single, "Red Flags". Attached to a photo of himself that seemed to have been taken on set for his coming video, Ruger said, "I'm so sorry for letting you listen to so much noise this week ? pls forgive me ??. RED FLAGS drops NOVEMBER 15th with visuals ??. Thank you"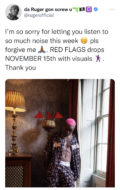 This tweet had sent music lovers on Twitter to their playlists in an attempt to put two and two together and unravel Ruger's message. While it's inconclusive whether or not the singer was actually taking shots at new music or was speaking generally, according to responses to his tweet, fans suspected his message was to the most notable releases of the week; Tiwa Savage and Asake's "Loaded" and the Mavin joint record, "Won Da Mo."
Related