Davido, Yemi Alade, Don Jazzy, Express Disappointment at Desmond Elliot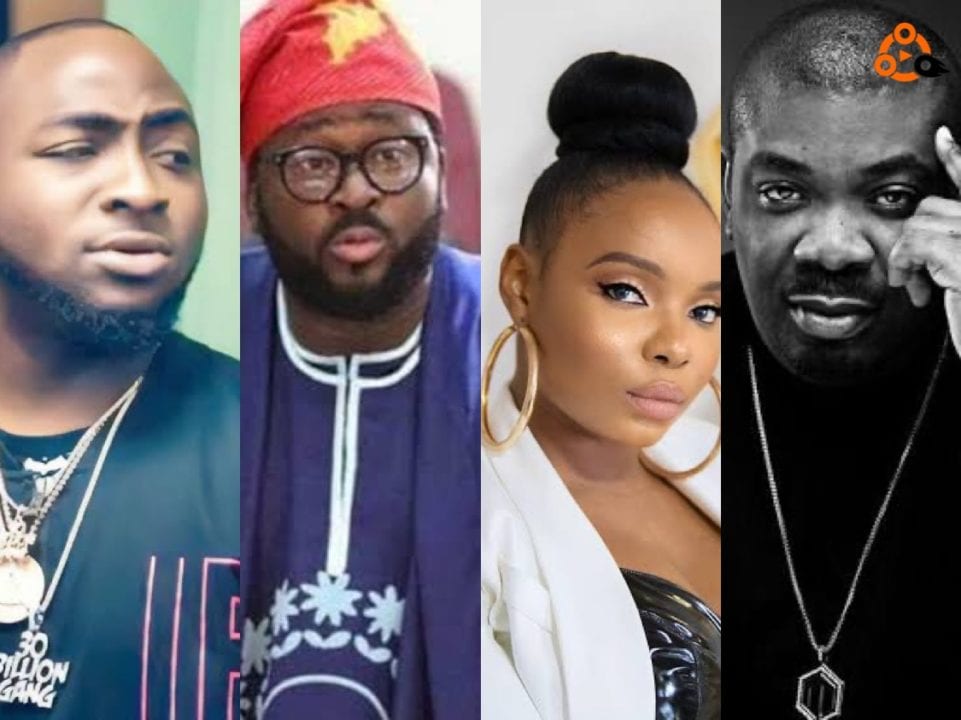 Nigerian artistes have expressed their disappointment over Nollywood actor and politician, Desmond Elliot after the speech he made at the Lagos State House of Assembly which became public on the 29th of October 2020.
The actor and politician was called out on Monday, the 26th of October by popular medical doctor and social media influencer, Dr. Olufunmilayo, who informed the public that Desmond Elliot is championing a social media bill to restrict the freedom of speech online.
The actor, refuted this claim immediately with a video to counter the claims on that same day stating all he's asking for is peace on social media. This statement was defeating after the release of the video where he was spotted stating categorically that Nigerian artistes and influencers which he following have to be curbed on social media as they are
Mr. speaker, we need to address something, Nigerian youth, the social media, social influencer, all of these are making the narrative that we are seeing today. Except were joking with ourselves, social media, yes, do good, has its negative impact... when I went through the comments I could not believe it Mr speaker. The curses, the abuses from children and I ask myself,. is this Nigeria? What is going on? Children cursing? people having the effrontery to enter and Oba's palace? hold the staff of office? culture is gone Mr. speaker, in the next five years, there will be no Nigeria if we don't start now.

https://twitter.com/MOTIVATEDGEORGE/status/1321806773351829505?s=20
This video which has already done viral evoked reactions from Nigerian artistes such as Yemi Alade, Davido, Don Jazzy, Dremo who has condemned the actor for not speaking for the youth who elected them into the office rather proposing ways to silence the youth and not allow their voices to be heard.
According to Davido, Desmond Elliot has ruined the childhood memories they have of him from his movies, Dremo flat out cancelled him, Don Jazzy is speechless, DJ Neptune is certain it's the work of drugs, while Yemi Alade urges him to speak for the people that voted him in.
See tweets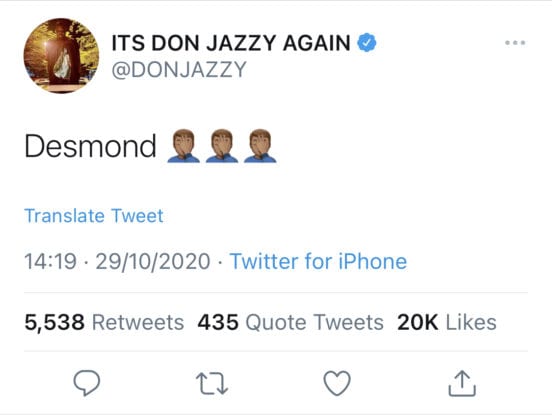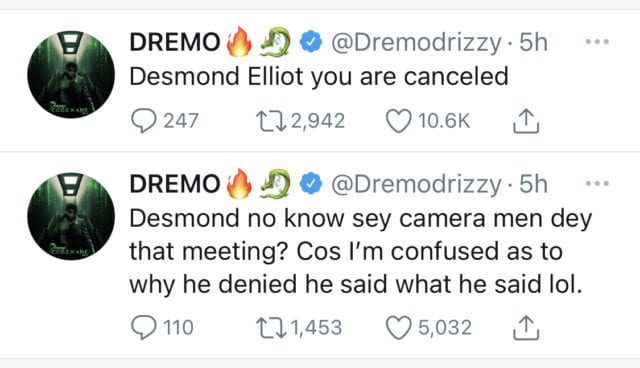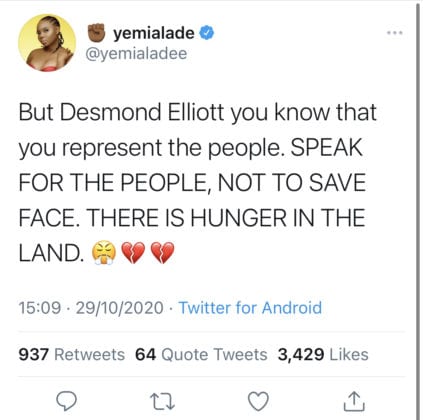 Desmond Missy, Oh Sorry !
Desmond Elliot who's your supplier?
You don buy big market o.

— DJ Neptune #NoBodyIconsRemix (@deejayneptune) October 29, 2020