Watch Davido's Performance Video On Jimmy Kimmel Live Show
Davido appeared on the American late-night talk show, Jimmy Kimmel Live Wednesday (March 3) as he gave fans a thrilling performance.
Davido gave viewers of the Jimmy Kimmel Live talk show an entertaining performance with his live band on the 3rd of March 2021. He performed hits like Assurance off his A Good Time album and Jowo off his A Better Time album on the set of Jimmy Kimmel Live.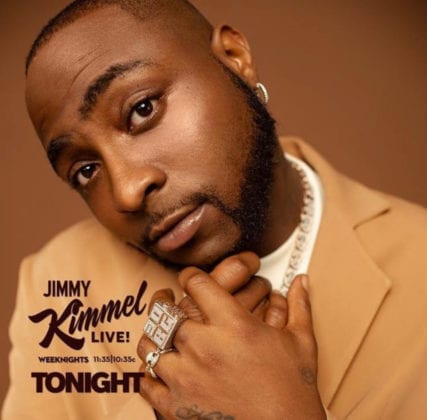 Jimmy Kimmel Live! is an American late-night talk show, created and hosted by Jimmy Kimmel, broadcast on ABC. The nightly hour-long show made its debut on January 26, 2003 at Hollywood Masonic Temple in Hollywood, California as part of ABC's lead-out programming for Super Bowl XXXVII. (Source: Wikipedia).
Watch Davdo's performance on Jimmy Kimmel Live below
View this post on Instagram
Love this performance? Drop your thoughts below in the comment section, Davido will love the feedback.