Buju is Trending Because of Wizkid and Davido. Here's Why
Nigerian singer, Buju is trending on Twitter today after old tweets from his account where he was trolling other artists such as Wizkid and Davido resurfaced.
His old tweets showed Buju throwing shades at artists like Davido, Wizkid, and Mr Eazi as far back as 2015. The tweets were shared again on the internet and sparked outrage on Friday, the 30th of July 2021.
In one of the tweets, Buju tells Davido to "grow a s*c", calling him a "childish c*nt". His exact words were, "Someone should tell @iam_Davido to grow a s*c, such a childish c*nt! Smh". In his other old tweets. Buju calls Mr Eazi overrated and refers to Wizkid's Daddy Yo as "trash". He says;
You see that Mr Eazi guy, yeah him .....O-V-E-R-R-A-T-E-D + Daddy Yo is the most anticipated TRASH 🤞🏾

If I say that "Daddy Yo" song is trash now y'all probably go mad so YAY!! Mad Jam !! 💃🏼💃🏼💃🏼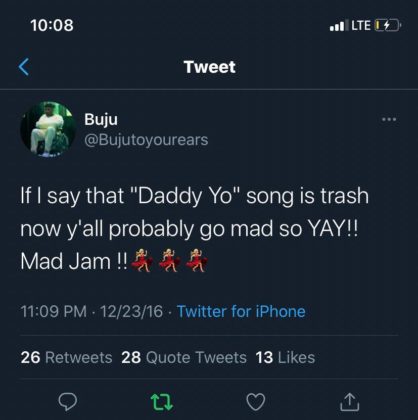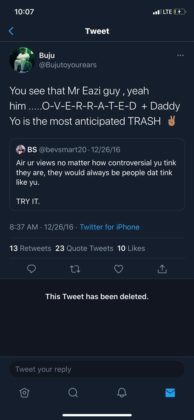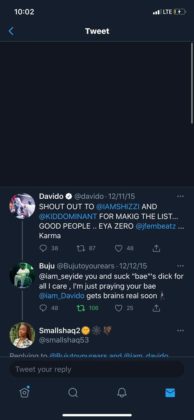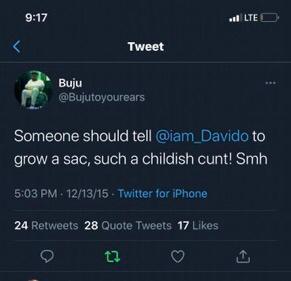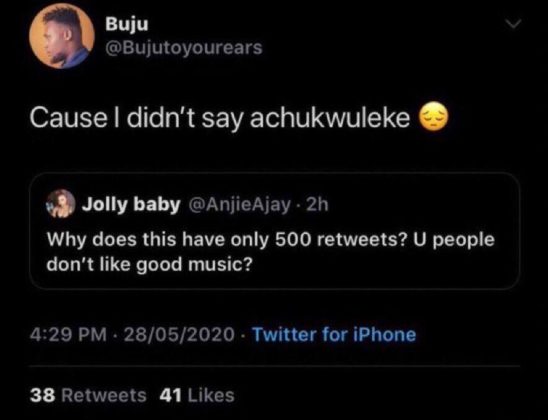 READ ALSO: Best New Naija Music Week 27 Features Buju, Yemi Alade, Moelogo, Ajebo Hustlers and Others | Listen
Wizkid, Davido, and Mr Eazi were not the only artists Buju trolled with his old tweets. He also took shots at Mavin Records singer, Rema. All these have led to the singer trending on social media, but for the wrong reasons. Twitter users like @Just_Silva__ wondered if Buju did not know he was going to become an artist. She asked, "My own question is, when Buju was making those tweets, does he have any idea he was going to be an artist too? 🤔". Another Twitter user, @antigravitylite said;
This Buju guy didn't know he would be an artist one day or what? He insulted Wizkid and Davido in the past. U expect to be bigger than them now? Same goes to u trolls that want to be musicians, come and blow na. There's one Dreylo that once insulted Wizkid. He's an artist now🤣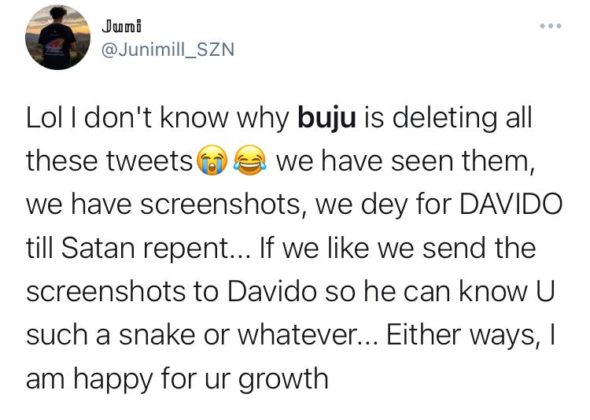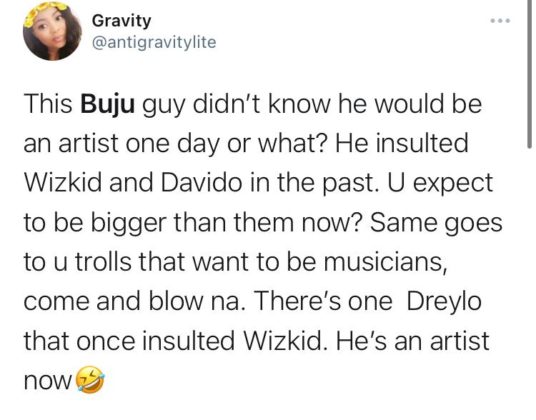 It is important to note that these tweets were tweets written by the artiste many years before he became as famous as he presently is.
Get updates as they drop via Twitter and Facebook