Asake aka Mr Money has apologised to fans that were present at his Birmingham show for the delay. See his apology in our story below.
Nigerian neo-fuji sensation and top breakout act of 2022, Asake who's popularly referred to as "Mr Money", has apologised to his fans that were present at his Birmingham concert for the show delay.
ALSO READ: Fans Boo Asake in Birmingham For Coming Late To Headline Show - Watch
According to Asake who'd performed in Birmingham on the 3rd of December, and had apologised with a tweet, he'd been delayed by the show promoters. The singer said; "Birmingham I'm sorry for the delay yesterday. The promoters delayed my pick up time for reasons best known to them, But I'm super grateful for your patience and understanding."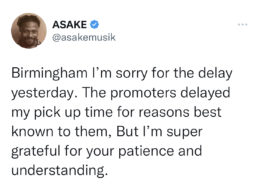 Fans had earlier taken to Twitter to further protest Asake's latecoming to the show where he'd been booed and had been further infuriated when he'd reacted with a photo of himself posing with a fanned out was of cash.
Get updates on your favourite Afrobeats stars as they drop via Notjustok on Twitter and Facebook