Adekunle Gold Opens Up About Sickle Cell Struggles
While fans enjoy Adekunle Gold's new single 5 Star, the singer has gone the extra mile to pen a heartfelt note to his fans sharing his struggles with sickle cell disease. Read all about it below!
Following the release of his single, 5 Star, Nigerian Afro Highlife singer, Adekunle Gold has opened up on his past health struggles with sickle cell anaemia in a heartfelt note to his fans.
ALSO READ: Burna Boy And Adekunle Gold Set To Headline One Of The Biggest Music Festivals In The US
The singer who had made this revelation via a personalised email to his fans had spoken of his struggles as a child growing up with the disease, detailing how he had to stay indoors and miss out on outdoor activities or suffer health problems. The singer also spoke about the financial implications for his family and how he'd prayed to God to take his life when he became severely ill at 20. For Adekunle Gold, regaining health after that encounter was a turning point and he urged his fans to live a 5-star life in any capacity and aspire to extend grace to people around them.
Sequel to his successful North American Catch Me If You Can tour, Adekunle Gold is set to embark on the Australian leg to promote his latest album. The singer has also been slated to headline the Afropunk Festival, one of the biggest music festivals in the United States.
Read Adekunle Gold's narration of his sickle cell journey below: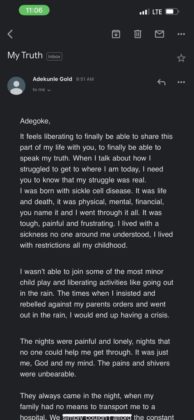 Get updates on Afrobeats stars from Notjustok via Twitter and Facebook