'Ashana' Lyrics by Ruger
SHARE
Ruger Lyrics
Ashana is another potential hit song off Ruger's newly released debut album, read Ashana lyrics below and get farmilar.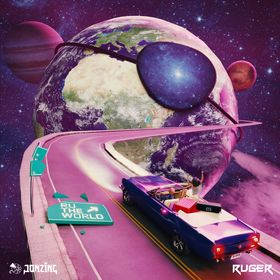 RELATED: Read 'Tour' Lyrics by Ruger
Ruger - Ashana Lyrics
Shhh!
Girl it is bed time
We goan fit fuck till da late night, hmmm
Your friend is awake, right?
She gwan fit join it's a great night, huh, huh
Sooner me nah waste time
Baby it is eat that cake time
For the girls me I make time
'Cause nothing sweeter than a weird night
Ashana too dirty, nuh
Ashana too dirty, nuh
Meet me by 2:30, nuh
Me I want to get in, yuh
Ahan, ahan
Get in, yuh
She ah like too flirty, nuh
And her back too threaten oh
Ashana too dirty, nuh, hmm
Demma talking rough
We ah laugh it off
But behind da yard we gwan cork it up
Manna Kanu Nwankwo Papilo
We underground before but right now we up
Better come prepared coz you're not enough
Come with your full squad so we can rack it up
Tear dem limb from limb then we wrap it up
Get back home so a baddie come warm me up, ou!
Girl it is bed time
We goan fit fuck till da late night, hmmm
Your friend is awake, right?
She goan fit join it's a great night, huh, huh
Sooner me nah waste time
Baby it is eat that cake time
For the girls me I make time
'Causenothing sweeter than a weird night
Ashana too dirty, nuh
Ashana too dirty, nuh
Meet me by 2:30, nuh
Me I want to get in yuh
Ahan, ahan
Get in yuh
She ah like too flirty, nuh
And her back too threaten oh
Ashana too dirty, nuh
Many girls of different shape and size
Manna wanna take them all because you know I'm nice, you know
I'll never take no one's advice
I'll have them as many as I want it's not your life, you know
Bend down make I see wetin you dey advertise
I dey see wetin you dey show me no be chise for sure
Anywhere Ruger dey many girls must dey
Anywhere I dey plenty girls must dey
Shhh, girl it is bed time
We goan fit fuck till da late night, hmmm
Your friend is awake, right?
She goan fit join it's a great night, huh, huh
Sooner me nah waste time
Baby it is eat that cake time
For the girls me I make time
'Cause nothing sweeter than a weird night
Ashana too dirty, nuh
Ashana too dirty, nuh
Meet me by 2:30, nuh
Me I want to get in yuh
Ahan, ahan
Get in yuh
She ah like too flirty, nuh
And her back too threaten oh
Ashana too dirty, nuh, hmm
I know
I know demma all align oh
I know yeah, I said so
When we yarn demma all align oh
My bro better watch close
Hundred men dey for my side so
So pipe low
Fresh to the teeth not one of dem those
Dem know
Check Lyrics of latest Naija songs Here
Get Fresh updates as they drop via Twitter and Facebook