At the start of every year, one of Nigeria's foremost hiphop producers, Sess The PRBLM Kid, releases a free beat-tape. The 3rd edition, tagged "PRBLM Instumental Tape III" (#PIM3) comes in a slightly different form this year.
Fresh from his stellar production contribution to Falz's critically-acclaimed socio-politically charged album "Moral Instruction", Sess and the TopBoy Firm team up with NotJustOk.com to deliver #MinoHolyTrinity. The #MinoHolyTrinity Challenge is a TopBoy concept which serves to give back to the industry in terms of stirring up the creative juices of up & coming acts, while rewarding the best with a rare experience.
For the next 3 weeks (February 13 - March 6), the TopBoy Firm and NotJustOk.com will be accepting entries for the #MinoHolyTrinity Challenge. Afterwards, we will listen to all properly submitted entries for a period of ONE (1) Week, then pick out the Top 10 for the final stage.
Voting commences immediately the Finalists are revealed. The eventual winner(s) will be selected based on the number of Plays, Downloads AND LIKES on their Mino Music #PIM3 entries.
PRIZES:
Winner:
One Month tutelage from Sess.
Includes basic audio engineering, recording sessions with Sess and Business coaching.
Free Studio Recording Mic.
Free beat by Sess.
Free promotion on NotJustOk.com for song produced by Sess.
1st Runner Up: A Free Beat by Sess, Free Promotion on NotJustOk.com.
2nd Runner Up: Free promotion on NotJustOk.com.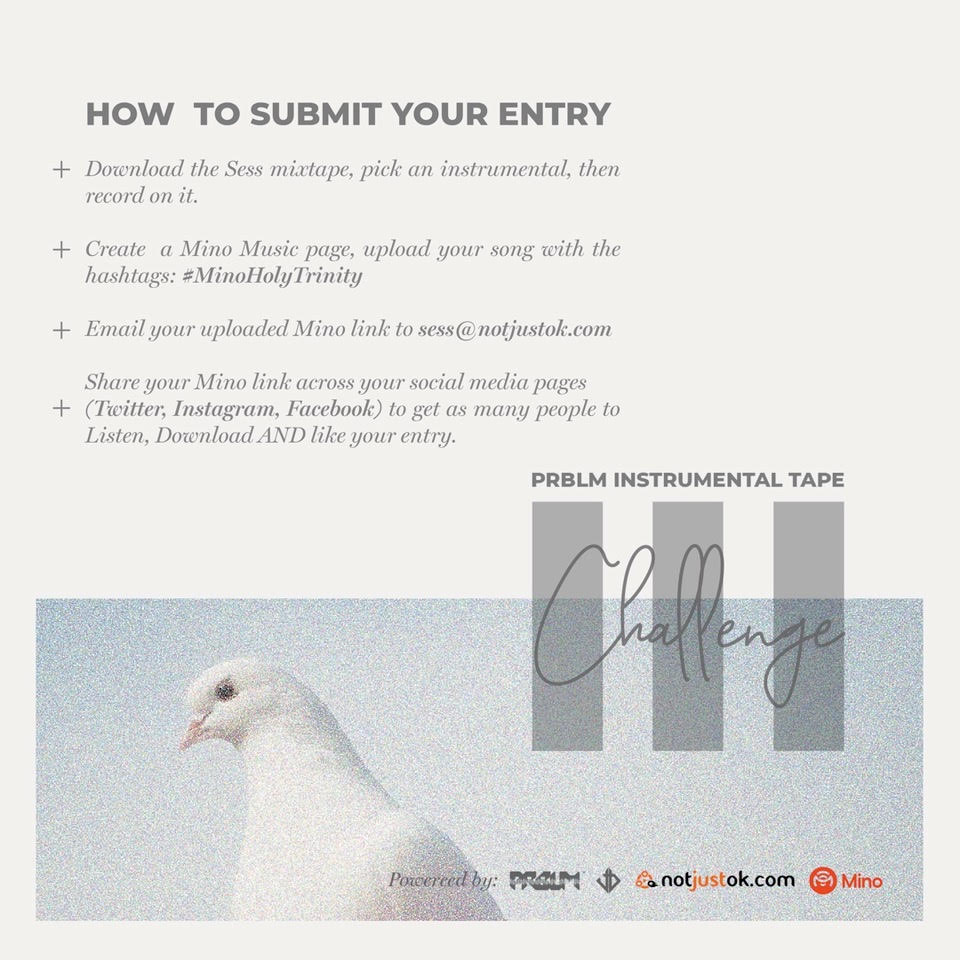 HOW TO SUBMIT YOUR ENTRY:
Download the Sess mixtape, pick an instrumental, then record on it.
Create a Mino Music page, upload your song with the hashtag: #MinoHolyTrinity.
Email your uploaded Mino link to sess@notjustok.com.
Share your Mino link across your social media pages (Twitter, InstaGram, Facebook) to get as many people to Listen, Download AND Like your entry.
And that's it!