Who Ebony Reigns Was, And Why Her Death Broke So Many Hearts
SHARE
Ebony Reigns, born Priscilla Opoku-Kwarteng, was a Ghanaian dancehall and afrobeats artist. Born February 16th 1997, she first came onto the music scene when she was discovered in 2015 by musician and entrepreneur Bullet, one half of Ghanaian afrobeats group Ruff n Smooth. He signed her to his Ruff Town Records label at the age of 18. Ebony Reigns, fondly known by most as just Ebony, came out with her first single "Dancefloor" in December 2015 with an audio and video release. The song became a hit on radio landing her a nomination for the coveted "Unsung" category for rising stars at the 2016 Vodafone Ghana Music Awards (VGMAs).
Ebony was a controversial artist, sparking several conversations in the Ghanaian society concerning her wanton demeanor and unrestrained self expression, by way of her sparse use of clothing and sexual innuendo on stage and in her music. Her "bad girl" persona ruffled lots of feathers, with many Ghanaians criticizing her, even to the extent of her being dragged by pastors.
Her loyal fans labeled the critics as hypocrites, one of such being UK based Ghanaian gospel musician Sonnie Badu. Sonnie Badu asked critics to show her love instead of criticizing her, adding that Ebony has a management team who are aware of the kind of brand they are building. For jumping to the defense of Ebony and suggesting that critics of her raunchy dressing are hypocrites, he received an extent of backlash from individuals whom his statements didn't sit well with.
However, the criticism didn't bother Ebony as she continued to appear on stage and at some events semi-nude, without a care in the world. She had the full support of her parents, with her father Nana Poku-Kwarteng (who appeared in her "Sponsor" video) shutting down critics, saying he's supportive of anything his daughter does and wears, that he even helps her choose what she wears and blesses her before she goes out to perform, and adding that some Ghanaians are hypocrites.
He also added that he gave his blessing when she decided not to continue her education after high school and told him she wanted to do music, and that he has no qualms with her fashion sense because as a dancehall artist he understands the need to sell her music with her brand.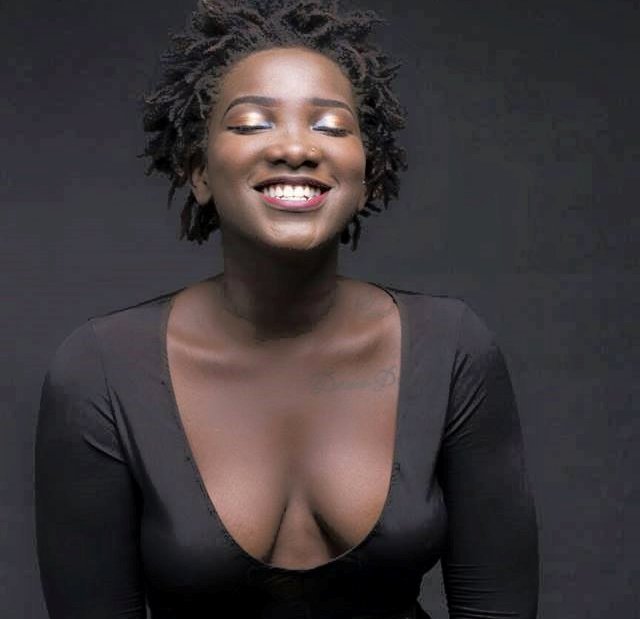 Ebony rose to stardom with meteoric speed, following up her first single "Dancefloor" with major hit singles "Kupe" in 2016, "Poison", "Sponsor", and "Date Ur Fada" in 2017, the last two of which solidified her spot as a dancehall sensation and the most popular female act in Ghana, within the space of just two years.
Despite her seemingly rambunctious behaviour, Ebony snuck her way into many hearts, not just because of her music, but also because of her lively and outgoing personality, refusal to conform to societal norms, and her ever-ready willingness to sing praises to her Maker. In addition to that, Ebony became a role model when she released a song and video addressing domestic violence in marriage/relationships, called "Maame Hw3", which is the last single she released before her death.
"Maame Hw3" translates as "Mother, Look" (or see). It's a Twi language expression used to confirm an earlier concern raised or observation made by someone before it finally happened. On this song, Ebony echoed the sentiments of an abused lady who rejected her mum's advice. The mum advised her daughter against marrying a man she thought had questionable character. The daughter, blinded by love, ignored this motherly advice and ended up marrying him. The outcome of this relationship: domestic abuse.
"Maame Hw3", the video of which got over 110,000 views on YouTube within 48 hours of its release, gave many women and even young girls a voice in a society where domestic abuse, in and out of relationships, is prevalent but swept under the rug, and it opened a window for people to witness the other side of the young female artist, leaving critics tongue tied and on the fence concerning their previous perceptions about her.
The lyrics of Ebony's songs promoted women empowerment and the recognition and embracement of ones "femme-ness", which is very fitting as feminist advocacy is at its height in current times. However, those lyrics were overshadowed by her brazen display of her sexual self, as critics chose to focus on her antics rather than her message.
According to police, Ebony Reigns died in a fatal car accident on the Sunyani-Kumasi road in the Ashanti reigon of Ghana on Thursday evening whilst returning to Accra after visiting her mother in the Brong Ahafo regional capital. This was just a few days before the singer's 21st birthday. Two other people, a military officer named Francis Vondee and a close friend of the singer named Franky Kuri, also died in the accident whilst the driver of the jeep in which they were traveling survived and is currently undergoing treatment at a government hospital.
The news of her death was met by extreme shock and sadness, and left many heartbroken. It also brought to the forefront that despite the controversy surrounding her career she was very much loved by fans and critics alike. Fellow artists, actors and actresses, and public figures across industries in Ghana, Nigeria, and beyond all took to social media to express condolences and eulogize the artist, including the President of Ghana Nana Akufo-Addo and former President John Mahama.
Saddened by the news of the death of the young, but extremely talented female artiste, Priscilla Opoku-Kwarteng, aka Ebony Reigns.

— Nana Akufo-Addo (@NAkufoAddo) February 9, 2018
By all accounts, she had a very promising music career. My deepest condolences to her family, and to the families of the two others who died in the tragic accident. #RIPEbony

— Nana Akufo-Addo (@NAkufoAddo) February 9, 2018
Some individuals also noted that the very things she was being criticized for when she was alive are the very same things she is being celebrated for after her death. This brings to mind the need to celebrate individuals as well as their achievements while they are alive, not just after their death.
Ebony was a strong fan favourite to be named Artiste of the Year at the upcoming 2018 Vodafone Ghana Music Awards (VGMAs). The President of the Musicians Union of Ghana (MUSIGA), Bice Osei Kuffuor endorsed that view, explaining that Ebony's contribution to the Ghana music industry has been tremendous considering her beginnings about two years ago, her having the most played song in the country in 2017 ("Sponsor") as well as a number of other hits. An Academy board member of the VGMAs Halik Musah also stated that if Ebony is not awarded 2018 VGMA Artiste of the year he would personally resign from the board, adding that Ebony has really worked hard under the year of review to win the award purely on merit.
Ebony Reigns was unapologetically herself, unafraid to stand up for women, unafraid to challenge the status quo, and unafraid to live her reality and to urge others to do the same. She was a joy to all that met her, and an inspiration to many, near and far. Though her career and life were cut short, she has made her mark in history, and the impact of her art and being will have a lasting effect in our hearts and minds. Rest in power Queen, for your legacy will Reign forever.