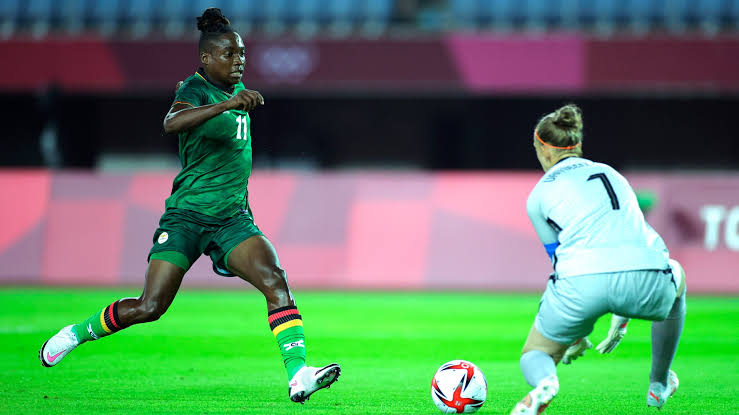 Captain of the Zambian women's football team, Barbra Banda has been making the headlines since the start of the Tokyo 2020 Olympic Games. Despite that, her team had an awful opening game against the Netherlands where they lost 10-3 to their European companions on Wednesday, July 21, 2021. She, however, left her name in the hearts of the viewers after she scored a hat-trick in the game.
Banda showed the world that a tree can truly make a forest in the second game after she gave an excellent performance in her team's second game played on Saturday, July 24, 2021, against China. The Zambians were two goals down to China in less than 30 minutes but another hat-trick from Banda ensured the game ended 4-4.
READ ALSO: Here's What To Expect From The Olympics Opening Ceremony 
No player has ever scored more than two hat-tricks, ever, in the history of women's football at the Olympic Games.
Zambia has a point in their first two games between Netherlands and China with a huge goal difference, which serves as a disadvantage for the African nation.
Zambia sits bottom of their group with a point and a minus seven-goal difference. They face football powerhouse Brazil, in their last group game. For a chance to qualify the next round, Branda must be ready to get more hat-tricks and hope her defense doesn't let her down the firing attack of the Samba girls.
WATCH VIDEO