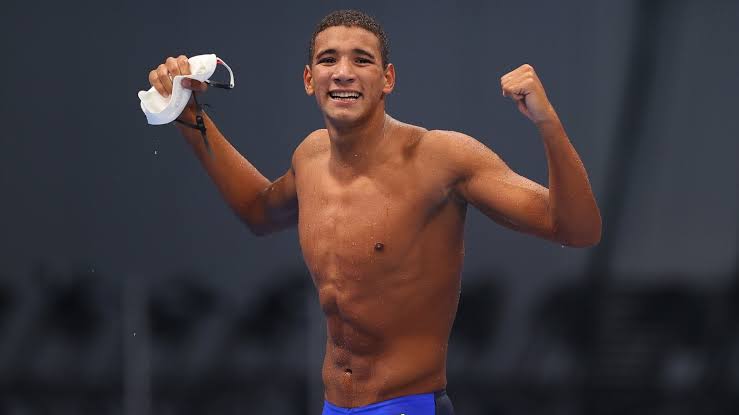 A new star was born at the 400-meter freestyle swimming event at the ongoing Tokyo 2020 Olympic Games. 18-year-old Tunisian, Ahmed Hafnaoui wrote his name in history by earning Africa her first gold medal at the games and putting smiles on the faces of countrymen and women back home in Tunisia.
The 18-year-old was the least favorite going into the final as he was in lane eight which was because he finished last in the qualifying series leading to the final. Hafnaoui started the race on a poor start but he had an amazing last 50 meters beating favorites, Jack McLoughlin from Australia who won the silver medal, and America's Kieran Smith who finished with the Bronze medal.
Sixteen seconds was all that Hafnaoui needed to earn himself a gold as he finished in 3;43; 36, McLoughlin in 3; 43; 52, Smith in 3; 43; 94.
READ ALSO: D'TIGERS BEGINS OLYMPICS MEDAL QUEST AGAINST AUSTRALIA
Hafnaoui said after the race:
'I just can't believe that. it's amazing. I felt better in the water this morning than I felt yesterday and that's it. I am the Olympic Champion now. I just put my head in the water and that's it. I just believe it. It's a dream come through.
Hafnaoui became the fifth Tunisian to win a gold medal at an Olympic Games and the second ever to win a swimming medal for the North Africans.