Pele's Daughter Shares a Heartbreaking Message on Social media
SHARE
The daughter of Pele, one of the greatest footballers to ever play the beautiful game, Kely Nascimento shared an emotional message on social media.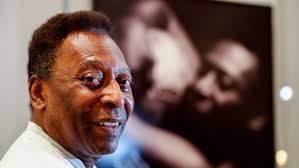 Coady Gakpo Reveals Why He Choose Liverpool Ahead of Manchester United
This is the first time that she will be expressing this side of her emotions since her father was diagnosed with cancer. The situation of the three-time World Cup winner has become worsen as he is receiving care at Albert Einstein hospital.
Kely posted a photo of the family, including her sister Flavia and Pele's grandchildren, Octavio Felinto Neto and Gabriel Arantes on her official Instagram account on Thursday, December 29th, 2022.
These moments are hard to explain, sometimes there is a lot of sadness and despair, other times we laugh and talk of fun memories. And what we learn most from all this is that we have to look for each other, and hold tight. Only when it's all worth it. With it all together.
Pele was admitted to the Sao Paulo facility on November 29th, 2022. There have not been any updates about his health from the hospital.
Related