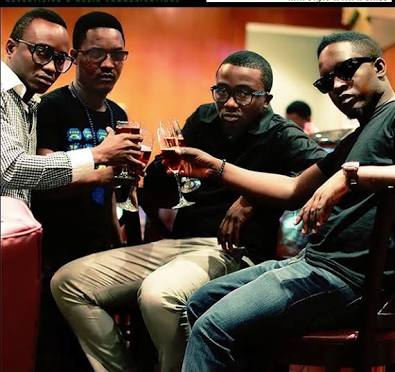 Nigerian legendary rapper, MI Abaga has released the video to an emotional track he released in 2015, Brother that serves as an apology to his former group members, Choc Boyz, recounting how far they've come and how hurtful it is to watch them go their separate ways when they could've been doing great things together. To the rapper, he never believed they'll part ways the way they did because they thought music group breakups weren't for them.?
In this song featuring Nosa and Milli, M.I apologized to every member of the Choc Boyz, telling them to forgive his mistakes while he informed the public that though they were thinking he was the one that made the team strong, but in reality, the team made him strong.
The lyrics, as dope as they sound are words that were expressed in great remorse, telling his Brothers, from IcePrince to Brymo to Jesse Jagz  that he can only go far but with them together they could've and can still go farther because it's not how the story starts but how it ends, a way of telling them they can still change the narrative of their story for the better as a team.
"It's not how the story starts it's how the story end"

"I no fit climb this mountain on my own

I no go reach on top if I go alone

I no fit finish up unless you come along

I need you my brother"
Singing further
"Shebi when you fall, na me go carry you..."
Concluding this powerful song, the singer said;
"I'm waiting where you left me I'm hoping you'll return"
And his words, when they return, his arms are open wide for them. His captions on Instagram says it all as he tags all members of the Choc Boyz, reminding them that love is stronger than time. ?
Before releasing this video to this track on the 20th of July,  M.I revealed in a statement on IG said he made the song in 2015 but didn't feel it was the right time to release the video as a lot of things were happening that period. Right now, no matter how he sounds, M.I wants to release the video, apologizing to those who needs an apology and forgiving those who offended him because no matter what, the song coupled with the video is one that shouldn't lie in a shelf unreleased but instead, should be released and hopefully heal friendships and relationships which we are hoping it'll do in the Nigerian music industry.
Well done M.I, releasing the video of a song laden with so much emotion and meaning is such a commendable act!
Now do you guys think the Choc Boyz can still come back together again? Well, anything is possible and that possibility is one we cannot wait to see happen!?