[LYRICS] Down Bad Lyrics By Dreamville & J.Cole
SHARE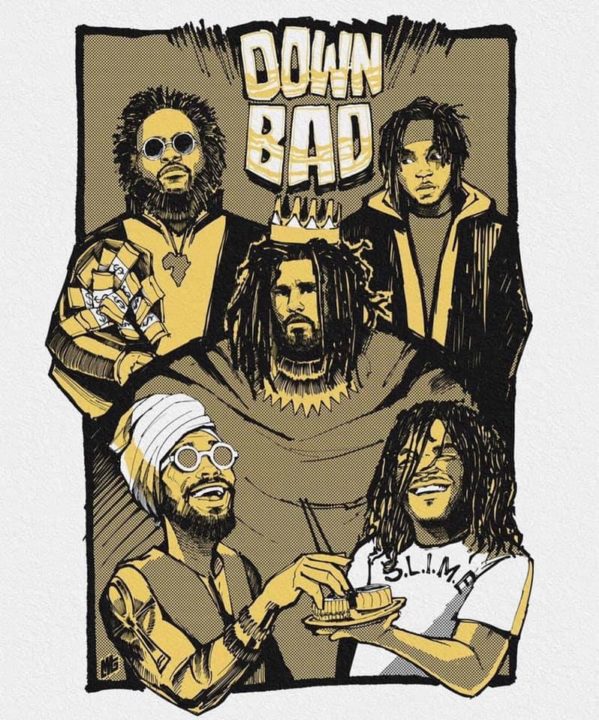 Dreamville, J.Cole, Earthgang, Bas, JID And Young Nudy Lyrics
Here is the Lyrics to 'Down Bad' by Dreamville artists, J.Cole, Bas, JID, Young Nudy and Earthgang, Down Bad was released in 2019 and produced by Pluss, read the Lyrics to Down Bad below.
PLAY & DOWNLOAD AUDIO: Down Bad By Dreamville & J.Cole
Down Bad Lyrics By Dreamville, J.Cole, JID, Earthgang, Bas & Young Nudy
Intro
Tell 'em, slime
Verse 1
Yeah, I am the king of the E.A.
Get this bitch screwed like the DJ (Big slime)
Yeah, I am the shit where we play
We got the chalk where we play (Okay)
Yeah, come through the city
We gon' chop your ass up just like some sushi (Yeah)
AK-47, stick go stupid (Yeah)
Draw the money out, all the way...
Verse 2
Okay, lil' dirty, nappy-headed East Atlanta nigga
Father said that I was a force
.44, Hank Aaron chrome
Wanna make it home? Then get out the Porsche
Let a nigga cover FADER 'fore I have to fade a nigga at the FADER Fort
It's tomato or tomato, either way, the boy the greatest
Play it, I won't say it no more
I was just fucked up, I was just down, down bad
I had to tighten the fuck up, but I'm here for the crown
Board of Education vs. Brown
I was bored of education, left the town
Fuck a résumé and fuck a cap and gown
Fuck a background check back 'round when I get the check
Nigga, that's now
Chorus
I was just fucked up, I was just down, down bad
I had to tighten the fuck up, but I'm here for the crown, crown (Oh, shit)
I was just fucked up, I was just down, down bad
I had to tighten the fuck up, but I'm here for the crown, crown, crown, crown
Verse 3
I was just fucked up, I was just down, down bad
Picked up the pad, picked up the slack
Pick of the litter, don't litter no bag
Bassy been picking up racks, raps coming clearer than Acuvue 2
When I'm back in the booth
Got 'em hacking a Shaq 'cause they lacking the juice
Niggas dropping the ball, they on Shaqting a Fool
Actavis drool down the side of your face
We ain't jacking it, we ain't dapping them fools
Get a napkin, you dudes is embarassing
Who going crazy like us? No comparison
Dreamville like Marion Jones on the steroids
Y'all niggas slow as a heroin high
Y'all had a year, y'all had a year
Y'all had a year, but you let it go by
Yee
Chorus
I was just fucked up, I was just down, down bad
I had to tighten the fuck up, but I'm here for the crown, crown (Oh, shit)
I was just fucked up, I was just down, down bad
I had to tighten the fuck up, but I'm here for the crown, crown, crown, crown
Verse 4
Dreamville head honcho
Bitch, we came from nothing just like the big bang theory
That poverty stains kept the pain buried
And covered the shame with a dream
We would have fortune and fame
A mil' in the bank, chameleon paint turned cranberry
Now little Jermaine got the same story
As that boy out of St. Vincent-St. Mary: G.O.A.T.
All hail King Cole, first of his name, long may he reign
The boy got the throne, but you know it ain't a game
Ville nigga, I was born in the same
Pressure cooker that's been known to bust a lump of coal and make a diamond
Two six, we enrolled in Reaganomics
Crew sick, we the Golden State of rhyming, on God
Verse 5
You could die today, so be hell to pay
I'm a living, breathing, scheming testimony
So don't test me, homie, put that in ya, homie
Put a foot up that ass, you a stepping stone
All my niggas ain't getting no sleep
All of my niggas be chasing their dreams
Ooh, I'm a force of nature, I can't wait to date ya
I was having problems till I had to break through
All my tattoos for sure, they ain't never for show
Might get tattoo'd on tour, tell ya ho get the door
Spend my time making love to your thoughts
Gon' get in line, baby, slut up your mind
It's a brand new season, I'm a righteous heathen
I take on the challenge and I leave it bleeding
I was down bad, now I'm even Steven
And I'm leaving, leaving every fucking weekend (Oh)
Chorus
I was just fucked up, I was just down, down bad
I had to tighten the fuck up, but I'm here for the crown, crown (Oh, shit)
I was just fucked up, I was just down, down bad
I had to tighten the fuck up, but I'm here for the crown, crown, crown, crown
Like Down Bad Lyrics By Dreamville? See other Lyrics HERE
Get the Latest updates as they drop via Twitter and Facebook