AKA shuts down Blankets and Wine Festival - Nairobi (Photos)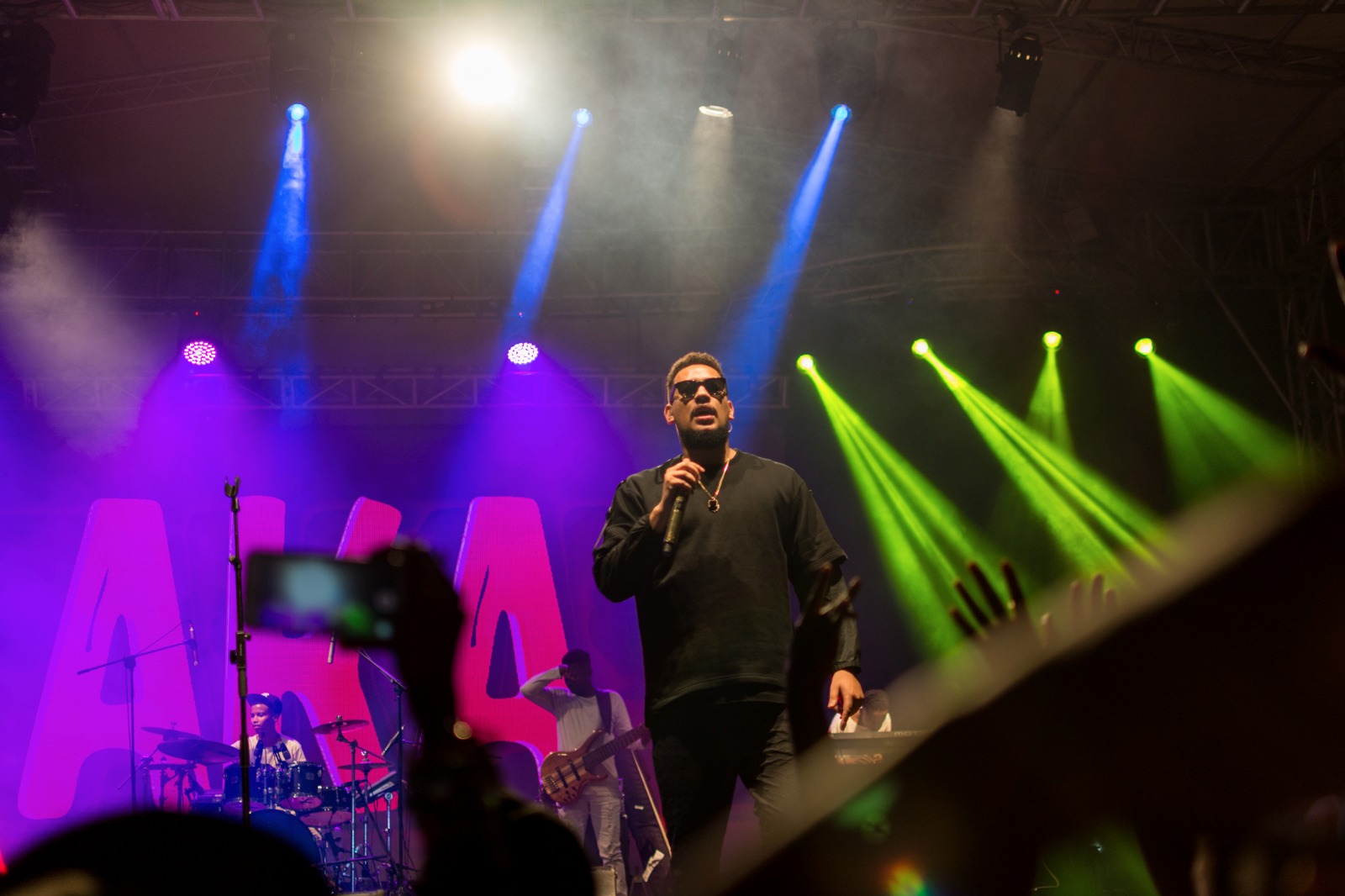 There were fun moments at the Ngong Racecourse Waterfront in Nairobi this past Sunday (9th of April) as music, art and fashion lovers turned out in large numbers for this year's first edition of Blankets and Wine. The line up featured performances by South African rapper AKA, Nigerian/German artiste Nneka and our very own Kenyan urban soul artiste Fena.
The festival kicked off with performances by various local artistes such as Prisca Ojwang, Trina Mungai , Janice Iche , Kahvinya, Metro Empathy, Ciano and Mvroe and Kiwango.  Award winning percussionist turned singer songwriter Tetu Shani did not disappoint as he serenaded the crowd with his new hit "Samalina" that got the young lads and lasses on their feet. He later on invited Mayonde on stage for an incredible performance of their collabo "Chemistry". His hands on the acoustic guitar coupled with the sweet sultry voice of Mayonde was just a tip on the iceberg of what was to come.
Trina performing some of her songs
Kahvinya serenading the crowd
Fena Gitu aka Fenamenal woman, jumped on stage and kept the crowd on their feet with various renditions of local classic hits from Nameless to Esir and Necessary Noise before belting out her hit songs "Fenamenal woman", "Brikicho", "African massive" and "Sema Ng'we".
Fenamenal woman
The highlight of her performance was when "The squad"; Blinky Bill, Muthoni The Drummer Queen, Mayonde and Kagwe Mungai joined her on stage to perform their 2017 mega collabos "Kama Kawaida" and "Party Nation". Their chemistry on stage and the ease in which they blended RnB and hip hop a clear indication of the massive versatile talent that East Africa has.
"The Squad"; Fena, Mayonde, Blinky Bill,Kagwe Mungai and Muthoni the Drummer Queen.
Then came the highlight of the night when headlining international acts AKA and Nneka took to the stage! AKA's performance of some of his hits from "The world is yours", "Baddest" to "Congratulate" was lively and had the crowd showing love as they sang along to each and every song.
AKA
Nneka gave a sterling performance which reminded me of Adele, but this was my Nigerian Adele. From her songs, one could pick out Fela Kuti's influence from the way she sang so passionately.
Nneka
Having been out of the entertainment scene for a while, my expectations for this year's biggest urban music festival in its 10th edition now, were quite high and I went home a happy soul high. Being a sucker for live music, one is always keen on the line up of artists, sound, venue among other things to my amazement everything was perfect except for some echo that was later sorted out.
Clearly this edition of Blankets and Wine was a lit African affair by Africans for Africans…..long live Blankets and Wine!
Story by Adhiambo Gloria
Photos courtesy of Humphrey Gateri