Read Poa Lyrics By Country Wizzy Featuring Marioo
August 13, 2022 | 2:57 pm
Read and enjoy Poa Lyrics by Country Wizzy Featuring Marioo. The song has been a major hit in Tanzania and East Africa in general.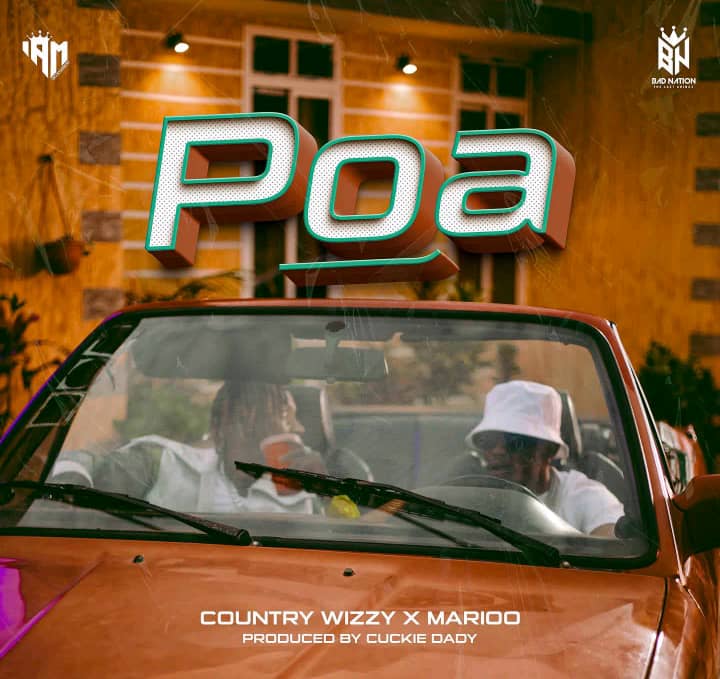 Read, Enjoy and Sing Aloud Poa Lyrics By Country Wizzy Featuring Marioo :
I'm a Bad Man, Kitaa kimenielea I'm a Good Man, Kitaa kimenifunza
Kwetu hakuna magari Shule ya kayumba yumba yumba
Umetukuza ugali kwa kuyumba yumba yumba
Mungu Wa kwetu ndo Mungu wao,tuna vya kwetu wana vya kwao
Usione tu Raha zao, zipo na shida zao
Hawajui utamu wa makoko
Shule kwenda kwa ngoko
Kwenye vigodoro kula kopo
Kutongoza kwenye chocho
Wanangu wa kinondoni mambo vipi?(Poa) Ilala Mambo vipi?(Poa)
Wanangu wa temeke mambo vipi?(Poa)
Kariakoo mambo vipi? (Poa)
Nauliza kinondoni Mambo vipi? Ilala mambo vipi?
Temeke Mambo vipi? Kariakoo mambo vipi?
Nilipotoka mpaka hapa baba lazima nisherekehe mana majukumu yalinianza nilipo balehe
Kama starehe nazofanya zinakukera nisamehe mana nilikotoka kula ubwabwa mpaka iwe sherehe
Si walinifunga kwenye banda usishangae nimetoka mnyama
Viroboto na chawa wa mjini wananimanya
Cheki namna mimi na pesa tunatazamana
Paka zinapishana ghetto ka nafuga panya

But i am who i am
Hata wewe ungekuwa mimi nisingependa so i don't blame
Na niko juu
Everything I do
Me ndo yule aliyefanya watoto wapende mziki huu
So braza ukiona siku hizi watoto wanashoboka
Kaa ukijua nigga longtime nlishasota
Na usiulize hustle hata makopo nishaokota
Sasa hivi chupa nyingi baba nashushia na coca
Wanangu wa Bodaboda mambo vipi?(Poa)
Machinga mambo vipi? (Poa)
Wanangu wa dollar Moja Mambo vipi?(Poa)
Madalali Mambo vipi?(Poa)
Wanangu wa Bodaboda Mambo vipi?
Machinga mambo vipi?
Wanangu wa dollar moja mambo vipi?
Madalali mambo vipi?
Kama unajijua umetokea maisha magumu na una hustle basi piga makofi
Kama kwenu we ndo tegemezi na watu hawakosi kula basi piga makofi
Umeuwa njaa Piga makofi
We ni shujaa piga makofi
Ujakata tamaa piga makofi
Nasema piga makofi tafadhali
Wanangu Wa A-Town Mambo vipi?
Dodoma Mambo vipi?
Wanangu wa mwanza mwanza mambo vipi?
Mbeya City Mambo Vipi?
It Ain't over
Untill It's Over Baby
I'm Outta Here