Google celebrates Legendary Rashidi Yekini
SHARE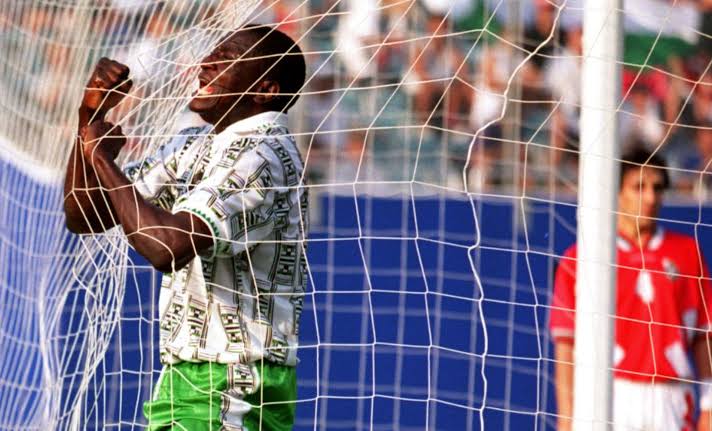 The most popular search engine in the world, Google dedicated its doodle for its day ( October 23, 2023) to Rashidi Yekini, one of the greatest players to play football in Nigeria.
Rashidi Yekini would have celebrated his 60th birthday, he would be remembered as one of the most prolific strikers in the history of Nigerian football. He was born on October 23, 1963, in Kaduna, Nigeria, and passed away on May 4, 2012. He started his football club career with UNTL FC in Kaduna, in 1981, he later played for the Shooting Stars, where he had an impressive record of 45 goals in 53 games.
His spectacular scoring abilities earned him the title of African Footballer of the Year in 1993, and he was the first Nigerian player to receive this honor. The next year, he helped bring the Shooting Stars to the finals of the African Champions Cup. 
Yekini represented the Super Eagles at the African Cup of Nations and is widely remembered for scoring Nigeria's first-ever goal against Bulgaria in a FIFA World Cup during the 1994 hosted in the United States of America.
What was Rashidi Yekini's Club Career?
Yekini played for several clubs during his career, including African clubs like Abiola Babes, Shooting Stars, and Vitoria Setubal in Portugal. He had a successful stint with Setubal in the Primeira Liga.
Which awards did Yekini win?
He received numerous awards and accolades, including the African Footballer of the Year in 1993, in recognition of his outstanding contributions to Nigerian and African football.
Yekini remains the highest goal scorer for the Super Eagles with 37 goals in 58 games, he represented the nation in seven major tournaments, including two World Cups in the USA and France.