Fans Storm Saka's Page With Positivity To Drown Out Racist Comments
SHARE
Several football fans across the globe have stormed England and Arsenal player Bukayo Saka's Instagram page with love and positivity after he was earlier subjected to racial abuse after missing a crucial penalty.
The British-Nigerian striker, Bukayo Saka, was earlier subjected to racist comments by angry English football fans after he lost a penalty that gave away the 2020 Euros to Italy.
The 19-year old chap who gave an excellent display in the match was put under immense pressure by England coach Gareth Southgate after he was asked to step up to take the last penalty in the 2020 Euro final match against Italy. The penalty shoot-out would have continued if the young Saka had converted it, but unfortunately he was stopped by Italy's in-form goalkeeper Gianluigi Donnarumma. The goalie also stopped penalty kicks from Manchester United duo Marcus Rashford and Jadon Sancho to hand Italy the deserved win.
As expected, a lot of English fans went for the chap, using racist emojis and comments to make him feel bad. Some English fans even went as far as telling him to return to his home country, Nigeria.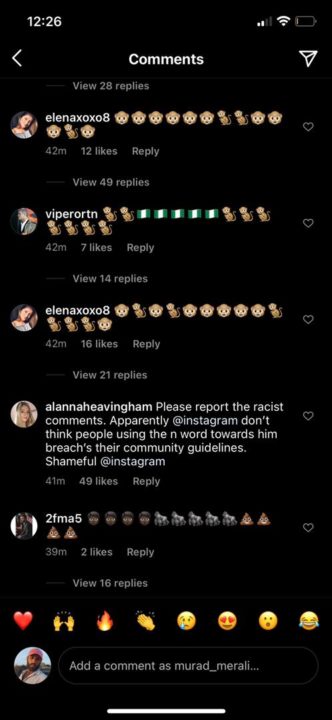 READ ALSO - Italy Wins Tournament on Penalties Against England
However, to counter the racial abuse, a lot of football fans have stormed his Instagram comments to show him love and positivity, encouraging him to keep his heads up-a path that was taken to drown out the racist comments.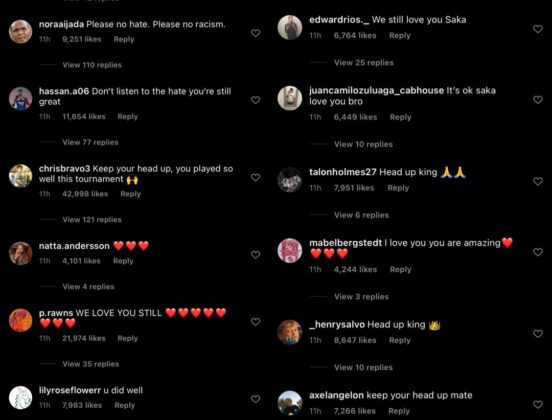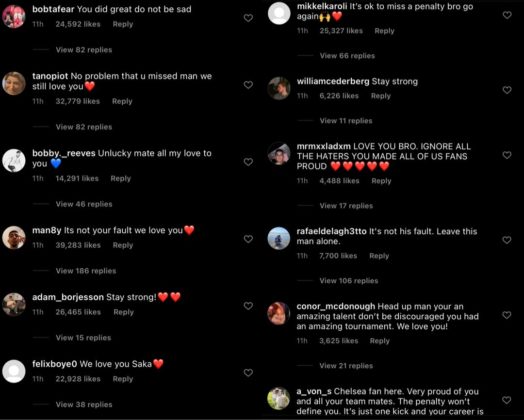 Also, the English Football Association released a statement in the early hours of Monday 12th of July condemning the online racial abuse of the players that missed their penalties. The statement read:
The FA strongly condemns all forms of discrimination and is appalled by the online racism that has been aimed at some of our England players on social media. We could not be clearer that anyone behind such disgusting behaviour is not welcome in following the team. We will do all we can to support the players affected while urging the toughest punishments possible for anyone responsible.
Get updates as they drop via Twitter and Facebook