Aguero Addresses Retirement Talk Amid Heart Problems
SHARE
Barcelona forward Aguero has addressed the retirement talks going around due to his heart problems, telling everyone to stay positive.
READ ALSO - Aguero Rule Out For Three Months Over Heart Order
Barcelona forward Sergio Aguero has addressed talks about him retiring from football due to the recent heart problems he has been diagnosed with.
According to reports from the Cataluyan Radio in Spain, Aguero's case is critically being monitored by experts at the club but there is a possibility that he might not play football again.
Reports state that he spent two days in the hospital, where he was told to not play football for at least three months following his current condition.
The latest health scare has sparked a lot of talk about Aguero hanging his boots, but today, November 12, 2021, the striker has sent a message out, telling everyone to stay positive about the situation. He wrote:
Given the rumors, I can say that I am following the instructions of the club's doctors, doing tests and treatment and checking my progress within 90 days. Always positive.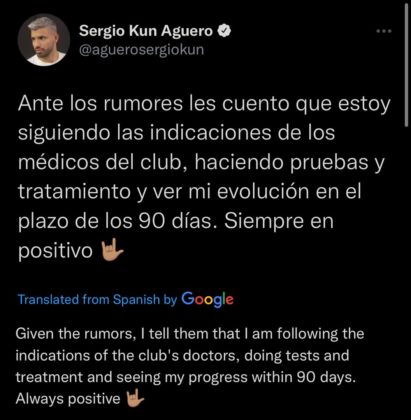 The Argentine football talisman joined Spanish giants Barcelona on a free transfer during the summer from English big-spenders Manchester City.
Get updates as they drop via Twitter and Facebook