DJ Sly features Eddy Kenzo and Wendy Shay on 'My Life'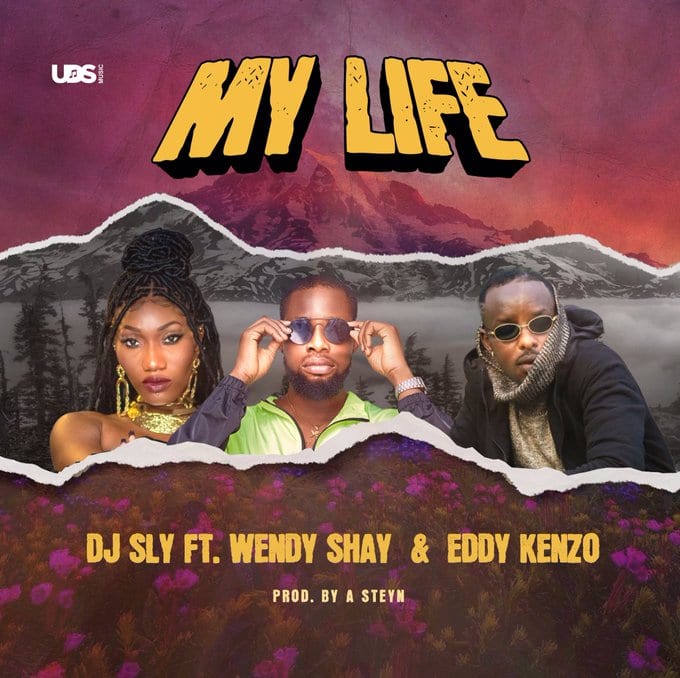 Ghanaian Top disc jockey and producer, DJ Sly has released yet another brand new single titled "My Life" . The new entry 'My Life' features Rufftown Records songstress, Wendy Shay and popular Ugandan BET Award winner, Eddy Kenzo.
RELATED: DJ Sly ft. Ice Prince - Alert (Visualizer)
It's an East meets West, pan-African collaboration, and you can actually hear it in the merger of sounds. Uganda x Ghana. Link up!
DJ Sly, Eddy Kenzo, Wendy Shay - My Life: STREAM ON ALL PLATFORMS
LYRICS

[ DJ Sly, Wendy Shay, Eddy Kenzo]
The unstoppable
Here we go yoo
Yeh yeh
Wooh wooh wooh wooh
Aah wendy shay on the beat
[ Eddy Kenzo ]
Gwe wama kona okonno nalo
Mama sunda osundee nalo
Tubeerayo mukibeenda loo
Tetwelema ffe tubeera yoo
Aeeli, l love my life aeeli aeeli
ehh my life aeeli
l love my life aeeli
ohh my life aeeli
mze njagala aeeli aeeli aeeli ehh
[ Wendy Shay ]
My life start from zero I'm a hero
numero uno
But then I no get pillow put my head
I bed for street ooo
Na many thing dey happen
Baba God just dey bless me
Millions for bank ooo
I'm a woman no mind ooo
Give me rossi
Make you pour pour me some moet eiii
Give me rossi
Make you pour pour me some moet eiii
Ehh my life is jeje oh yeiii
Everything p3p3p3 oh yeiii
I no dey stress stress oh yeiii
I love my life
[ Eddy Kenzo & Wendy Shay ]
Aeeli l love my life aeeli aeeli
I love my life
ehh my life aeeli
Mze njagala aeeli aeeli
ohh my life aeeli
mze njagala aeeli aeeli
ohh my life aeeli
I love my life aeeli
ohh my life
Gwe wama konna okonne nalo
Maama sunda osunddee nalo
Tubeerayo mukibeenda loo
Tetwelema ffetubeera yoo
Tulinga Micheal mujjle mukyendc
Laaba ebiwato bigondaa
Taliina masaga tateesa
Mulenzi wange ssembela enno
kandyeko
Ohh my money
Kandyeko
Kusente zange
Kandyeko
Ehh my money
Kandyeko
Kumaali yange
Kandyeko
Ehh mama ehh
Kandyeko
Kusente zange
Aeeli, l love my life aeeli aeeli
ehh my life aeeli
i love my life aeeli
ohh my life aeeli
mze njagala aeeli aeeli aeeli ehh
[ DJ Sly & Eddy Kenzo]
DJ Sly
Wooh wooh wooh wooh
Wooh wooh woah
Jangutukonne
E no ensi tuli nnye wooh wooh
Etuke egondee
Ebyokwelumya bileke wooh wooh wooh
Nga okiliza nti mukama bali
Kitegeza esanyu we ri li
Ke bu ba nga obulaamu webuli
Kitegeza esubbi kyekyo
[ Wendy Shay]
Give me rossi
Make you pour pour me some moet eiii
Give me rossi
Make you pour pour me some moet eiii
Ehh my life is jeje oh yeeii
Everything p3p3p3 oh yeiii
I no dey stress stress oh yeiii
I love my life oh yeii yeiiiiii