"Life is A Beach Still!" - Brymo Unveils Details Of 2022 'Organised Chaos' Concert | SEE
February 17, 2022 | 11:53 AM
The alternative king will be serenading his fans with a sonic exhibition just like he does annually.
Iconic Nigerian singer, songwriter, & performer Ọlawale Ọlọfọrọ, popularly known as Brymo, has announced details of 2022's "Organised Chaos", an annual concert he organizes.
The annual musical concert sees the alternative king thrill his fans with soul-striking performances of his rich catalog, and the year 2022 will be no exception as the singer has confirmed that the intimate musical concert will take place as expected.
READ ALSO - Singer Brymo Teases New Music | LISTEN TO SNIPPET
When is Organized Chaos 2022 by Brymo?
Brymo, who earlier announced that his ten-track upcoming album "Theta" will be released on May 27th, 2022, took to his Instagram page to announce the concert. Insinuating that the concert would take place on the beach as it did in 2021, the singer made it known that tickets would start selling by June 12, 2022. He wrote:
This coming 1st of October, yup! On Independence Day, my annual sonic exhibition, 'Organised Chaos' will return as "Order!.. the concert".. tickets available from 12th June 2022, on thetatrain.art .. and life is a beach still!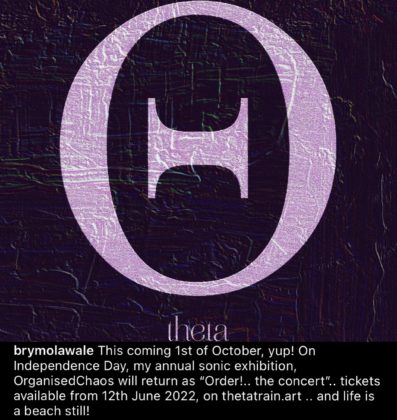 Get updates as they drop on Notjustok via Twitter and Facebook