Pass The Mic Lyrics by M.I Abaga Ft Preacher Kingz
SHARE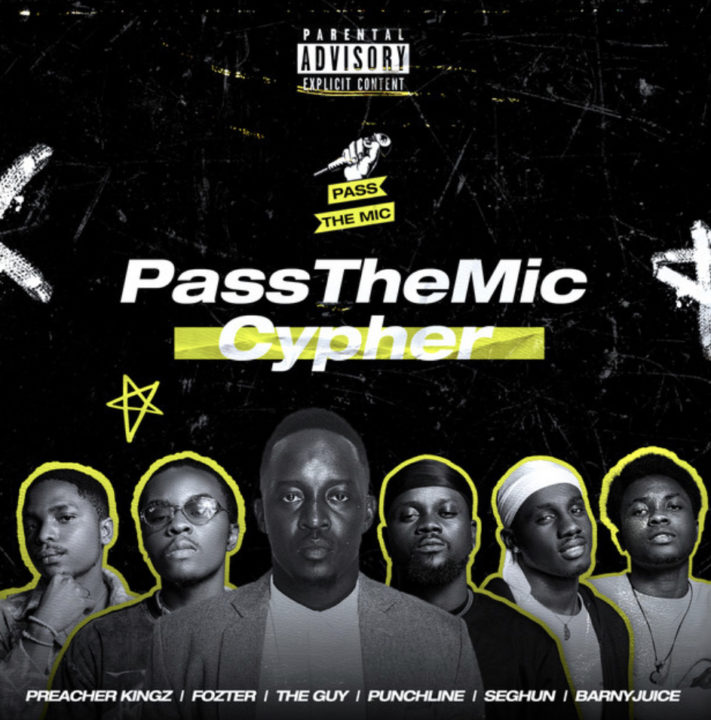 M.I Abaga Ft Preacher Kingz, Fozter, Punchline, Shegun and Barnyjuice Lyrics
Check out the lyrics to M.I Abaga new single titled 'Pass The Mic,' featuring Preacher Kingz, Fozter, Punchline, Shegun and Barnyjuice.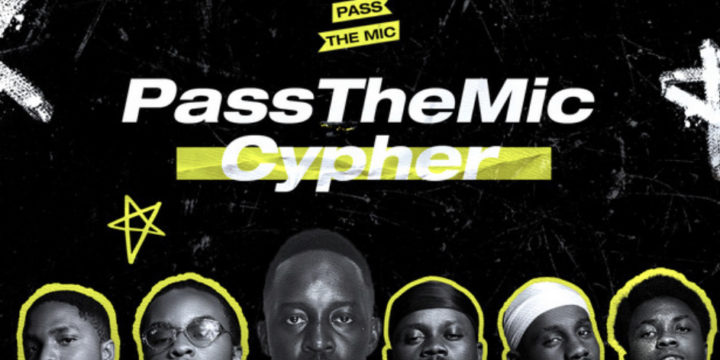 M.I Abaga Ft Preacher Kingz, Fozter, Punchline, Shegun & Barnyjuice - Pass The Mic Lyrics
Verse 1
M.I Abaga
Uhm MI the guy, yeah
Yo, see Hip-hop means a lot to me, that's why when
I hear people talking shit, I want apologies
So that's why I told rappers to fix up the musicality back in 2008
I changed the crowd mentality and how I did it,
It was hustle and nothing more, what the customers adore
I gave to them, I gave them all
As the genre and the industry mature and they are so many more voices in the door,
Choices are now more for listeners
We need our legends to position us,
The brethren and sisters who are listeners sticking up for hip hop, you're the shit
We love you, I would hug you if I was there
I pray your love and support for hip hop don't disappear, yeah
See, we don been through shit, we can't speak up
Experience would teach you those things they don't teach us
Like how to move as an artist when you hit up
Many artistes would cake up but not beef up
Wake up, take tea cup, then drink up and stay calm
We've got to make lots of mullah
Lots to take home
That's why I constantly create these platforms,
The art form that gotta benefit whenever I rap for 'em
I'm in top form still
I got the lock on skill
The undisputed tho I changed my name
But giving platforms to young rappers is still my aim
So, I present to you, the rappers brought to you by Boomplay, let's go
Verse 2: Punchline
What should I really rap about
Should I talk about the commas in the bank account
Or drop metaphors show you that I can bar 'em out
But in this mood, it's only pain I see coming out my mouth
A decade of struggle I done feel the heat in the kitchen
Desperately needed someone to help me fulfil the mission
Was overlooked and seen as competition
It's ironic how Cobhams Asuquo was the first to see my vision
Shout out Coby that's my adopted pops
And respect to the legends before me who fathered us
While you still alive we gotta give you all your props
That's mode, rugged and freestyle that's where it stops
Nah I'm just kidding na, you know m fire
But I gotta take the throne even before m tire
Causeon this land I'll build my empire
Already know I'm gon' be bigger than m from my embryo
Whooosh! That cockiness I'm confident
I back it up with my track record been consistent
I talk different, I rap different, my swag different
I got sujimoto on a song, I brag different
Go against punch get a black eye
They be like "shey omo agege de leleyi to n rap bayi"
Fuck the stereotype shit I'm bout to change the game
It's punchline, remember the name Bitch!
Verse 3: Preacher Kingz
You know it's M.I so you gotta come correct
You already know what a god sound like
The very first time you'd ever see a god mingle with the mortal men
An entourage of angels with me every now and then
only man alive with bars to take you to another realm
And here you are asking who on earth has got the illest pen…game
N**** now listen carefully
As far as illest verses been jotting from a pharmacy
Room filled with n***** and they bragging to be noticed
I'm the best rapp…shhh who really gave you that audacity
Look
Dream chased in a smooth and epic velocity
A superhuman built with an unlimited capacity
If every rapper prescribed or prolly gave a dose of their artistry,
My mind's a thousand acres for a factory
Finally these dreams are coming to reality
nowadays results come in with facts and not mockery
My prophecy, magic in the booth lyrical sorcery
For now, go ahead and choose your leader like democracy
Future brighter than a jewelry store
Boomplay I'm little Wayne with a bunch of rappers I could Carter 4 (cater for)
A lotta Flowers from the concrete
Amazing how we came from nothing, when we conversating, n***** don't speak
But guess they want this competition but they bars weak
Cause when it's battle time they playing ghost Omari hardwick
Ima come back if you didn't get that
Easy!!
Verse 4: Fozter
Yo Pops
My name is Fozter
I'm not a star, I'm a figure my people give their challenges to
Perceived invincible 'cause I'm persisting through the ridicule
So while my people survive on agbado like it's Tinubu's regime
And living's pitiful, we hustling until we blew
Hustle till we blew (blue) completely like crips be
Hustle like Nipsey, working till we see increase
So bars dropping like the naira up until the pay is boundless
Till we're paid in pound sterling, and all the pain is history
They say a word is enough for the wise, what if it's for a fool?
Them no dey celebrate Maguire when he scores a goal
Sense is affordable, we can't award a doofus, so if your head is (Headies) not correct, it gets taken off, now it's portable
Yeah we chase the bag, till it's bigger than Tems baka
But when it comes to being real, see as all them scatter
Telling lies like Ken Katas, while they claiming Encarta
Prophets for profit, all you n***** Ejike Mbaka
But we got a right (write) to freedom, so I pen this to independence
The end is to leave the ends, that's why we earnest and we relentless
Lotta man pressing cause they grew oppressed, sentenced to live in the trenches
When careless, they visit the cell for years, we visibly disadvantaged
They vanish the national treasury, repo'ed academical wage, the medical pay, recall what happened back then at the Lekki Tollgate turned citizens heroes
We need growth, cuz how many good leaders in this country do we know?
That's same as number of rappers that's better than me, zero
Verse 5: Barnyjuice
Uhnn
Yeah
Stop playing
It's Barnyjuice
Uhn, listen
See right now I'm really feeling like God's chosen
There's so much inner peace you would think I was taught Yoga
We made it this far, call us the HIGH FIVE
But I'm the one who ball the FIST and delivers like Hulk Hogan
I got colder, never quitting I got a high target
Got sober, now I'm bringing the heat cause I own this
Man I'm killing everything that matters
I defy Physics cause right now I'm feeling gased up and my flow is solid
But wait, my father-land is a place to really get tired in
Cause there's so many goodies that might have been
Instead it's the violence, and politicians pulling strings like it's violins
ASUU top striking and dragging issues like tiger Gens
I'm fed up, still a young kid and I feel this pressure,
man I've experienced depression, everyone just wanna test you.
But nah, I got a hard drive, just see the way I store rage (Storage)
And when I get the Gig I bite (GIGABYTE) like Draculas
It's spectacular, funny how they make a spectacle of you
When you ain't rocking the views
That's how I knew to make the impact I gotta make a lot of money
Till they call my capital Akure, cause this n**** own dough (Ondo)
Flow dope, music mean a lot to me I own hope
And you remember that I stayed real till the time I'm no more
Man I'm grateful y'all believed in me, my craft is gon' show you
'Cause for life y'all done turned me to vowels, cause now I owe you (I O U)
It's Juice
Verse 6: Seghun
My pain deeper
A scar teacher
The street grew a tree in me
I bleed reefer
Too many n***** battle with scars
You can't bring happiness when you battle with yours
Came to a cypher with a battleless bars
I should be dissing but I can't just be rapping like y'all
Who's king who's not n**** I ain't involved
Only Son who's tryna get in the curve
Let's take it back to the chords
tryna sneak diss n**** I be taking the chorus
lil rappers with some lack of remorse
Your step father and I know how to handle your mums
It's gon be kon ga so
Whos tryna fuck with the boy
Well I still got so much so say
Momma still got bills and I ain't able to pay
The flow tight get this shit on replay
They say you gon pay for this
Na for who get something to pay
It's 10 years I've been always on fire
Ion need no lean to get me inspired
Being black already got me inspired
I drop a letter for M
You the reason that I picked up a pen
It's Such a honor that we both on this thang
I'll be the reason you ain't rapping again
Liked 'Pass The Mic' Lyrics by M.I Abaga? Read Other Latest Music Lyrics Here
Get Fresh updates as they drop via Twitter and Facebook