'Die Slow' Lyrics By Young Thug Feat. Strick | Official Lyrics
SHARE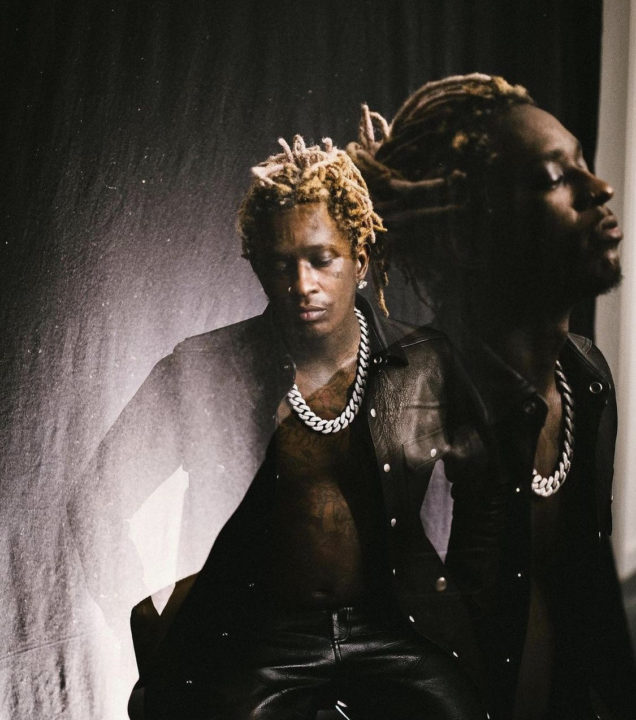 Young Thug And Strick Lyrics
'Die Slow' was released yesterday - 15th of October 2021- by American rapper Young Thug, featuring Strick, 'Die Slow' was produced by Charlie Handsome, read the Lyrics to the hot new song below.
RELATED: 'Stressed' Lyrics By Young Thug, J.Cole & T-Shyne
DOWNLOAD & LISTEN TO : Die Slow By Young Thug Ft Strick
'Die Slow' Lyrics By Young Thug And Strick
Refrain: Strick
I gotta tell you that you'll die tonight
You go against these people, you gon' die slow, die slow
Intro: Young Thug & Strick
We out in Italy on the water (Slime, what's going on? It's feeling like they won)
Me and Strick recording (Gotta get back up, you a Black Panther's son)
Smoking weed, smoking dope (You gon' die slow, die slow)
Drinking a lil' lean, I actually did good
I ain't drink none but a pint this whole tour
Yeah, on tour, I done missed my son's birthday, it's, uh, July the 15th
Nah, I, I low-key, like, really see people riding past on boats right now out the window (Die slow, die slow)
It's just the, just the penthouse suite, know it's nothing major, yeah
Verse 1: Young Thug
Told the lawyer that my brother ain't going back to prison
I don't give a fuck, if I gotta turn that nigga Jehovah witness
I'm just seeking for God's soul 'cause I know something's missing
Comme des Garcons boxers, and I came from penny-pinching
Came out the struggle, nigga, I really had lost a brother, nigga
Got to fighting with the deputy sheriff, I almost lost my mother, nigga
Interlude: Young Thug
That's funny, that's funny, like
My momma had broke up with my dad for having another kid on her, and, um
He had came home one day and he saw, um a car in the driveway
It was an off-duty sheriff, ahem, a deputy sheriff that my mom was fucking with, and um
They had a few words, and it ended with, um, my dad shooting
They ended up in the hospital in a coma, and, uh, yeah, so
Fast forward like eight years later, my sisters had got to fighting, and, um
And they, And they, And they had a family member that was a Deputy sheriff, and um
My mom came outside to goddamn stop the fighting
And the lady had got in the car and just pulled off doing at, like, sixty miles per hour, ran my mom over
She had a stroke and shit, but she alright
Yeah
Verse 2: Young Thug
I always knew i wasn't gon' be gay
I had her sending pictures to my mom's phone when i was like eight, tuh
I always knew that I'd be great
'Cause my coach told me I was slow, but I was running at a fast pace, huh
They tryna divide us and conquer the world with it
They got a couple of the guys and all of the girls with it
But I'm a mastermind, I see right through it
I see that they got couple diamonds but the rest of 'em pearls in it
They say you poor, 'cause you black, right to your face, yeah
They say where you live, you'll never be able to own that place
My father said that you can change it all with your performance
And, by the way, your life is a VV stone charm
They take the land and detect all who can come
But i tell you with a long sleeved, I bear arms, ayy
I'm high enough to be on the Milky Way till morning
If you want it, you gon' get up earlier than anyone
If you want it, you gon' get up earlier than anyone
Put on my socks, grab my Glock, the stick under the couch
Tie all my shoes, you wearing flip-flops, and it's top of the top
R.I.P. Nipsey, know what I'm saying?
Bridge: Young Thug & Strick
If you were the one in my shoes, would you love?
Would you love, would you love, would you love, would you love?
If you were the one in, if you were the one in
They're prejudiced, so why the hostility? Yeah
Would you run away, or would you come back nightly? (Woo)
Outro: Strick & Young Thug
I gotta tell you that you'll die tonight
You go against these people, you gon' die slow, die slow, die slow
Slime, what's going on? It's feeling like they won
Gotta get back up, you a Black Panther's son
I gotta tell you that you'll die slow, die slow, die slow
You gon' die slow, die slow, die slow
Mom, what's going on? It's feeling like the Devil won
Die slow, die slow
Like Die Slow Lyrics? Check other Lyrics HERE