VIDEO: Mino "Song Of Glory" 2019 Press Conference + $15,000 Presentation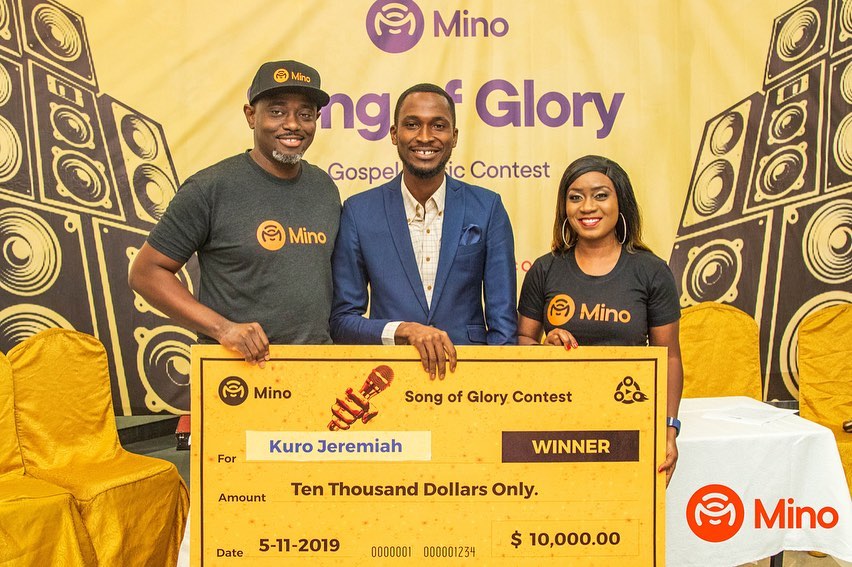 It was a major fanfare on last Tuesday -5th November when Africa's fastest growing music streaming App - Mino Music (@MinoMusicApp) rewarded its "Song Of Glory" 2019 Contest winners with a whopping sum of $15,000 (Fifteen Thousand US Dollars) at a World Press Conference in Lagos.
The team from Mino Music officially presented the prize money to the 5 winners of its first-ever gospel music contest, "Song of Glory" at a press conference in Oriental Hotel, Lagos.  This music contest which was open for gospel artistes was an offspring of the rebrand of Mino Music from Mynotjustok. 
Present at the press conference were members of the press, the Founder and CEO of Notjustok Inc; Ademola Ogundele, Nigerian gospel artiste and Notjustok Music editor Nikki Laoye, all five winners of the contest and some industry figures.
The 5 winners who were selected after a strict process of sieving through about 1000 entries across Africa are; Olayemi Lajuwomi 5th place won $500, Emmanuel Owoicho 4th Place won $500, Kenneth Okpor 3rd place won $1,500, Maxwell Rock, 2nd place won $2,500, and Kuro Jeremiah who took the grand prize of $10,000.
NotjustOk TV was present to bring you moments from the epic event.
Peep below!
Latest Contents