Last week, Trybe Records 2.0 artists, eLDee and Rukus, were both live on the JamJam Afrobeat Show with DJ Jam Jam. JamJam is probably the only white radio DJ that's more "African" than Tim Westwood. I love dis guy die!
You can tell dudes had fun in the studio. S/O to Rukus, eLDee and the whole Trybe fam!
"Eldee the don dropped into the Jamjam Afrobeats Show where he talks about, why Eva is better than Sasha, which 2 ladies he would take onto a desert island and gives more detail about setting up Nigeria's first major distribution label, Iman Entertainment.
He also gives us an exclusive listen to Trybe Records upcoming singles from K9 and Sojay, and fellow label mate, Rukus, delivers a crazy freestyle live in the studio.
Lively interview full of the jokes and banter we have come to expect from DJ Jamjam's radio show!"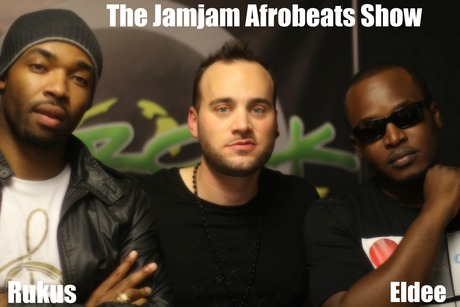 *O.O*
Part 1: Interview
[youtube]http://www.youtube.com/watch?v=7v-DZ7axOSE[/youtube]
Part 2 Rukus Freestyle
[youtube]http://www.youtube.com/watch?v=O__RDpx7Jn0[/youtube]
Listen to the full podcast below. The JamJam Afrobeat Show airs every tuesday from 8-10pm UK Time.