5 Interesting Facts About Davido's New Album, 'A Good Time'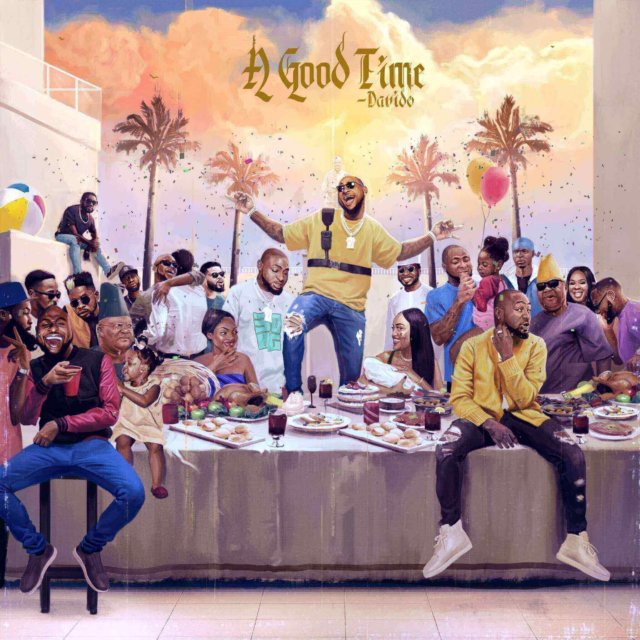 Davido just released his album, A Good Time. It is his first since 2016's Son of Mercy where he tried to break into the international market. Three years after, OBO is back.
A Good Time comes out at a time Afrobeats is ruling the world. Davido's album will no doubt place him highly in prestige.
The seventeen tracks on the album have wonderful features, and many songs are standouts. While fans have trended the album on social media, we looked and listened more.
These are five (5) interesting facts about Davido's latest album.
1. DJ Olu:
On the album cover, there is a feast depicted. It is full of happiness and assurance. Several important figures are present in the photo and if you zoom closely, you'll find DJ Olu, David's friend who passed away last year.
Look closer DJ Olu behind me ... protecting me ! ?? pic.twitter.com/cyq7edQrZ6

— Davido (@iam_Davido) November 20, 2019
2. Davido's Mom:
At the back of the cover, Davido and his father are looking at a statue of Davido's mother, Veronica, who passed away when David was eleven.
The artiste has always said that his mother is his major inspiration for doing music.
If you look closely at the back cover of the album You'll see me and my father looking a statue of my late mum ❤️❤️ ... can't wait till y'all see the front ??❤️??

— Davido (@iam_Davido) November 16, 2019
3. Asa Asika
Although Asa Asika was once separated from Davido's management team, he has returned. At the helm of things, the man has proven he can still operate at the highest level.
Much of the album's rollout is handled with expertise, and Davido's public personality has enchanted its reception. While we may not know the specific input of Asa there, his involvement is certain.
Looking at the overall production quality of A Good Time, Asa should be commended. The role of Executive Producer isn't one to be taken lightly, especially when you're working with one of Africa's biggest pop stars.
4. Songwriters:
Davido obviously believes in teamwork. Across the songs on "A Good Time," he employed the services of songwriters.
These songwriters are credited on the album art, and Davido is among the first Nigerian artistes to do so. He should be applauded.
Some of these songwriters are colleagues. Davido himself has confirmed the truth of this report.
"1 Milli" was co-written with Afropop star Adekunle Gold. Shaydee co-wrote "Green Light Riddim," and Kiddominant too, on "One Thing". DMW labelmate, Yonda, who was featured on "Animashaun," also co-wrote "Company".
Track 2 .. 1 milli ...... thank you @adekunleGOLD for this !!!

— Davido (@iam_Davido) November 16, 2019
5. A Good Time:
Finally, the songs selected from previous singles hint at a concept. Clearly, Davido is living his best life and the five singles he added confirm this.
These songs declare prosperity and happiness. A Good Time in its strength, has this in the tracks Risky, Fall, and If, which features the classic "30 Billion" brag.