NotjustOk hype will feature the future potential heavy hitters in Naija music. Any material featured in this category will be from an unsigned OR up & coming Nigerian/African artiste/producer/record label that boasts of nothing but promising content. There will only be ONE post a month in this category.
If you have or know of anyone's music that you feel is a hit or any good, please send an email to the official notjustOk email (music-at-notjustok.com) with a link to their page or where we can download the song. BETTERYET, send in the artiste's song(s) as mp3 attachments along with a brief info/bio and a picture/artwork.
After grinding underground for so long and even putting out with a 2 major projects – The Ogaju Album and The Restless EP, one of Nigeria's best female vocalists eventually got signed up to a modest music label and is now reaping the fruits of her hardwork and that which her massive talent truly deserves. Here's more on this prodigiously talented artiste and to rap up the year 2014, notjustOk Hype serves you SIMI!!!!!!!!!!!!!
Simi, how are you doing?
I'm awesome, thank you.
Can I get to know more about you?
Well, my full name is Simisola Ogunleye but everyone calls me SIMI. I am a singer, songwriter, signed to X3M Music. I'm the last of 4 children from my Mum and the only girl. I'm a Mass Communications graduate from Covenant University.
How did the music all start for you?
Professinally, I've ben doing music for 6 years now and I started with gospel music. I had an album then called "OGAJU" and I had a song on radio – Ara Ile. It was very nice starting out. Along the line, I've leant so much and I think I have grown as an artiste in terms of skill and knowledge.
Did you also start from the Church like most other artistes?
 Well, it depends on what you mean by that. I started with Gospel Music. I was in the teenage choir but I've never really been in any other choir besides that. I wasn't in a y major choir.
Tiff – DOWNLOAD
[audio:https://notjustok.com/wp-content/uploads/2014/06/TIFF-MASTERD-MONTAGE.mp3]
You wrote your very first song at the age of 10. When exactly did you get that conviction that music was for you?
At that age of 10, I knew but maybe I wasn't completely aware of it because I was still like a young kid and all of that but I've always ben drawn to it. I didn't really listen to a lot of music, growing up. As much as I love music, I didn't really listen to so many because I wasn't in a family where music was a thing but I was always drawn to music.
While you were in School then, were you ever in a group? And who were those that had a great impact on your career as an artiste?
When I was in the University, I actually wasn't in a group but we had this thing called "Variety Night" and every once in a while, I will go on stage and do a couple of songs. All together, I did like 5 times in School but people knew me and that really boosted me. I can never despise those days because I remember it really encouraged me to do more. I remember I used to have stage fright but then I overcame that and people really enjoyed what I was doing. I was in my final year when I started recording for the gospel album. Samklef used to come to my Church then and both of us just had this chemistry going and then we just figured out a way forward and it worked really well then. Without those days, there wont be this day.
Right then, who were those people you looked up to in the industry?
I do get inspirations but not in the way that you would expect. There's no one person that has influenced me. I' m very fickle when it comes to influences. I can be into one person for month and the next month, I could move on to another person or nobody at all. It depends on what's happening in my head at that time. There was a time that I was really into Lauryn Hill. There are days that I would love Indie Arie. Right now, I'm even more into Nigerian music. So for me, it's up and down.
Now, let's talk about your first body of work – The OGAJU Gospel Album. What brought about the gospel thing?
I've always been like a very stubborn person. I never do things because they don't want me to do it something. I remember then that I used to try to write love songs but they wouldn't come. I don't know if its because I started by writing gospel songs and I was like I'm going to do gospel songs and I was so happy. I remember one time my Mum called me and said "Oh Simi, you know you can do love songs too". That was where my heart was and I follow my heart a lot.
E No Go Funny – DOWNLOAD
[audio:https://notjustok.com/wp-content/uploads/2014/06/E-NO-GO-FUNNY-MASTERD.mp3]
Tell us more about the OGAJU Album.
Ogaju! That's my first love. I had like songs like every genre. It had hip hop, RnB, Pop and all of that. My favourite song on the album was "Iye Temi". I wrote it for my Mum and it's funny that that's the song on the album that I really like most. I had songs over time and when it was time to drop the album, we just had to put things in place. The hardest song to write was the biggest song on the album and that was ARA ILE. It was the first 'very fast' song that I actually wrote.
Album was produced only by Samklef?
Yes, only by Samklef.
You said IYA TEMI was your best song on the album. What was the inspiration behind the song?
Just my Mum. I love that woman to bits. She's like my rock. She was the only one for me then and would go to work early and come back late at night. So, I could have gone astray but the thing that kept me going was she, besides God. I never wanted to disappoint her. I wanted a way to express what I feel about her. I wanted the world to know how much I love her. I remember recording the song on and I burnt the song on a CD, gave it Samklef to give to her on her birthday. I wasn't around then and the album wasn't out yet. I'm definitely gonna write another song to make the world know much more about her.
What caused the switch from Gospel to Secular Music? Was gospel not paying or what?
Well.. To be honest, gospel doesn't pay as much as secular music does but that was not the reason. For me, I started looking at music as a professional job. It started more as a hobby then but later, I started to look for ways on how I can write less gospel songs and more love songs and all of that.
There was a time people actually thought you could only do cover of songs and nothing more. How did you feel with that kind of view?
Oh, I don't let it get to me. No matter how good you are, everybody can't like your music What I try to do is focus on your good energy. I love criticism a lot because it gives me the energy to wanna do more great things. I don't feel bad about it. I hear people ask me then why I don't do my own original songs but the thing is that when you're a new artiste, people don't pay attention to you when you do your own song but when you do a cover of a popular artiste's song that people already know.
Let's talk about the "Restless EP". Was it your idea to just do ALL covers on the EP then or what?
Yes. It's actually called `Restless' because I was restless at that time. I wasn't signed to X3M Music by that time and I remember Oscar and I were already working together. He was trying to get me a deal. So, I had a lot of time on my hands. I wanted to put out something because I wanted people to know that I'm doing something. I didn't even tall Oscar about it until I was almost done because I recorded at home. I decided to put it out as an EP because I didn't want to release covers every week so that they won't term me the 'Cover Girl' like you said earlier. So, It was a great project that I actually made to be mine – I took a different direction with it. I changed the stories, lyrics and so many other things in all the songs on that EP. I wanted to introduce my style.
You got signed to X3M Music this year. How did that happen?
Steve Babaeko, who is the CEO heard the cover I did last year – Drake's 'Marvin's Room'. He liked it and sent for me. That was actually the first cover he ever heard me do and that was last year. We had a meeting and he wasn't really sure of what box to put me. After that time, I started working with Oscar and he was doing some wok with X3M Music as well. So, somehow things just blended.
Your first singles under X3M Music – TIFF & E NO GO FUNNY. 'Tiff" seems to be the breakout song for you. Was that song written from experience?
I guess I wrote it from experience. When people ask this question, I just try to tell them 'Yes'. I was trying to find something that people can tap into, that everyone
can relate with. I have fallen in love a couple of times, so It was from my experience as well. I also wanted it to be someone's experience.
Let's talk about the Industry – The competition and all of that. How exactly do you see it?
I don't look at it as competition, although you have people who are trying to be as successful in the same business as you and you know that you can't sit down and expect things to come easily. I'm the kind of person that thinks that we all have to support each other because there's enough room. Fans are not looking to buy only one person's music so I think that there's room for everybody to grow. Sometimes, I could hear something from another artiste and think it's really nice and I then try to do something better but I don't view it in a way whereby I'm trying to make the person lower than me.
So, how's your relationship with other female artistes in the industry?
 Right now, one thing I'm trying to do is get out of my shell more. I'm actually not the 'going out' type of person. I could be home all day trying to record or reading a book, honestly. Right now, I try to mingle more and I think I'm still pretty new. So, I think that with more time, Ill definitely get to create a good relationship with them.
Simi, 2014 is almost done and dusted! What should be expecting from you in the New Year – 2015?
I really would not say 2014 is done and dusted for me in terms of music because I can say with some sense of assurance that something will definitely drop before the year runs out but then if it doesn't, then early next year. I'm putting out more singles next year as well as videos. The album is also coming out next year! So, there's plenty to do.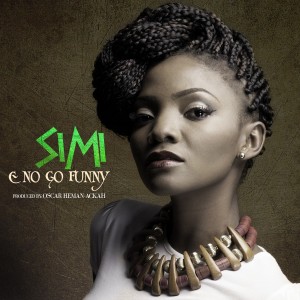 Being regarded as one of the best vocalists out of Nigeria is big enough and people actually expect a lot more from you. Where do you see yourself in 5 years time?
 Thank you for the recognition. Well, In 5 years, I see myself getting to that heights of Adele and even much more. She's my biggest role model right now. A lot of people are famous for their fashion, scandals and all of that but Adele is famous for her music only. Her music is very popular as well as very nice. I can't wait for her next album. I really want my music to go beyond the shores of this continent, beyond the shores of several countries. I want people to think of African Music and think 'Simi'.
If there was a song you wished you wrote and performed, what song would that be?
I think that right now, it would be 'Sia – Chandelier', that's outside of Nigeria. But in Nigeria, I think any song on Brymo's new album would do. I love that album and it's really hard picking the best. Infact, ALL of them!
Challenges faced in the industry as a new artiste?
That's a very interesting question. I think that with time and with every stage that you are as an artiste, you'd face different challenges. There's a time when you're looking for recognition, you just want someone to listen to what you do. There's also a time when you want someone to put money on what you do. There's also the time where you're looking for the gains of doing the music. So, the challenges pretty much never stops. There's a saying that every challenges that gets solved is a pathway to another. Never get to celebrate your challenges for too long because another one might just be around the corner.
The Album – When should we be expecting it?
The only information I can give you is next year.
Sure?
Yes, sure. What would I be doing? (laughs)
Relationship with your label mates – Praiz and Sammy.
Oh, those are my brothers. We are cool and as much as possible, we support each other and we have each other's back any day and any time. They're my guys!
Now, I'm gonna put you right on the spot here. Who are your Top 3 female artistes in Nigerian this year?
Really? Okay, Yemi Alade has to be there. Yemi Alade, Asa and errrrmm, maybe Tiwa Savage. Yemi Alade has been the most hardworking this year for me. Asa released a dope album and I think every other person did well too. Everybody has their own hustle. So yeah, Tiwa makes it.
20Nine
[audio:https://notjustok.com/wp-content/uploads/2014/01/20nine.mp3]
Tracklist:
1. 20nine (OneRuplic's Apologize) – Download
2. Range Rover (Rihanna's Man Down) – Download
3. Misbehaviour (Bruno Mars' Grenade) – Download
4. Why You Forget (Beyonce's Halo) – Download
5. Not Okay (Adele's Set Fire To The Rain) – Download
Download the Full EP Below
Finally, is there any final word to fans out there that have supported your music from Day 1?
To my fans whom I like to call my friends, I love you guys so much. I know I haven't done enough to win your love. I call them 'Simi Army'. I get more love than I get criticism and even the criticism is because of the love. I really cannot wait to keep your love forever. I talk a lot on Twitter so you can connect with me there – @SymplySimi and on Instagram – @SymplySimi. I'm also on Facebook – www.facebook.com/SymplySimi. My Website: www.symplysimi.com
Thanks for your time, Simi.
Thank you, notjustOk!! I had fun! God bless.