notjustOk hype will feature (or may be not) the future heavy hitters in naija music. Any material featured in this category will be from unsigned or up and coming Nigerian/African, artists/rappers/producer/record label that
contain nothing but promising content. There will only be a post a month in this category.
If you have or know of anyone's music that you feel is a hit or any good, please send an email to notjustokmusic with a link to their page or where I can download the song. ***If you can email me the song, please be sure to zip it first before sending it as an attachment***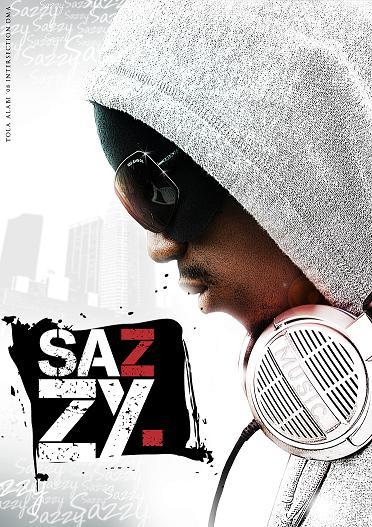 notjustOk recently reached out to Sazzy; one of the most unique, naija beat makers in the game and he replied with his answers and some music.
1. When did you start doing music and what led you into doing it at the level that you are?
OK… I started doing music about seven years ago (after some small acting). I started off as a rapper and they used to call me 'four line lyricist' because my first four lines were usually on point, but after that… absolute rubbish. So at that time, what I was best at was just giving hooks to artists. I was good at that, but that was not good enough for me and I was not content. So I decided to learn how to make beats.
Over the years I got better at my beats, writing skills and basically a better knowledge of music. I even got better at rapping and released a mix tape at some point.
I believe what has led me into doing music at the level that I am now was just the passion for it. My GOD… I love it, I love it, I love it, I love it. This is the best job in the world. It's like playing football or someone is paying me to eat or something… I'm just having a whole lot of fun.
2. I know that you produce and sing as well; what did you start off being a producer or a performer? Which do you prefer or feel more naturally good at?
Ok like I said earlier, I started off as a performer (rapper) and was rubbish at it before I got into producing. By default I'm a producer, I'm a beat maker. I can wake up from my sleep and produce. You can beat me up throw me in the gutter and I'll still get up and produce.
Is just that with this singing thing… I've got a lot of things I want to say and I want people to hear. I got some stories to tell, I got some things to get off my chest, and I've got some things I want to say that most people won't. I just have to yarn.
By the way I don't really see myself as a singer, comparing me to people that can sing is not really fair. I just wan yarn period!
3. Your style of music is different, I mean the first track I heard from you was 'Love Am De Go' which Ovie explained as having "an element of Kanye-slash-Femi Kuti"… What would you say your music style is and who are some of your influences when it comes to producing and performing?
'Love Am Dey Go', that track has done a lot of good things in my life since I've had it and it's about to do more. I think it's just a fun song.
[audio:https://www.notjustok.com/wp-content/uploads/2009/05/love-am-dey-go.mp3]
Anyway my music style is pop I think, with a bit of afro music in it. From time to time though, my music style evolves and I'm always trying to mix different genres together; old and new. Also my style reflects me as a person, so as I grow my music grows.
I recently fell in love with the style Kanye West used for the song 'Love Lockdown', the drums were insane and they just had this African thing about them that was just beautiful. So some of my influences for performing are; Kanye West, Fela, Jay-Z, T.I and D'banj (that boy dey MAD).
Producing; Timbaland, Neptune, Baba Dre, and Kanye West.
4. You recently moved back to Nigeria from England; how has the transition been career wise?
First off all Nigeria is just a different place. If you're not a strong person you fit die for this place, but I LOVE it. 9ja too much.
Career wise it hasn't been too bad, it's actually been good. Is just that you have to keep chasing people for your money sometimes…lol. By GOD's grace sha everyday is getting better and things are about to get big. Besides England is too crowded, is that the royalties are nice though.
5. How is the collaboration album with Dj Atte coming along and when can we expect the finished product?
It's coming up good it's coming up hot and the finished product should be expected July by the grace of GOD.
Mr C (Mr Chairman)
[audio:https://www.notjustok.com/wp-content/uploads/2009/05/sazzy-mr-c-notjustok.mp3]
6. Are you currently working on anything you would like to share with the people?
Okay right now I'm working real hard. I'm working on three major projects.
I'm working on the Sazzy and DJ Atte mix tape.
I'm also working with another talented producer 'T-So' on a project called the 'De-Producers' and last but not least I'm also working on a compilation for myself (Sounding Hot). Don't want to call it an album cause I think the name has been miss used, sorry my own opinion.
I also have a mini label so very soon, look for the sounds of Yoye.
Anyway I'll like to thank y'all for letting me yarn and I'll like to give a small shout out to James Mavrick, Yoye, DJ Atte, T-So, Jayed-Out, Nasty, Outtatown entertainment, VC Perez, Beazy, Me family and of course the Chairmen of notjustok.
And anybody way no like me now, no fear you go like me tomorrow…….lol
Sazzy
You can catch me on facebook OR myspace(www.myspacedotcom/sazzy06)