notjustOk hype will feature the future potential heavy hitters in Naija music. Any material featured in this category will be from an unsigned OR up & coming Nigerian/African artiste/producer/record label that boasts of nothing but promising content. There will only be ONE post a month in this category.
If you have or know of anyone's music that you feel is a hit or any good, please send an email to the official notjustOk email (music-at-notjustok.com) with a link to their page or where we can download the song. BETTERYET, send in the artiste's song(s) as mp3 attachments along with a brief info/bio and a picture/artwork.

What does the name IBK stand for? Also pls elaborate on the spaceboi moniker?
IBK is the short form for Ibukun which means (blessing). It's popular amongst the youths in the south western part of Nigeria. If I am to make it an acronym, I would qoute a friend that said it means (Information Bringing Knowledge)
Spaceboi?
Spaceshipboi is a super-hero figure from another planet, sent to earth with a message to its people. To inspire and make them know the maker put them on their planet for a purpose and they can only achieve it wen they seek the maker. It's like this. IBK is like clark kent and spaceshipboi like superman. That's why they are inseparable cause they are one and the same.
I have a Dream
[audio:https://www.notjustok.com/wp-content/uploads/2011/06/I-HAVE-A-DREAM-FINAL-MIX-1.mp3|titles=I HAVE A DREAM FINAL MIX (1)]
Oh I see. One more name question you have a typical word u repeat a lot in your music; martians and martianship. Please breakdown what it means to you
Martianship is my production outfit. That would grow into a full label. "Martianship is the label, I am the brand".
So martians for me are people on the same course with the vision which is to inspire and bring out the best in our people and d world at large
Perfect! You seem to be a positive person listening to your music and you proudly sing about your faith in God. Would you consider yourself a gospel artist? If not what genre?
I just saw a bbm status message from a contact on my bb. He said "think outside the box; infact throw the box away". I call myself a shepherd boy, and by that I mean an apprentice in the school called "lives journey". I make spaceshipmusic and that's a combination of soul,jazz,hiphop and martian elements, (laughs) Lol!
[youtube]http://www.youtube.com/watch?v=N7KJbqI-6mY[/youtube]
I see your not putting yourself in one box, but let me ask you; your music is meticulous and sound professional. Did you go to school for music or it was self taught?
My music be self taught!*Rick Ross voice* (laughs) developed my art on a personal tip and as a result of the different pointers towards that direction in terms of words from role models. That made the difference. I produce, rap, sing, teach people how to sing and used their God given talent to the full. Reading and practice is necessary. So no berkley for me yet, in other words, I didn't learn the art within a four wall system, even though I would love to go there and learn more.
Lol! Let's talk about ur teaching of music. Where do u teach? Do u have a school or academy?
Back in my university days, I founded a school called (music residence). It majored on basic voice training, song writing, music and ministry and music communication skills. I ran a one month program with 4o students each month. Left school and became active in Cobhams asuquo music school (CAMS). I was the director. For now plans to kick off the Music Residence again is on and soon it will be running, very soon too I should add because its aim which is to step up the performance level of Nigeria artist and performers, is very needed in these times. No more mediocre delivery.
Kudos to you bro. Do you always perform using a live band?
The question should be "do I perform?" Hahahaha! Answer is I do. I am a member of the soulful chocolate coffee blended voiced singer (Bez) band. I do Backup vocals and percussion. As for me doing solo performances, not yet, but when it happens, you will sure know 'cause the world has never witnessed anything like what this martian is about to bring to the world of music, entertainment and the industry.
Tongues
[audio:https://www.notjustok.com/wp-content/uploads/2010/07/IBK-Tongues.mp3|titles=IBK – Tongues]
Nice! BEZ is an amazing artist. Getting back to your music, the first time I heard you was on Tongues. How on earth and how long did it take to compose that song.
Making the music was a couple of hours. I got inspired and wanted to do something different after I heard the Nina Simone record on the movie (thomas crown affairs). Hand claps and piano, wow! My friend Nidap-piano was in my house and I had a piano line in my head and told him to lay it down for me cause he is a wonderful jazz pianist. What the jazz singer will refer to as a skat, was my way of speaking in tongues. The language of the spirit of God. The message is powerful and uplifting. Made an animae video for the record too.
IBK Spaceship Boi – (I Have A Dream)
[audio:https://www.notjustok.com/wp-content/uploads/2011/08/IBK-Spaceshipboi-Enigma-I-have-a-dream.mp3|titles=IBK Spaceshipboi – Enigma (I have a dream)]
Yeah, we posted the video a while back on the site. #Enigma. First of all a big congratulations to you. Did you think you were going to win after you sent your song in?
Yes I did, but not in what I think might be your sense of wining. For me wining was achieving what I set out to do which was to inspire and and value via my rendition. I was fulfilled when I read some one say on twitter "just listen to IBK spaceshipboi's version,kai! I am going to remake mine", or when I heard some other artists PR person tell them "have you heard IBK's version, this is what we are up against". It made me know, the bar was raised. People are now seeking to put up stuff that's not mediocre anymore and that was wining for me. But as for the money and position, I knew I had a chance but to emerge as number 1, that was God writing a good story with me as the lead character. Nice.
Yes o! So did you actually meet Don Jazzy?
Nah, he was in london at the time, preparing for the koko concert. Dbanj made the presentation
Nice! So how have things changed since you were announced the winner if it has atall?
O yes it has, and a lot too. Now people call me "Enigma" Lol! Some call me "I have a dream". More people following on twitter, more people looking to hear other stuff I have put out, interviews left,right and centre, Larry King calls me up and says he wants to come out from retirement to interview me just one last time and then no more*joke* lol!!! But yes! It has been awesome and the only place I see this going is upward. Lol!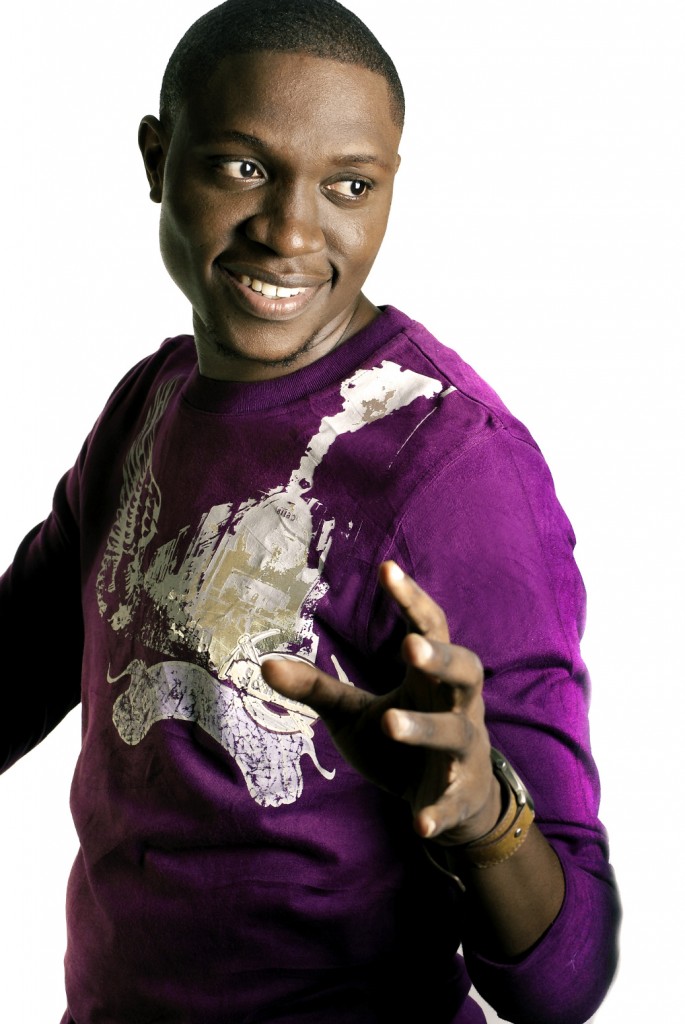 So IBK are you working on an album? Any new singles coming soon? What can fans and folks expect to hear from u in the near future?
Working on an album: check/ new single before the year runs out: check*if it is required that I do so*/grammy award nomination next year and beyond: check. Hehehe. The remaining quarter of the year will be an exciting one for my fans and lovers of the music I make because I am working with lots of artists; up and coming and established. Just produced a record that I featured in called (far away-magic carpet) the artist name is TASTI, making a joint with the beautiful femcee MUNA, another record y'all should watch out for is by a great vocalist and songwriter ONYEBUCHI the song is called (Totori) and I produced that as well, worked on a record with project fame finalist LINDSEY,plus something big is about to go down, never seen or done in Nigeria before. 12rappers,12verses,1 track. Its a holycypher and I am on that project. Its going to be dropping soon so ears and eyes open. Plus my debut Album (I COME IN PEACE) is surfing on 2012 so get ready for the future. Lol!
Tasti – Magic Carpet ft IBK
[audio:https://www.notjustok.com/wp-content/uploads/2011/10/Magic-carpet-ft-ibk-spaceboi.mp3|titles=Magic carpet ft ibk spaceboi]
So give us some more info on the 12 rapper song? Who and who will be on d track?
Is this gona be on the interview? Cos its supposed to keep y'all guessing
Yes, just give us a hint.
I'll like to call all twelve rappers on this record (disciples) like the twelve Jesus had. All I can disclose for now is that I am one of the twelve and the track is revolutionary. Y'all get ready because what y'all are about to witness via the airwaves is jaw dropping.
Nice! Excited already. Oya tell us how you hooked up with Cobhams? Didn't think I forgot about dat. What have u learnt from him?
Smiles. Got to meet Cobhams when I was still in school (covenant university). Got His number from a friend that he was making music for at the time and called him up. We fixed a date to meet and I told him about my dreams and what I wanted to achieve with my music. He was excited since we were on the same page and that's how the journey with cobhams started. I have learnt a lot from him, most of which have to do with the interpretation of the music and not the actual music making process itself. We may churn out different types and style of music, but one thing we have in common is the (keep it quality mentality), No Mediocrity Allowed (N.M.A). He is a talented, humble and playful fellow. One of the greats Nigeria has ever had in terms of music production and I am proud to be associated with him.
So you are lyrically potent and you sing as well. Which do you prefer when expressing yourself via music?
I love both! And I love them a lot too. But I feel the rap part gives me more opportunity to communicate a lot in such little time a record runs for. I am not where I want to be, but not where I used to be either. Always working on developing my craft.
I see. IBK what words of wisdom would you share with upcoming producers and artistes. Anything else u would like to mention or tell ur fans?
There is a lot I would love to share and share on a regular basis on twitter @spaceshipboi but for nw I will live you all with this message; your purpose here on earth can only be discovered in God and it's fulfilment is derived in sticking to the script. God bless y'all! Keep supporting good and positive music and spread the word to your friends and enemies "there is an Alien in town, and he looks just like you".
You can follow me on twitter: @spaceshipboi
www.facebook.com/martianship
www.reverbnation.com/spaceshipboy