notjustOk hype will feature the future potential heavy hitters in Naija music. Any material featured in this category will be from an unsigned OR up & coming Nigerian/African artiste/producer/record label that boasts of nothing but promising content. There will only be ONE post a month in this category.
If you have or know of anyone's music that you feel is a hit or any good, please send an email to the official notjustOk email (music-at-notjustok.com) with a link to their page or where we can download the song. BETTERYET, send in the artiste's song(s) as mp3 attachments along with a brief info/bio and a picture/artwork.
She's already being touted by many as arguably the "Best Female Rapper in Nigeria". Others say she's either "Top 3" or "Top 5". Whatever position she occupies on your list, one thing's certain… Eva is very talented! With that in mind, we present to you Eva, the new "notjustOk Hype" for the month of March 2011!
Eva – I Stay
[audio:https://www.notjustok.com/wp-content/uploads/2010/07/Eva-I-Stay.mp3|titles=Eva – I Stay]
Please, give our notjustOk visitors a brief backgroud of yourself.
I'm Eva Elohor Alordiah from Delta State. I come from a simple family that's structured and bound by the simple things of life. I'm a rapper/entertainer, make-up artist, fashion designer and creative writer. I enjoy what I do and I'm most times preoccupied with one project or the other.
When did you realize that you could rap, and how did you get into the rap game?
I was pretty much stuck on music growing up. My family is one of music lovers; all genres. So I grew up listening to all kinds of music. For some reason, I was very drawn to the HipHop/Rap Culture and next thing you know, I'm dubbing my favorite tunes over every tape I could find in the house. So it started from a Play-Rewind-Fastforward sequence just to get the lyrics so I could rap along, to writing a bit of this and that. I was stuck on HipHop music. But after I listened to Eminem's "Marshall Matters LP", I said to myself "Yo! I want to rap" – and fastforward to today, I'm here now.
Being a female and a rapper in an industry dominated by the males making more local styles of music, how hard has it been for you to get where you are today? What are the challenges you've faced thus far, and how are you coping ?
I think being a lady makes it easier. Probably because there aren't so many women doing this, so the minute you step up as a female in this genre, you get noticed. Getting to this point was by the unending grace of God. I quit a couple of times, dropped my pen and paper and said I was done. But I kept coming back. The beginning was rough, on and off a lot of times, cause I had to be stuck in a Private University (Bowen). That made music kinda difficult to tackle. I wasn't getting any support from my folks so I had to take care of everything myself and push push push till someone noticed me. Amazingly there were people around me that just wanted to support me in any way they could; radios, Djs, Blogs/writers… and that really helped. So I wouldn't be here if it wasn't for all those different factors put together.
Eva – Relentless (Produced by T.K)
[audio:https://www.notjustok.com/wp-content/uploads/2010/04/Eva-Relentless-NJO.mp3|titles=Eva – Relentless (NJO)]
Speaking of getting noticed, who can forget your 2009 introduction to notjustOk.com and the rest of the online world?? "Make 'Em Say" wowed everyone (including myself) and you instantly got loads of fans. Tell us about that song, and the impact the online reception had on you personally.
(Laughs) Wow! RCube of Str8buttah called me up to be on their "Illastr8 II" mixtape. It was a huge deal for me to work with them 'cause I had so much respect for their work. As soon as I heard the beat (produced by XYZ), the words came pouring out. We got in the studio and I recorded the song as straight as HipHop comes. No pauses, no double takes, no stress. That's why the recording sounds the way it does. I sincerely didn't even expect anyone to like the song but the encouragement from the Str8buttah camp was so amazing I had to put it out. Next thing you know, the fans are crazy for the song and I was pretty much the happiest girl in Lagos. The video was shot at the end of 2010, not just because we needed to put out a video for the song, but also because "Oshodi" the director came up with the most brilliant, grimy idea. And guess what?? I jumped on it without thinking twice!
Aside the online reception which blew the song over, the fans were just so supportive. It did more for my career than I ever imagined and to think I didn't even take it serious in the beginning. I'm just grateful to Str8buttah for letting me have that. It has done so much for me as an artiste.
[youtube]http://www.youtube.com/watch?v=fWKmid37ZhM[/youtube]
I understand you're now signed to a Record Label. Please, break the news officially to our notjustOk readers…
Yes I am!!! I am signed to PXC Records, owned by the talented and Award-winning Video Director, Mex. We actually met to work on a totally different project and it turned out we were passionate about each other's works in vastly different ways. At the time, I had several Record Label offers and I was already considering a couple of them. But after my first meeting with Mex, I knew I had to work with him without having to think about it. You'd be surprised what happens when an amazingly creative man like Mex puts his heart and intellectual resources to a project like mine. It's a blessing to have his company back my music. I'm happy!
Since 2009, you've put out a few songs that show different sides of Eva. "Down Low" with Shank was a Dancehall tune. In it, you dropped several lines in Patois, matching Shank every step of the way. You also released an acoustic Christmas/holiday tune. What's the secret behind your dynamic style?
Eva – Down Low ft Shank (Produced By TinTin)
[audio:https://www.notjustok.com/wp-content/uploads/2010/12/Eva-Down-Low-ft-Shank-NJO.mp3|titles=Eva – Down Low ft Shank (NJO)]
Am I allowed to say God? (laughs!) Really, I think that stems from the fact that I am influenced by so many different genres of music. I don't necessarily say "Oh! I'll listen to just rap 'cause I'm a rapper." Surprisingly, I listen to everything, Reggae/Dancehall, Rock, Soul, Jazz, Fuji… it reflects in my music and I just try not to go overboard.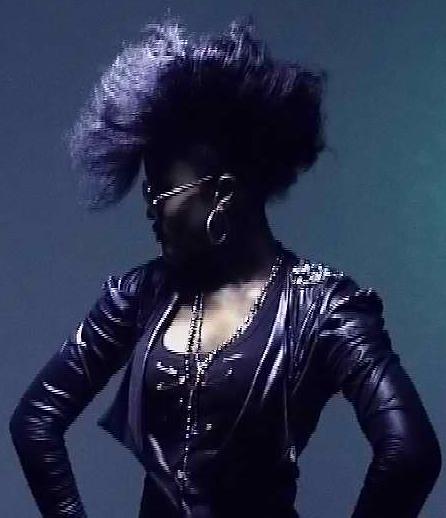 Here's one for the fashionistas. You're quickly creating an identity with your hairstyle. Is there a name for it?? Like… "The Eva Hair"??
(Laughs!) My hair is a case. I didn't think it was such a big deal when I cut it at first. Next thing you know, I have fans cutting their hair like mine and sending me pictures! I'm like so flushed that that even happens at all. Makes the hair feel like such a big deal which it wasn't before. So, let's call it theEvaHair, shall we?? (Laughs!)
The death of DaGrin last year came as a shock to the whole Nigerian music industry. As someone who shared studio-time with him before he passed away, how did it affect you?
I found out about it (DaGrin's death) on (the Social Networking site) Twitter. My TimeLine was flooded with tweets about it and I kept retweeting and slamming people saying it wasn't true. Then I called one of his close friends who confirmed it. I think a part of me went dead. I cried. I still didn't even believe it until I saw it on TV.
I had the pleasure of working with him on "Owo Ati Swagger" with CartiAir, and that period was officially the first time we met. He was just an awesome guy; very energetic, and very down-to-earth. He called everybody "My Oga." I remember every moment with him like it was yesterday. After over a month of his passing, I decided to write a song, record it and just throw it out there. I called "Sarz" up, got in the studio to record "Tonight" over "Souls of Mischief – '93 Til Infinity."
We would never have the joy of having another DaGrin, but we are grateful to God for blessing us with him even if it was for a little while.
Eva – Tonight (DaGrin Tribute)
[audio:https://www.notjustok.com/wp-content/uploads/2010/05/Eva-TonightDagrin-Tribute.mp3|titles=Eva- Tonight(Dagrin Tribute)]
Your new single "I Done Did It" (Produced by Sossick) has just hit the internet and local radio. It's getting ever-increasing rave reviews here on notjustOk.com and everywhere in general. Tell us about your experience working on that joint with the "very sick" Sossick. So, you don baff with Champagne, abi?
I Done Did It!!! (Laughs) It's is the first song myself and Soss have worked on together. I was with him from the minute he dropped the first kick of the beat and I loved it from start. There's an amazing connection Soss makes with an artist and I felt it the minute I met him. Pure genius! It was so easy writing the song, and the hook came out of nowhere. Now this is the truth; when we were done working on it, I didn't like it. Sossick would purposely turn up the speakers, call everyone that cared to listen into the studio and then dance around, jerking to the song, just so it could ring into my head. Soon enough he played it to DJ Neptune and I didn't hear the last of it. Neptune kept calling me up to say I must put the song out. The label approved the release and we premiered it here on notjustOk.com.
By the grace of God, I have not rested since! The reviews, the support, the acceptance of the song is so unbelievable! I can't be more grateful at this point. I'd definitely be working with Sossick majorly on my project amongst other great producers.
Eva – I Done Did It (Produced By Sossick)
[audio:https://www.notjustok.com/wp-content/uploads/2011/02/Eva-I-Done-Did-It-NJO.mp3|titles=Eva – I Done Did It (NJO)]
On the issue of projects, I understand you're working on releasing your very first body of work: The GIGO EP. What we should we expect from it?
The idea of the "The GIGO EP" came from the fact that I just really wanted the fans to have a taste of my music before my debut album is ready. When I thought about it, I initially wanted to put out a mixtape but then again, I felt like having a compilation of original songs would be much better. So I thought of a theme for the project and came up with GIGO which is an acronym for "Garbage in – Garbage Out". It's a term in Computer Programming; basically I'm giving back what I have been given or influenced by. The first single off the EP, "Down Low" which features Shank was produced by TinTin, and that explored my Dancehall/Pop persona. It worked perfectly for the theme of the EP. The second single off it is "I Done Did It" and clearly it keeps me in the confines of HipHop/Rap. Should we expect a fuji/fusion on the GIGO EP? Maybe.
Have you and your record label fixed a release date for The GIGO EP ?
We haven't fixed a date yet but it is ready right now. It would be nice to put it out when the fans are entirely ready for it you know? But soon. Real soon! 🙂
7 Things You Don't Know About Eva…
One of my favorite albums of all time is Craig David's "Born To Do It".
I'm a sucker for drinking garri. I can drink garri with anything; groundnuts, kuli-kuli, fish, Kilishi, Sardines, anything!
My new found music love is "Imogen Heap". I currently have her "Goodnight and Go" on replay.
I'm also a pencil artist, apart from sketching the clothes I design, I have been drawing since I was a child. I'm kinda rusty now though.
The first rap song I ever learnt from beginning to end was Coolio's "Gangsta's Paradise". I think I was 7 at the time.
My favorite Nigerian dish to cook is Eba and Uha soup, but my favorite to eat is Starch and Banga.
My dream stage performance is one with the largest Nigerian crowd. I don't think there'd be any love greater than that from an energetic Naija crowd.
TWITTER: www.twitter.com/EvaAlordiah
FaceBook: www.facebook.com/EvaAlordiah
FB Fanpage: "Eva".
Youtube: www.youtube.com/therealEvatube
Blog/Site: www.evaalordiah.blogspot.com
Here's an exclusive behind-the-scenes footage of Eva at the video shoot for "I No Send U" Allstar Femcees Remix.
[youtube]http://www.youtube.com/watch?v=KqLv5mNqOWY[/youtube]