notjustOk hype will feature (or may be not) the future heavy hitters in naija music. Any material featured in this category will be from unsigned Nigerian/African, artists/rappers/producer/record label that contain nothing but promising content. There will only be a post a month in this category.
If you have or know of anyone's music that you feel is a hit or any good, please send an email to the official notjustOk email with a link to their page or where I can download the song. ***If you can email me the song, please be sure to zip it first before sending it as an attachment***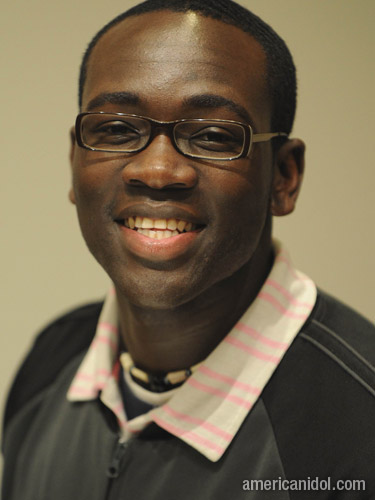 Video and Photo credits go to AmericanIdol.com.
notjustOk.com recently caught up with Nigerian-born American Idol 2009 Season 8 finalist for a little chit-chat, and to know more about the amazing musical talent he possesses. This is a summary of how the conversation went down…
Can you please tell us a little bit about your background? Who is Abasa?
My name is Abasa Asake. I am from Kaduna State in the Northern part of Nigeria. I was born in Zonkwa. I am the son of a preacher, Musa Asake, who now lives in Jos. We moved to the United States in 1987 and I've been here pretty much ever since.
How did u get into music, and who are your influences (both Nigerian and American…)
I'm not sure when my love of music began, but I found my voice somewhere in high school. I once thought it was then, but when I look back, I can see that music has been in my life from a very early age. I've always had a discerning ear for a tune. I remember singing hymns in church. . . I've always loved choirs. There is this one local guy my dad used to listen to on cassette tapes all the time . . . Dan Mai Awo (spelling?) He played the "molo" – pretty much a guitar 🙂 I would sing those songs along with each tape. I remember hearing Michael Jackson's "Thriller" for the first time in my Aunt's house in Kaduna. I was blown away.
After moving to the 'States, I heard bands like Tony Toni Tone, New Edition, Boys II Men though, were a major influence on me when I heard them. They made me want to start singing. I realized that I too had music within me that I wanted to get out. But I must say that Stevie Wonder takes the cake. My guy, my life changed when I got a hold of his albums. I couldn't listen to anything else. It wasn't just his singing, but his writing.
My mother visited me recently and brought over a Jeremiah Gyang album (his first). I remember to this day, I was walking down the stairs when she started playing it for my sister and I was stopped dead in my tracks. At this point I wasn't really aware of the musical renaissance taking place in Nigeria. It made me proud to know he was from back home and I was taken aback by his talent I took the album from my mom 🙂 . And I nearly played the thing out. I can't believe that guy rapped in Hausa . . .in Hausa, my guy. I'd never heard that before. I still speak Hausa and I was speechless. I'd love to meet him someday, man, he seriously changed me.
To the American Idol 2009… how was the experience of making it to Hollywood from Mineapolis, Minesota?
I auditioned in New York City with over 10,000 other hopefuls . . .all sent home with the exception of about 30 of us. That's a guess. I made it to the first round in Hollywood, and I know that I should be pleased with that, but c'mon, no one likes being sent home 🙂 I believe there were just 101 of us invited to Hollywood. It was a very humbling journey, and for a long time I was trying to figure out what I learned. It all happened so quickly, meeting the celebrity judges, Paula, Simon, Randy, and Kara the new lady on the block (of course) Paula is no longer with the show.
At any rate, the competition in New York was amazing! It was a game of nerves. You think you can sing, until the person next to you opens up his or her mouth to sing and you know they were born with a gift you can't even touch. However, the thing about that show is just that, it's a show first, then a singing competition second, or maybe third 🙂 The person who wins isn't usually the best singer, it's usually someone they can market. Someone with a good story to tell, and so forth.
[youtube]http://www.youtube.com/watch?v=XRJUbgIZbUU[/youtube]
I learned that if you don't want something bad enough, there are plenty of people who do, and they are one hundred times more prepared to walk over you to get it 🙂 For a serious Artist, the American Idol thing just won't do. Anyone who's ever sat down and penned a song from the pain of his or her soul, wants an honest listen. . . not an immature crowd who happens to like the beat of your tune 🙂 At least that's how I feel.
So, yes, I made it to Hollywood, but in the grand scheme of things, I haven't really gone anywhere.
How do you define your music?
Defining my music is hard for me, and I usually leave that up to any one else but me 🙂 Only because I don't want to pigeon hole myself or reduce myself to any musical corner. However, ever since learning to play guitar I'm fascinated with acoustic sounds, and I've noticed that element is left to the world of Rock or Folk and that's not really the sound of my music. I think of myself as Acoustic Soul. I don't really hear too many brothas messing with the acoustic sound 🙂
Nigerians home and abroad love to embrace our own (hence this interview) and you're fully one of us. That said, have you considered "carrying us with you"? … meaning… have u considered adding a Nigerian element to your music? Maybe 1 or 2 tracks… who knows?
Growing up in the village, i used to listen to the Zumuntan Mata (the women's fellowship) in church. I've had this dream of recording with them with the traditional percussive instruments they play. I think we could rock it out, honestly 🙂 I remember b/c they'd always have a number that they'd perform in church. Tight harmonies, my guy. Village harmony, y'all just don't know 🙂 It would be live, man!
I'd love to rock my home village. But you know artistes like 2 Face and Gyang all have those elements and with a modern, hip-hop sound. I really dig that. That sort of creativity is what makes a Nigerian abroad, like myself quite prideful. Our people have talent-O! and mad creativity. If I can ever get it done, I've had an ode to Nigeria in the making. it's too hot, my guy, way too hot! I can't even get through without being overcome with emotion. It needs to be written though, and by the grace of God, the masses will own it someday.
Along with your solid vocals, it looks like you're "instrumentally sound!" What can you play?… and pls tell me u played the guitar on "Forever"…
***FOREVER***
[audio:https://www.notjustok.com/wp-content/uploads/2009/09/Abasa-Forever-NJO.mp3]
Most definitely rocked that guitar out on Forever 🙂 I wrote it on the guitar. I'm African so I can play drums, right? and keep a mad beat 🙂 Thank you for the compliment. I have a long way to go with my guitar skills. I'm always striving, but I'm never pleased. Funny thing, I started out wanting to be an instrumentalist. When that wasn't working out, I learned to sing 🙂 Someone told me that the human voice is the best instrument that can be played. God bless that person, because I've learned to forgive myself for not being able to rock my guitar out like I want. But I still try.
How many instruments were used on that Forever song?
Man, that was pretty simple, we intentionally kept it that way. Guitar, Keys, and light percussion, no bass so as to enhance that acoustic vibe.
As a parent of two with a 40 hour j.o.b, how are you able to find time to make music?
I'm still working on that. That's where that desire to put in the energy to get what you want comes in. and of course inspiration. I want to share my music. I feel as if I have this message (maybe we all feel that way) – but in a sense that is my motivation.
Are you currently signed on to any of the major labels yet?
Labels? what are those? 🙂 No one knows about me.
So, I'm guessing an album is far beyond the foreseeable future…?
Not so far. I'm working on things to present a possible label if God so wills. But you know we live in the day of the Internet. Labels aren't the be all end all. However, i'm working on getting back in the studio. Basically, i just need to be produced to get that "good sound" out.
How can you be reached/contacted in terms of productions, collaborations, or just a plain ol' hello from those reading this interview?
My Gmail! abasa.asake@gmail.com.
Any final words?
Hmm… your website is sick! Just wanted to let it out. For those of us like me who are here and not at home, it's wonderful to be able to connect like this. May God bless this your idea to continue to grow and be a blessing to others . . .  and it's already taking shape.
Thank you for giving me a listen. And as I've said, I believe there are many out there who appreciate this music outfit you've forged from the love within your heart. Keep it up! Keep empowering people with music, and for some . . . their musical dreams may be realized!
Thank you so much!
Sometimes Is Enough (not fully mastered)
[audio:https://www.notjustok.com/wp-content/uploads/2009/09/Sometimes-Is-Enough.mp3]