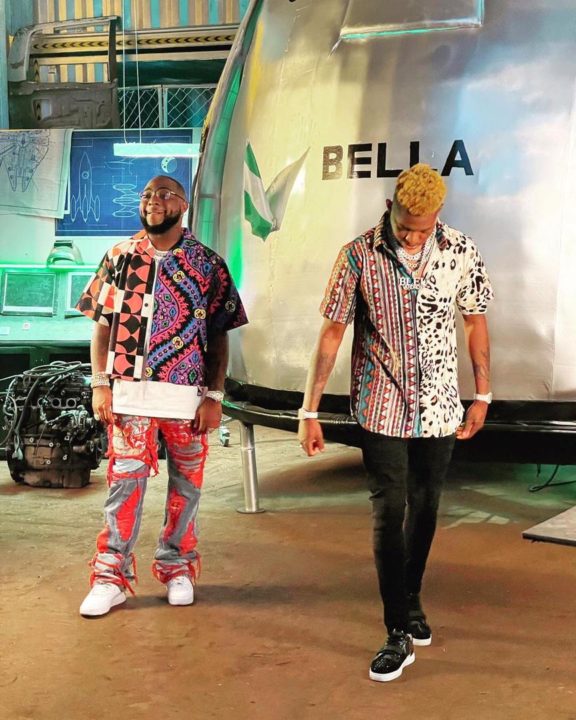 American rapper Yung Bleu has finally dropped his debut album Moon Boy, which included a collaboration with Nigerian superstar, Davido on Unforgiving.
Yung Bleu dropped Unforgiving with Davido along with his album on Friday, the 23rd of July 2021. The two artists have been teasing the song for months and we know there is even a video shot for it already.
Yung Bleu was in Lagos recently to shoot the video for Unforgiving with Davido and explained that he and the rapper made the song within 30 minutes in Atlanta. The DMW boss also revealed that Yung Bleu insisted that he would shoot the video in Nigeria and fulfilled that promise. Davido wrote when the rapper touched down in Lagos;
Linked up in Atlanta Made a smash in 30 minutes! He said 'D I'm shooting this shootin in ' bruh wasn't playing .. You welcome home my brother !!  @bleuvandross
Yung Bleu also revealed that the Nigerian singer is one of the nicest people he has ever met. He wrote;
Ion no what it is but @davido fw me like a lil bro I guess it's just natural real ones connect ! In naija popping big shit 
READ ALSO: Yung Bleu Discloses Release Date for Collab With Davido, Here's How
Davido was however not the only artist the rapper worked with while he was in Nigeria. He also shared photos of himself with Burna Boy and was spotted up in the club with Wizkid. The rapper surely had a very memorable first visit to Nigeria.
LISTEN TO UNFORGIVING BELOW:
Stream Yung Blue's Moon Boy Album HERE