Petty Too Lyrics By Lil Durk Ft Future | Official Lyrics
Lil Durk And Future Lyrics
Chicago rapper Lil Durk and Atlanta rapper Future teamed up to drop a club banger dubbed 'Petty Too', check out the official lyrics to the song below and sing along. 'Petty Too' was produced by DJ Young Pharaoh, IRoccOnTheBeat and Zypitano.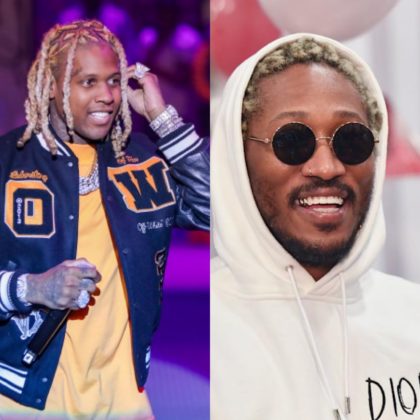 STREAM & DOWNLOAD AUDIO: Petty Too By Lil Durk Feat. Future
Lil Durk & Future - Petty Too Lyrics
Intro
IRoccOnTheBeat
Who made this shit, Pharaoh?
Verse 1: Lil Durk
He got caught with a bitch I hit like twice, but I denied
I put my lil' bitch on him, he thinking with his dick, so he gon' slide
You can't call me petty, me, I share my bitches with the guys
I got bitches who I fuck and they got names, but I can't brag
I'm a heavy hitter, you wanna fly out your friend, you better be ready with her
Bitches cool, they never put me on blast 'cause I'm not petty with them
I did a show five hundred thou', ask Bands, I got my Patek bigger
Back to Miami, got her ass on fleek, she got her panties bigger
I just got a plug, he keep me flooded when that price low
I like trenches hoes who sell they lean card for they micros
I be in the trump, stuffing my Runtz up with my white hoes
Police pop out daytime, but we pop outside at night though
Petty ass
Chorus: Lil Durk & Future
Bitch, you petty, bitch, I'm petty too, uh, uh
Bitch, you petty, bitch, I'm petty too, uh, uh (Bitch, let's get it)
Bitch, you petty, bitch, I'm petty too, uh, uh (Bitch, let's get it)
Bitch, you petty, bitch, I'm petty too, uh, uh (Bitch, let's get it)
Bitch, you petty, bitch, I'm petty too, uh, uh (Bitch, let's get it)
Bitch, you ready, then I'm ready too, uh, uh (Bitch, let's get it)
Bitch, you petty, then I'm petty too, uh, uh (Bitch, let's get it, yeah, Pluto, woo)
Bitch, you ready, then I'm ready too, uh, uh (Bitch, let's get it)
Verse 2: Future
Cutting off my partner, was thinking trapping wasn't no hobby
Drop you off the label, you ain't ready to catch a body
Plugged up like cable, you gon' think I'm Black Mafia
Sub twins, soon as we catch up, nine dollar
Whack that nigga, have his family writing me a novel
Went to Louis Vuitton just to show off my Balenciagas
Get mop from a prostitute, I feel her teeth, she ain't getting a dollar
My young ho twenty-two, she don't keep it P, I'ma fuck her mama
She ain't just for the street, these hoes for the Earth
I knew she was a freak, she grew up in a church
These hoes popping Plan B's like they Percs
Said I was a dead beat when I bought my daughter a Birkin
Chorus: Lil Durk
Bitch, you petty, bitch, I'm petty too, uh, uh
Bitch, you petty, bitch, I'm petty too, uh, uh (Bitch, let's get it)
Bitch, you petty, bitch, I'm petty too, uh, uh (Bitch, let's get it)
Bitch, you petty, bitch, I'm petty too, uh, uh (Bitch, let's get it)
Bitch, you petty, bitch, I'm petty too, uh, uh (Bitch, let's get it)
Bitch, you ready, then I'm ready too, uh, uh (Bitch, let's get it)
Bitch, you petty, then I'm petty too, uh, uh (Bitch, let's get it)
Bitch, you ready, then I'm ready too, uh, uh (Bitch, let's get it)
Outro: Lil Durk
Uh, uh, uh
Uh, uh, uh
Uh, uh, uh
Uh, uh, uh
Uh, uh, uh
Uh, uh, uh
Uh, uh, uh
Uh
Liked 'Petty Too' Lyrics By Lil Durk? Check other Lyrics You Might Like HERE
Get Fresh updates as they drop via Twitter and Facebook