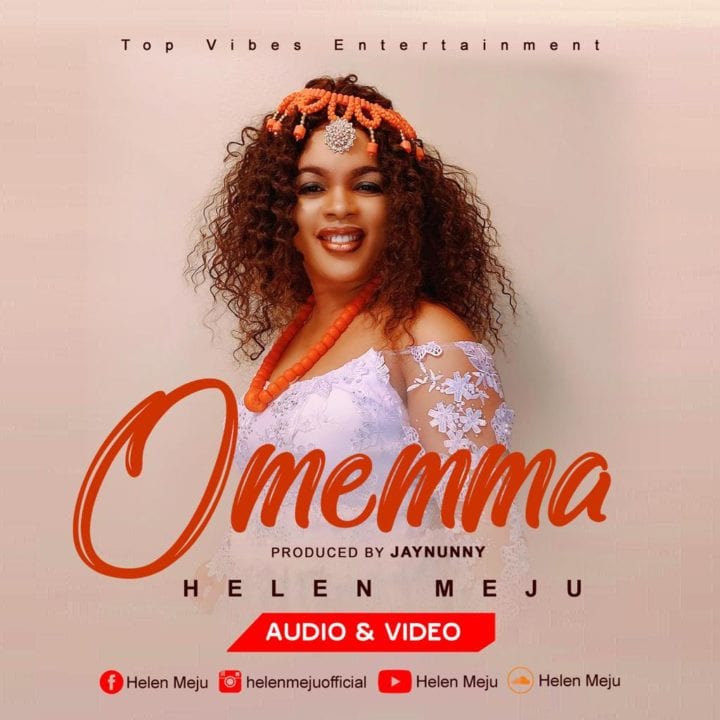 From the stable of Top Vibes Entertainment, US based Nigerian Gospel artiste, Helen Meju releases a brand new single and video -  "Omemma"
Produced by Jaynunny, the song is a follow up sound of Helen Meju's recently released worship music titled "You Are Lord"
Helen Meju is an award winning Gospel artiste, singer, songwriter and recording artiste. She is a nurse by profession and as well as the CEO of Top Vibes Entertainment record label.
Helen is well known for her groovy style of Gospel music and released several songs including 'Ihe Chim' , 'New Born', 'Jehovah Jireh', 'Praise You' , 'Baba Nkem', amongst others.
Omemma is available on all digital platforms.
Watch the Official Video for "Omemma"

DOWNLOAD AUDIO HERE

Lyrics: Omemma By Helen Meju
Verse 1
Onye nwe uwa emewom mma leeh
Onye nwe uwa egboworom mkpa eeh
Onye nwe uwa agozigo m ooo
Onye nwe uwa na enye m ego
Chorus
Jehovah mu na emem Mma
Jehovah mu na emem Mma
(4 times)
Repeat Verse 1
Onye nwe uwa emewo mu mma eee
Onye nwe uwa egboworom mkpam lee
Onye nwe uwa agozi go mu
Onye nwe uwa na enye m ego
Mgbe obula m kporo ya
Ka ona aza m oku
Mgbe obula m kporo ya ka ona azam oku
See Also: MoniQue teams up with Jaming in new single, "Ride On Medley".
Mgbe obula m na ebe
Na ona eficha m anya
Mgbe obula mkporo ya
Na ona azam oku
Jehovah m na edum
Odighi Ihe korom
Jehovah mu na edu m
Odighi Ihe korom eeh
Repeat chorus
Jehovah m na emem Mma ( 4 times)
Verse 2
Ihe chukwu si na mu ga abu
Ya ka mu ga Abu
Ngozi mu sina chukwu aaah
Akalaka chukwu nyelum
Na Mmadu apughi ificha ya
Ngozi chukwu nyelumu
Na Mmadu apughi inapum ya nike
Repeat Verse 1 and chorus
English Verse
I give you all the praises
For all You've done for me
I count my blessings one by one
You've done so much for me
For the life You gave to me
For the child You gave to me
For the love You showed to me Lord
I give my praise to You
Repeat Verse 1 and chorus