Yes!!!! Kinghthouse Street Scriptures vol1 album is finally dropping on 03/03/10. The album will be available for purchase on the release date here on notjustok.com.
I recall when I started hearing the word 'Knighthouse' on tracks back in 2008  and I wondered who or what is Knighthouse. The curiosity grew even more when I heard 'Purple' and 'The Finest', so we decided to track them down and presented them to the notjustok audience as the notjustOk hype for February of 2009.
Now Knighthouse, the team who won a Future Award for "Team of the Year" in 2009 are finally here with with the full album after delivering 'The Finest' EP in November of 2009.
The album is sounding very good, but don't take my word for it. Buy it when it drops on March 3, 2010. Meanwhile, enjoy this single off the album and give your thoughts on it. Also see the track listing below.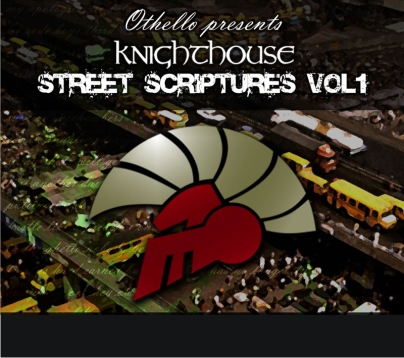 [audio:https://www.notjustok.com/wp-content/uploads/2010/02/Make-it-Better.mp3]
Album Track Listing
[1]INTRO: ft Bigtyme
[2]IJINLE PAM-PAM: ft. eLDee, Y.Q, Kel + Othello
[3]PURPLE: ft. Nyore, M.I + Mo'Cheddah
[4]NUFF'N LIKE ME: ft. tWizzle, Wizkid + Eva
[5]FINEST (TIMPA MIX): ft. Mo'Cheddah + Skuki
[6]LIVE @ 51: ft. Vector, Pype + Pherowshuz
[7]Interlude: KINGPIN ft. M.I
[8]Number 1: ft. RooftopMCs, Sabre + Loosekaynon
[9]LEGENDARY: ft. Mobie, WillyBang +  Mo'cheddah
[10]IF U WANT ME: ft. Mo'Cheddah + Sasha P
[11]BEFORE I WAKE: ft. Kraft + Dj Klem
[12]MY THOUGHTS: ft. Modenine + Ade
[13]MAKE IT BETTER: ft. Ice Prince, Mo'Cheddah, Mobie + Fumbi
[14]LIME: ft. Cartiair, Jesse Jagz + Dagrin
[15]K.H RADIO with Mad Ash
[16]PASS ME: ft. Naira
[17]Interlude- AIRPLANE MODE ft Sauce Kid
[18]CAPITAL DRAMA: ft. Tha Suspect + Clarence Peters
[19]ORIN IFE: ft. 4th Republic + Myst
[20]I DARE YOU ft. Blaise, XYZ + Terry Da Rapman
[21]Interlude- SATURDAY MORNING- ill Bliss
[22]HATE: ft. ill Bliss, Othello + Ayesha
[23]CRACKS: ft. Seven & pHisayo
[24]NEW TESTAMENT: ft. D Kalifates
[25]Outro- THE RIGHT HOUSE: ft. Sage