Top notch lyricist/rapper who we can consider the hardest working artist in rap, this first half of 2012 delivers to us his new mixtape titled Bar-Racks. If you have been paying attention, you will know that Vec' dropped 2 singles off the anticipated mixtape.
Today also happens to be Vector's birthday, so as you listen to this mixtape, remember to wish him a Happy Birthday in the comments below or on Twitter.
Vector goes in on this Tape; a lot of well delivered witty word play.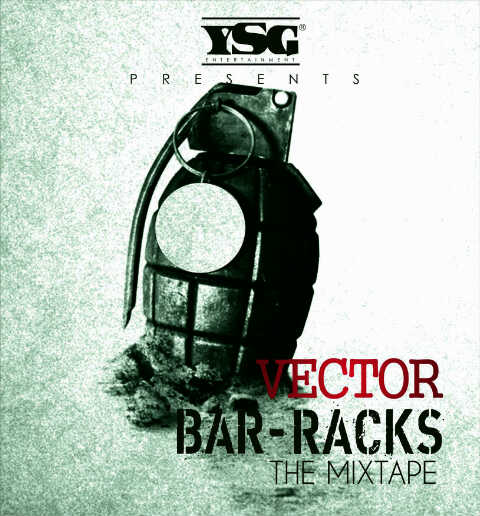 Track Listing
1. Intro (Prod. by Fubu Baba)
2. Ko Oshi (Strange Clouds inst)
3. Baba Alaago (The Watcher Inst)
4. Ashewo boy (Prod.m by Shogon)
5. Mercy Johnson (Mercy Inst)
6. Moving Ahead (Prod. by H-Code)
7. 16 Bars (Prod. by Shogon)
8. Si Ro Ro ft Shalom (Used To Know Inst)
9. Tickle Me ft Chuddy K (Prod. by DaPiano)
[audio: https://www.notjustok.com/wp-content/uploads/2012/08/TICKLE-ME.mp3]
10.Tuwo (Motivation & Heart Attack Inst)
[audio:https://www.notjustok.com/wp-content/uploads/2012/08/TUWO.mp3]
11. Wasted (Prod. by Del B)
12. Teacher Teacher (Prod. by Licious)
13. Stay Scheming freestyle (Stay Sceming Inst)
[audio: https://www.notjustok.com/wp-content/uploads/2012/08/STAY-SCHEMING-FREESTLE.mp3]
14. Aramonda (Prod. by Licious)
[audio: https://www.notjustok.com/wp-content/uploads/2012/08/ARAMONDA.mp3]
15. Skit
16. 2nd Coming Freestyle (Prod. by Toro)